NFL
NFL week 2 schedule: Cowboys vs Chargers, dates, games, times
The Dallas Cowboys travel to Los Angeles to face the chargers in one of the highlight match-ups of Week 2 in the 2021 NFL regular season.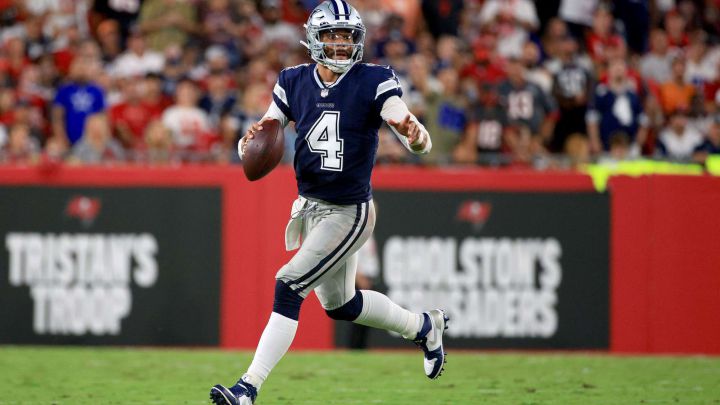 Highlight game: Dallas Cowboys vs LA Chargers
The LA Chargers will play their first game in front of both sets of fans for the first time since before the pandemic when they face the Dallas Cowboys at SoFi stadium on Sunday in one of the highlight matches of Week 2 of the 2021 NFL regular season.
The Chargers got their season off on the right foot with a win at Washington and will hope to make it 2-0 when they meet Dallas, with LA having won all of the last three meetings between the teams.
But the Chargers defense will have to be sharp against Cowboys quarterback Dak Prescott, who had an impressive return to the field after a leg injury that kept him out most of last season. Precott recorded 403 yards and 3 TDs in Dallas' 29-31 loss to champions the Tampa Bay Bucanneers in Week 1.
For their part, LA are coming off a game where they didn't face many pass attempts but they held Washington's QBs to only 7 yards per attempt, only allowing one attempt to go for more than 20 yards, but Prescott will be an entirely different test for them. Prescott's main targets against the Bucs were Amari Cooper, who caught 13 of 16 passes for 139 yards and 2 TDs, and CeeDee Lamb, who recorded 7 receptions for 104 yards and one TD.
Chargers QB Justin Herbert chalked up 337 yards and 1 TD last weekend, and he could have had more if his receivers had not dropped several of his throws. His main target men were Keenen Allen (13 targets, 9 recs, 100 yards) and Mike Williams (12 targets, 8 rec, 82 yards, 1 TD).
This game will be a tight one and the winner of this is hard to call, with NFL expert picks split even for 5 to 5.
A.Rank: Chargers 30-26
GPG: Cowboys 28-27
C. Wolfe: Cowboys 27-24
M. Sessler: Chargers 26-25
N. Shook: Cowboys 30-28
K. Patra: Chargers 32-30
G. Gordon: Chargers 33-31
M. Grant: Chargers 27-24
MJD: Cowboys 20-18
M. Dulgerian: Cowboys 24-23
The two teams have met each other 11 times, with the Los Angeles Chargers winning 5 games and the Dallas Cowboys winning 6 games.
NFL Week 2 schedule:
Sunday 19 September

Raiders vs Steelers (1 p.m. ET / 10 a.m. PT)
49ers vs Eagles (1 p.m. ET / 10 a.m. PT)
Texans vs Browns (1 p.m. ET / 10 a.m. PT)
Broncos vs Jaguars (1 p.m. ET / 10 a.m. PT)
Saints vs Panthers (1 p.m. ET / 10 a.m. PT)
Rams vs Colts (1 p.m. ET / 10 a.m. PT)
Bills vs Dolphins (1 p.m. ET / 10 a.m. PT)
Patriots vs Jets (1 p.m. ET / 10 a.m. PT)
Bengals vs Bears (1 p.m. ET / 10 a.m. PT)
Falcons vs Buccaneers (4.05 p.m. ET / 1.05 p.m. PT)
Vikings vs Cardinals (4.05 p.m. ET / 1.05 p.m. PT)
Titans vs Seahawks (4.25 p.m. ET / 1.25 p.m. PT)
Cowboys vs Chargers (4.25 p.m. ET / 1.25 p.m. PT)
Chiefs vs Ravens (8.20 p.m. ET / 5.20 p.m. PT)
Monday Night Football, 20 September
Lions vs Packers (8.15 p.m. / 5.15 p.m. PT)