BARCELONA
Koeman: "Messi disguised everything" at Barcelona
Ronaldo Koeman has cited Lionel Messi for disguising the problems at Camp Nou, while the under-fire coach admitted he has no regrets about leaving the Dutch job for Barcelona.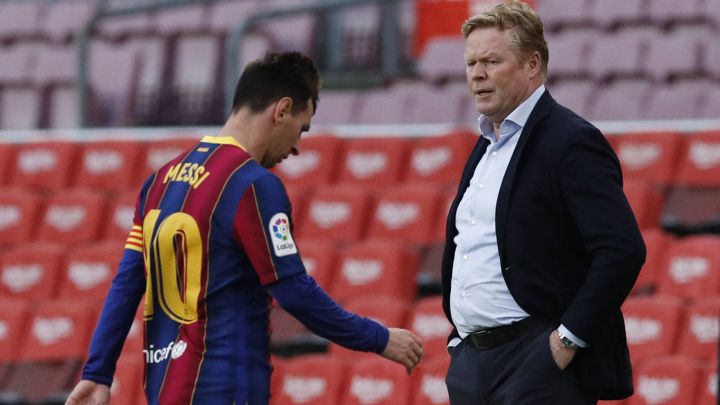 Barcelona's under-fire coach Ronald Koeman has attributed the club's current woes on the pitch to the departure of Lionel Messi.
Koeman's future at Barcelona looks extremely uncertain. And his team's limp 1-1 draw at home against Granada on Monday -- which followed the 3-0 thrashing at the hands of Bayern Munich last week at Camp Nou -- will not have helped his cause with a boardroom that has already lost most of its confidence in the Dutch coach. Aside from the results, Koeman has also lost credit for failing to maintain the famous Barça style of football.
Koeman will be expected to be on the bench for Thursday's game against Cádiz, although reports are Barcelona president Joan Laporta is already searching for the Dutchman's replacement.
Koeman: Messi made everything look better
Amid the uncertainty about his future, Koeman has given an interview to Voetbal Internacional, a news outlet in his native Holland, in which he singled out Lionel Messi for disguising the problems at Barcelona.
"Messi has disguised everything," said Koeman of the Argentine striker, who left the club for PSG this summer after his Barcelona contract expired at the end of June.
"He was very good and he was winning. Of course he had good players around him, but he made a difference. Thanks to him, everything looked better. This is not a criticism, but an observation."
Koeman "understood" Laporta's outrage after Bayern loss
The interview with Koeman took place at the Botafumeiro restaurant the night after the loss to Bayern Munich last Tuesday. Aware of the criticism of him and his team after the defeat, he assured that he had avoided reading anything about it because he had "stopped reading newspapers and websites."
After that defeat, Laporta said he was "hurt and outraged" and asked the fans for patience. Koeman admitted he "understood the feelings" of the president. "I don't think either that it's great to lose against Bayern Munich. But you have to see it in a sober way," added the Dutchman, who claimed that criticism of coaches is "very black or white" in Spain.
Nevertheless, Koeman said he has not been surprised by the rumors regarding his future at Barcelona: "I don't make a fuss about that and nobody has to feel sorry for me. If you work here, you have to win. It's that simple."
But one thing that did come as a surprise to the Dutchman were the revelations regarding the club's massive financial struggles earlier this year. "I knew it wasn't good, but not that it was so bad. The new president, Joan Laporta, did not know that either. He was as surprised as I was," he said.
Koeman: No regrets on leaving Holland job for Barcelona
Koeman resigned from his position as coach of the Netherlands to take up the coaching role at Barcelona last summer. At Euro 2020 this summer, the Oranje fell in the round of 16 against the Czech Republic (0-2), a result which cost Koeman's successor, Frank de Boer, his position.
"It was especially painful for me how it all ended," said Koeman, though he added he has no regrets on leaving his position with the Dutch team to join Barcelona: "Even knowing how difficult the situation is at Barcelona, I would not have wanted to do it any other way."