MLB round-up: Cardinals extend streak, Rays clinch playoff berth
St Louis Cardinals stayed hot, while the Tampa Bay Rays secured their postseason berth on Wednesday with a 7-1 rout of the Toronto Blue Jays.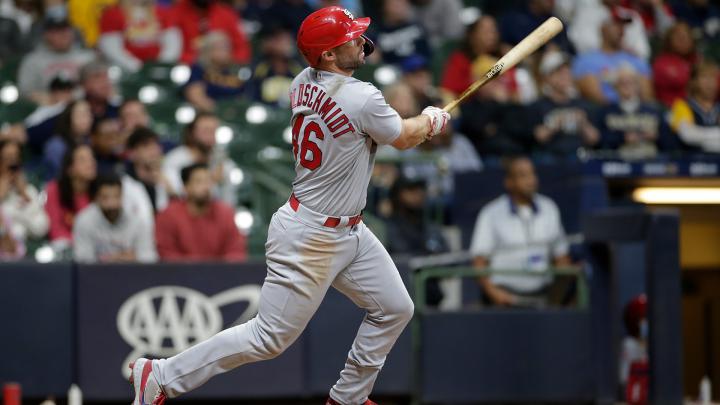 The streaking St Louis Cardinals won their 11th consecutive game after easing past the Milwaukee Brewers 10-2 in MLB action.
Paul Goldschmidt and Tyler O'Neill homered as the Cardinals extended their lead for the second National League (NL) wild-card spot by downing the division-leading Brewers on Wednesday.
The Cardinals – enjoying a four-and-a-half-game lead over the Cincinnati Reds and Philadelphia Phillies for the final NL wild-card berth – are in the midst of their best winning streak since an 11-game run in 2001.
"We grow from the previous days. We grew from today, we'll get after it tomorrow," Cardinals manager Mike Shildt said. "One of the biggest things this team does is just stay present, so it's just about staying present, keep playing, getting after it."
Rays clinch in fierce battle with Blue Jays
The benches cleared between the American League (AL) East-leading Tampa Bay Rays and playoff-chasing Toronto Blue Jays, but the former went on to seal a postseason spot for the third campaign in a row with a 7-1 rout. Rays outfielder Kevin Kiermaier was hit in the back with a pitch from Blue Jays reliever Ryan Borucki in the eighth inning.
"Oh yeah, it was intentional. I thought it was a weak move, to be quite honest," said Kiermaier. "It's over. It didn't hurt by any means, so I don't care. Whatever. We move on. We got a series win, and I hope we play those guys, I really do."
Kyle Schwarber led the way as the Boston Red Sox crushed the New York Mets 12-5. Schwarber homered twice and scored four runs. According to Stats Perform, the Red Sox star is the second player in MLB history to homer in both the first and second innings of a game three different times in the same season, after Mookie Betts in 2016. He is also the first player in MLB history to hit nine-plus home runs in a five-game span against a single opponent.
Juan Soto claimed the NL batting lead behind three hits and three RBIs in the Washington Nationals' 7-5 win over the Miami Marlins. Soto's 27th homer helped raise his average to .321.
Rockies get on top of Buehler
Walker Buehler had a rough outing as World Series champions the Los Angeles Dodgers lost 10-5 at the Colorado Rockies. The Dodgers starter gave up five runs on seven hits over 3.2 innings, including a homer.
Tatis hits homer number 40
The San Diego Padres went down to the high-flying San Francisco Giants 8-6 but star Fernando Tatis Jr. hit his 40th home run of the season. He joined Johnny Bench as the only players aged 22 or younger to hit 40 homers in their first 119 games of a season.
Wednesday's results
Atlanta Braves 9-2 Arizona Diamondbacks
Seattle Mariners 4-1 Oakland Athletics
San Francisco Giants 8-6 San Diego Padres
Tampa Bay Rays 7-1 Toronto Blue Jays
Washington Nationals 7-5 Miami Marlins
Philadelphia Phillies 4-3 Baltimore Orioles
New York Yankees 7-3 Texas Rangers
Boston Red Sox 12-5 New York Mets
Minnesota Twins 5-4 Chicago Cubs
St Louis Cardinals 10-2 Milwaukee Brewers
Colorado Rockies 10-5 Los Angeles Dodgers
Houston Astros 9-5 Los Angeles Angels
Pittsburgh Pirates-Cincinnati Reds (postponed)
Chicago White Sox-Detroit Tigers (postponed)
Kansas City Royals-Cleveland Indians (postponed)
Dodgers at Rockies
The Dodgers (97-55) face the Rockies (71-80) on Thursday, with their three-game series on the line. Dodgers ace Max Scherzer is set to start, while the Rockies are poised to send Kyle Freeland to the mound.