Mbappé is a fantastic guy - Pochettino backs PSG forward
Mauricio Pochettino defended Kylian Mbappe after the 22-year-old was criticised by Metz coach Frederic Antonetti.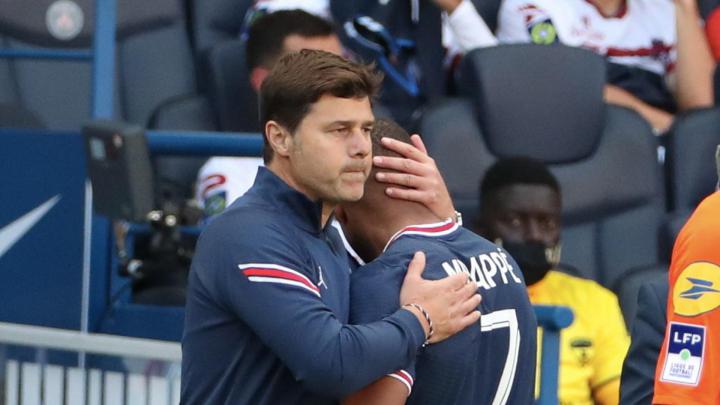 Mauricio Pochettino has insisted Kylian Mbappe is a "fantastic guy" after the Paris Saint-Germain star came in for criticism following the midweek win over Metz.
PSG won 2-1 on Wednesday thanks to Achraf Hakimi's last-gasp winner, after Metz captain Dylan Bronn had received a second yellow card for kicking the ball away to waste time, with coach Frederic Antonetti then seeing red for his protestations on the touchline.
As PSG celebrated Hakimi scoring, Metz goalkeeper Alexandre Oukidja charged out to confront some of Pochettino's players, seemingly angered by the nature of their celebrations, with Mbappé the main target of his remonstrations.
Speaking in his post-match news conference, Antonetti hit out at Mbappé, who he claimed needed to be humble in his behaviour on the field.
Pochettino defends Mbappé

Pochettino, however, defended Mbappé on Friday, saying incidents within a match must be taken within that context.
"I understand that the coach was angry. That is a natural reaction," said Pochettino.
"You have to take the context into account, especially when considering after losing a game in the 95th minute, I can empathise with Fred for being angry about the situation.
"Kylian Mbappé is a fantastic guy, he is a top competitor who wants to win, always.
"These things happen on the pitch, but I don't think they need to be carried off the pitch as well in terms of the situations with him and some Metz players.
"These incidents cannot be taken out of context, they have to be analysed within a match in which both teams want to win and many things happen, so that cannot be used out of context.
"That doesn't reflect the reality of who Kylian is, but I can understand the frustration on their behalf."
Mbappé had a game-leading three attempts, level with Neymar and Hakimi, while the 22-year-old also created four chances, more than any other player.
He had 76 touches and came out on top in 63.6 per cent of his 11 duels, while also winning three fouls, another game high, though only Neymar (34) lost possession more times than the France forward (18).
Messi injured
With Lionel Messi out injured, the onus will be on Neymar and Mbappé to spearhead PSG's attack against Montpellier on Saturday.
Mbappé has been involved in 11 goals against Montpellier in Ligue 1 (eight goals, three assists), more than any other current team in the competition.
After failing to be involved in either goal against Metz, however, he will be aiming to make sure he does not feature in successive league matches without scoring or assisting for the first time since February.