CHAMPIONS LEAGUE
Ancelotti on Sheriff, Modric, Kroos, Zidane, Mendy
Real Madrid coach Carlo Ancelotti spoke to reporters ahead of Los Blancos' meeting with Sheriff in the Champions League on Tuesday.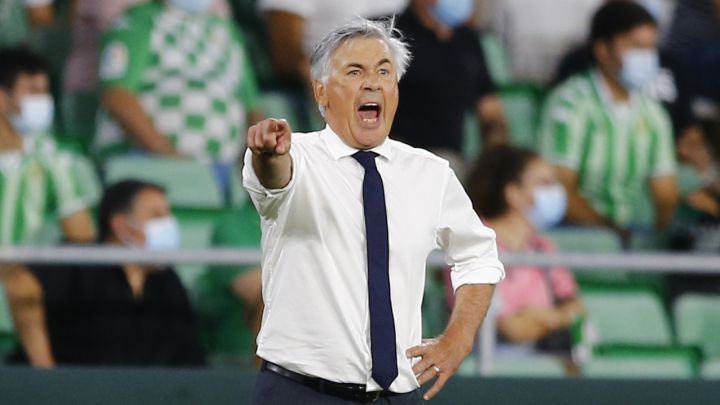 On group leaders Sheriff: "They have done well, in the qualifying phase against Dinamo Zagreb and now against Shakhtar. They are not well known, but they are a very organized team and fast up front. We need all three points to place ourselves well in the group."
Will there be rotation at right back with Dani Carvajal injured? "We have had problems at the back, due to the injuries of Mendy, Marcelo, Carvajal ... I have made changes sometimes also because of tactics. If I have an open winger like Rodrygo, I don't need a full back that pushes forward a lot, it can be one that remains more in position. Maybe that's why Lucas has played less, just as a winger against Inter. If we need a full back who pushes forward, Lucas in that sense is the best.
Your style compared to Zidane Zidane's: "It's difficult to say, because the players change a bit. The squad is different and I don't like to compare this one with the one Zidane had, but he couldn't have done better. He won three Champions Leagues in a row. I would like to win one more, so three…"
Luka Modric: "I am happy with him, but he had a small injury. If I change a player in the 75th minute it's not because he has played badly, it's because I want to bring on fresh legs. Against Villarreal he did very well, also as a playmaker, who is 36 years old. Maybe those ten minutes less can prevent injuries in the future."
Toni Kroos is back. Will you give continuity to him, Casemiro and Modric? "I think that in the middle having those three plus Isco, Camavinga, Asensio ... all of them are going to be useful. The difficult thing is not choosing the line-up, it is not having all these types of players. Sometimes that has happened to me. I haven't had a midfield like this since my first stage at Madrid ".
Ancelotti: "Benzema is a very committed footballer"

Are you surprised by the reviews? "No, I have to accept them. Because of my approach, I can think or admit that it is wrong, but I will never officially admit it officially (laughs). Sometimes criticism helps."
It is easy or difficult to get two new central defenders playing together? "It's a bit more complicated, but Militao and Alaba are doing very well. They had clean sheets against Villarreal, Betis and Inter. The problems have come on the wings. But it is a collective commitment. They have to get used to playing together, but they have started well."
Is there the same pressure to win the Champions League as when when you won it previously with Madrid? "This club has something special in this competition, which is also the most difficult thing. But it is more used to winning it than others, which is a small advantage."
How is Ferland Mendy, when will he be back? "He's pretty good, I think after the international break he will be able to play. We are going to get him ready during the international break."
Kairm Benzema: "My luck is that he is a very committed footballer."
Do you have team A and team B? "No, not at this time. I have to choose those who start the game."