NFL
NFL Week 6 schedule, dates, games, times, predictions: Ravens to drop Chargers
The full schedule for Week 6 in the NFL, which sees unbeaten Cardinals play and the big match-up of the weekend, Chargers vs Ravens, on Sunday, Oct 17.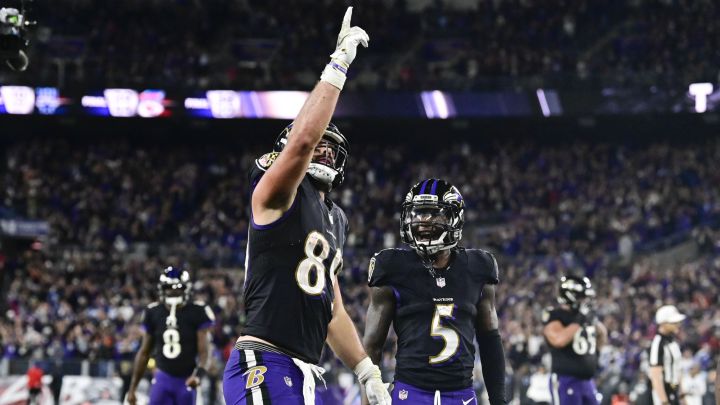 Week 6 of the 2021 NFL season kicks off Thursday, October 14 with the Tampa Bay Buccaneers at the Philadelphia Eagles. (5:20 p.m. PT)
The Los Angeles Chargers vs Baltimore Ravens, Arizona Cardinals vs Cleveland Browns and Las Vegas Raiders vs Denver Broncos are some of the intriguing matchups we're looking forward to on Sunday, Oct 17.
Monday Night Football, the Buffalo Bills and Tennessee Titans wrap up the week on Oct. 18.
Our Highlight of the Week: L.A. Chargers vs Baltimore Ravens
And in what is the highlight of the weekend, the Baltimore Ravens host the Los Angeles Chargers at the MT&T Stadium on Sunday Night Football (kick off Sunday 1 p.m. ET), with both teams 4 and 1 and top of their respective divisions, AFC West and AFC North.
The Chargers' Offense vs Defense
The Los Angeles Chargers are coming off last week's wild 47-42 victory over the Cleveland Browns. Their offense is proving strong, yet again, as they lead the league in time of possession and plays per drive. They are ranked in the top 10 in the league in points scored, yards gained and third-down conversion rate.
In a game that had 10 ties and lead changes, QB Justin Herbert threw for 398 yards and four TDs. But as good as the Chargers' offense with Herbert can be, their defense is not quite as confident. It is arguable whether the Chargers can be slowed down by run-heavy attacks from the surprising Ravens' offense, and especially when led by an accurate downfielder like Lamar Jackson. In last week's game, they gave up over 300 passing yards and 200 rushing yards to the Browns.
The Ravens' unexpected Comeback
The Baltimore Ravens find themselves at home with four straight games as they go into Week 6. Coming off a 31-25 overtime victory over the Indianapolis Colts last week, the Ravens will be going after the Chargers right at home on
Despite their 4-1 record, Baltimore has not yet shown a strong defensive performance during the league, especially after being exploited by the Colts on Monday Night Football. And on offense, in the first half of the game, the Indianapolis Colts crushed the Ravens' running game and ended up breaking their NFL-record-tying streak of 43 games with 100 rushing yards, limiting the Ravens to only 86 yards on the ground.
Baltimore's star quarterback Lamar Jackson though helped take the Ravens out of that first half hole. The 24-year-old threw for a career-high 442 yards and four touchdowns, some of which included short TD passes to Mark Andrews, who also caught two two-point conversions.
Jackson stayed calm and locked in as he went 37 of 43 without an interception and ran for 62 yards. The Ravens' comeback from a 25-9 deficit rallied them up to unexpectedly be the team leading the league in total offense with 440.6 yards per game.
Justin Herbert vs Lamar Jackson
This game could be very intriguing with two teams who are 4-1 and on winning streaks. Whether the Ravens' defense slows down Justin Herbert and the Chargers is debatable, but we are betting on it.
Thursday Night Football
Tampa Bay Buccaneers at Philadelphia Eagles, 5:20 p.m. PT
The Eagles (2-3) host the reigning Super Bowl champion Buccaneers (4-1) on Thursday. Both teams are coming off a win, with the Bucs' most complete game yet in 2021 against the Dolphins with four TDs, and the Eagles hungry for their first home victory.
The Bucs don't only have the legendary Tom Brady topping 400 passing yards in two games and concurring a pair of five-touchdown performances, but they're also second in the league in passing touchdowns and third in both points scored and total yards.
There had been doubts over Brady after the QB sustained a thumb injury in the 45-17 demolition of the Dolphins, but despite having tape on the thumb and wrist at practice on Tuesday, the football legend said it was "just discomfort" and he fully expects to play against the Eagles.
The Eagles led by Jalen Hurts, the 23-year-old QB, beat the Carolina Panthers in Week 5 and showed their persistence as a team after a struggling offense in the first half.
Hurts connected with receiver Quez Watkins for a 53-yard gain and rushed for a touchdown leading the Eagles to 15 second-half points. It is anticipated to see that momentum Philadelphia carried in its comeback victory against the Panthers in this week's game against the Bucs. But there's not enough reason to believe the Bucs would lose this one.
Sunday Early Games
Miami Dolphins vs Jacksonville Jaguars, 6:30 a.m. PT
The NFL is on the road again for this one. Or rather, in the sky, with the Dolphins and the Jaguars jetting off to London for a game on the other side of the Atlantic, after last week's successful Jets vs Falcons match-up.
But no matter which side of the pond they're playing on, the Jaguars desperately need a win. "It has been 392 days since the Jacksonville Jaguars last won a game. That's a stretch of 20 consecutive losses, the second-longest losing streak in NFL history -- and the league's record for futility is well within sight, too", according to the NFL.
Kansas City Chiefs at Washington Football Team, 10 a.m. PT
The Chiefs could really use their visit to Washington as an opportunity to step up the ladder. They are currently 2-3 and in last place in the AFC West.
Los Angeles Rams at New York Giants, 10 a.m. PT
The New York Giants had a disastrous loss to the Dallas Cowboys last week, and they will be aiming to bounce back from that. Meanwhile, they have three of their most important offensive players with significant injuries that could hinder their performance against the fully-prepared Rams; quarterback Daniel Jones with a concussion, running back Saquon Barkley with an ankle injury, and wide receiver Kenny Golladay with a knocked out knee.
Given that the Rams already have quality wins over the Tampa Bay Buccaneers and Seahawks, and have had extra time to prepare since last Thursday, it's hard to see beyond a Rams victory on Sunday.
Houston Texans at Indianapolis Colts, 10 a.m. PT
The Colts just had a heartbreaking loss to the Ravens on Monday Night after blowing a lead of 25-9. A career night from the Colts' running back Jonathan Taylor, and the first 400-yard passing day of Carson Wentz's career were not sufficient to score a win over Lamar Jackson and the Ravens in Baltimore.
The Houston Texans are technically a less equipped team than the Colts, yet their 22-year-old quarterback Davis Mills, is the only rookie QB to pass for 300+ yards and 3+ TD against the Bill Belichick-coached Patriots; whether he can do that for a second consecutive week is another matter, particularly keeping in mind that the Colts will probably be aiming to keep their AFC South Hopes alive in this game.
Cincinnati Bengals at Detroit Lions, 10 a.m. PT
Despite the worry over the Bengals' 24-year-old quarterback, Joe Burrow, and his swollen throat, this should be a win for the Bengals who dropped a very close win to the Green Bay Packers in Week 5.
Green Bay Packers at Chicago Bears, 10 a.m. PT
The Bears and Justin Fields are coming off two consecutive wins, and are making good progress since their rough loss to the Browns in week 3. The reality is though that the Green Bay Packers are a tougher team overall, with a hall-of-fame quarterback at the wheel, Aaron Rodgers. The 37-year-old star has racked up 21 wins against the Bears, compared with just four losses in his 17 seasons with the Packers. That's an outstanding record against a team with a starting rookie QB.
Los Angeles Chargers at Baltimore Ravens, 10 a.m. PT
We are betting on the Ravens, as explained above.
Minnesota Vikings at Carolina Panthers, 10 a.m. PT
Matt Johnson of Sportsnaut writes, "Before Week 5, the Carolina Panthers felt like they would be a huge favorite in this Week 6 matchup. But then Sam Darnold fell back to earth. Expect both teams to feature their star running backs, with Christian McCaffrey and Dalvin Cook returning from injuries. Ultimately, the edge goes to Carolina." We share Johnson's prediction.
Sunday Late Games
Arizona Cardinals at Cleveland Browns, 1:05 p.m. PT
Showtime! A lot of eyes will be on this game as the undefeated Cardinals - the only undefeated franchise left this season, play at the Browns (3-2).
Cleveland were snapped off their three-game winning streak by the Los Angeles Chargers on Sunday at SoFi Stadium (42-47). But the Browns could take off with their run game at home, and keep Cardinals' QB Kyler Murray on the bench for as long as possible, winning with the rushing attack. Meanwhile, although the Cardinals beat the San Francisco 49ers in their last game, their offense was somewhat off the pace - but if they can go 6-0 with a win against the Browns that would unquestionably make them look "legitimate" this season.
Las Vegas Raiders at Denver Broncos, 1:25 p.m. PT
On the playing side, both those teams started with a 3-0 winning streak, and both have lost two consecutive games since. And you might expect the Raiders to have the players to exploit the Broncos' slightly-off defense.
All that is overshadowed though by the resignation on Monday night of Raiders' coach Jon Gruden, on the back of reports he sent homophobic, misogynastic and racist emails. Interim coach Rich Bisaccia has been on the Raiders staff as assistant head coach/special teams coordinator for four seasons, so the change shouldn't be so dramatic, but then losing your coach in these circumstances is bound to have a major dressing room impact.
Given the upheaval at the Raiders it's hard to analyse what could happen on the pitch, but it's probably worth noting that between both teams' quarterbacks, the superior one in this matchup would be Las Vegas's 30-year-old AFC Offensive Player of the Month of September, Dereck Carr, while the Broncos' 28-year-old Teddy Bridgewater has yet to prove he can go eye-to-eye with a strong quarterback in a high-scoring game.
But to be honest, it's a toss-up this one, all depending on how the Raiders react to Gruden's departure.
Dallas Cowboys at New England Patriots, 1:25 p.m. PT
The Cowboys have been killing it this season, with a 4-1 wining record so far. They have one of the NFL's best run games and are almost in control of the NFC East.
On the flip side, the Patriots have one of the weakest run defenses. Putting together the 23-year-old rookie Mac Jones against the 28-year-old prominent Dak Prescott and Dallas' invincible defense gives us an idea of how the game will run.
Seattle Seahawks at Pittsburgh Steelers, 5:20 p.m. PT
The Seahawks' main QB, Russel Wilson, who sustained a finger injury against the Rams last week, is recovering while Geno Smith is getting ready for his first start for Seattle. This isn't one of the most enticing games on Week 6, but it will be interesting to see the talented QB Geno Smith's spotlight moment with Seattle. The 31-year-old has made 31 starts in his nine-year career, including 29 in his first two seasons. After leaving the Jets, he spent time with the New York Giants, Los Angeles Chargers before joining the Seahawks in 2019.

Week 6 NFL Schedule
Thursday 14 October
Eagles vs Buccaneers (8:20 p.m. ET / 5:20 p.m. PT)
Sunday 17 October
Jaguars vs Dolphins (9:30 a.m. ET / 6:30 a.m. PT)

Panthers vs Vikings (1:00 p.m. ET / 10:00 a.m. PT)
Ravens vs Chargers (1:00 p.m. ET / 10:00 a.m. PT)
Giants vs Rams (1:00 p.m. ET / 10:00 a.m. PT)
Colts vs Texans (1:00 p.m. ET / 10:00 a.m. PT)
Washington vs Chiefs (1:00 p.m. ET / 10:00 a.m. PT)
Bears vs Packers (1:00 p.m. ET / 10:00 a.m. PT)
Lions vs Bengals (1:00 p.m. ET / 10:00 a.m. PT)
Sunday late Games
Browns vs Cardinals (4:05 p.m. ET / 1:05 p.m. PT)
Patriots vs Cowboys (4:25 p.m. ET / 1:25 p.m. PT)
Broncos vs Raiders (4:25 p.m. ET / 1:25 p.m. PT)
Steelers vs Seahawks (8:20 p.m. ET / 5:20 p.m. PT)
Monday 18 October
Titans vs Bills (8:15 p.m. ET / 5:15 p.m. PT)

How to watch the NFL
Our guide to how to watch every game.