NBA | PELICANS
Pelicans without star man Zion Williamson for start of NBA season due to foot injury
Zion Williamson underwent scans on his right foot this week which showed he will need a delayed start to the new campaign.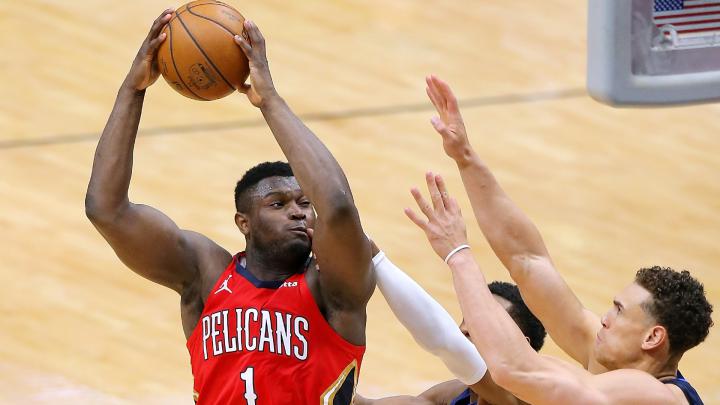 New Orleans Pelicans star Zion Williamson will miss the start of the NBA regular season due to a right foot injury.
Pelicans vice-president of basketball operations David Griffin confirmed Williamson's absence after the former number one draft pick underwent scans earlier this week following offseason foot surgery.
Griffin was unable to provide a "fixed timeline" on Williamson's return to play, although he said the 2021 All-Star would undergo further scans in roughly a fortnight's time.
"It's everyone's goal that Zion return to play as soon as safely possible," Griffin said on Thursday.
"Obviously, two to two-and-a-half weeks from now means he will not be on the floor for the first week of games. When he is able to return safely, we will do that."
The Pelicans are due to start their NBA season against championship-hopefuls the Philadelphia 76ers on Wednesday.
Williamson, who had said last month he hoped to play in the Pelicans' opening game, has been cleared to start running and do individual on-court work.
Griffin: No timeline set for Williamson
Griffin clarified Williamson had not suffered a setback and no timeline had been set on the 21-year-old joining in more training activities.
"It just takes a certain amount of time for guys to lay the bone that the doctors want to see," Griffin said. "This is where our timeline is.
"Throughout the process, we'll be heading toward that [joining team training]. It may be well before the two-and-a-half weeks that he does that. It's really just a function of how things progress."
Williamson averaged 27.0 points, 7.2 rebounds and 3.7 assists per game across 61 appearances in the 2020-21 NBA season for the Pelicans.
The top pick in the 2019 draft, Williamson had only managed 24 games in his debut season, averaging 22.5 points, 6.3 rebounds and 2.1 assists in 2019-20.