Argentina 1-0 Peru: summary, score, goals highlights, World Cup 2022 qualifying
Argentina vs Peru as it happened
While there weren't many highlight worthy moments, players such as Giovani Lo Celso and Rodrigo De Paul will be delighted with their performances as they both put in solid shifts. Messi while uncharacteristically far from goal on many occasions, showcased a different side of his game on the night as he was the principle architect in almost all of Argentina's moves.
In a game that didn't have many chances, it was all about tactics and defense. Though Peru will feel aggrieved especially considering they missed a penalty, they will be encouraged by the fact that they made life very difficult for one of the most dangerous attacking sides in world football. More over a side that is captained by Leo Messi.
The referee brings proceedings to a close as Argentina notch another victory on their way to qualification for the FIFA 2022 World Cup in Quatar
Goal kick to Argentina in what will surely be the last kick of the game.
Lo Celso leaves the field for Palacios.
As we enter the final minute of stoppage time, Peru have a corner.
The fans are in full song as Argentina closes out the game playing to the left and then back home.
Correa shows his quality as he retains possession in a tight space.
Farfan does well to get onto a ball deep in the other half but is eventually forced to the corner flag and crowded out.
The 4th official has indicated that there will be 4 minutes of stoppage time
Time is running out for Peru as we approach the 90th minute
Argentina believe they have a goal after the ball is headed into the far post. The referee disallows it for a push.
Nico Gonzales goes on a run by himself through the middle of the field and against 4 defenders. The youngster even manages a shot but is blocked in the end. Corner to Argentina.
Farfan pressures MArtinez in goal forcing an error from the keeper. Peru starts from the back.
Joaquin Correa enters for goal scorer Lautaro Martinez
A weighty challenge in midfield. Free kick to Argentina .
Argentina is closing out the game in solid fashion as they move the ball from left to right.
We are now at the 80th minute as Peru tries to construct from the left side
Peru seems out of ideas as Argentina holds the ball in their own area.
Argentina starts once again from the back with Messi lingering in the center circle as he has done all night.
Argentina are of course en route to extending their unbeaten streak to 25 games should they hold on to their lead. Peru on the other hand are now truly risking putting themselves out of contention for a place at next years World Cup.
Messi takes the corner but Gallese does well to clear his line. Only so far as an Argentinian throw.
De Paul has won Argentina a corner.
Messi is dancing around the Peruvian midfield to the sound of "Ole" from the crowd.
Peru's Gabriel Costa leaves for Raziel Garcia
DiMaria departs for Nico Gonzales along with Paredes who leaves for Rodriguez
Argentina now in free flow. They have visibly been encouraged by Peru's penalty miss.
We arrive at the 70th minute and Argentina continue to lead Peru 1-0 in this CONEMBOL World Cup 2022 qualifier.
Gallese gets down well to push Messi's free kick wide.
The Argentinians do, however, have a free kick on the edge of the area. Messi will surely take it
An exhibition style play involving several players and a back heel but unfortunately Messi is unable to find the final touch in front of goal.
The Peruvians will be kicking themselves after the spot kick failure.
Argentina resettle and begin to play from the back.
Yotun drives the ball off the crossbar! A massive opportunity wasted for Peru and a bullet dodged by Argentina!
Farfan seems to be worse for wear as the referee advises the Peurvian players that their #10 will have to leave the pitch to receive treatment.
In his first occasion on the ball Farfan gets in one on one with the keeper and is sent flying. Peru now have a chance to equalize from the spot!
The players are having words on what appeared to be a forceful challenge on Messi but the referee manages to calm things down.
Lapadula comes out for one of Peru's better known players, Jeferson Farfan
Peru have fared better this half but they have lacked the cutting edge in the final third.
Messi plays to Acuna on the left side but the resulting cross is too deep an goes out of play.
Romero is on his feet and we restart.
Lapdula tumbles over Romero hitting him in the end as he does so with his knee. Romero continues to stay on the ground as a seemingly regretful Zapadula apologizes.
MDe Paul is dispossessed in midfield starting Peru break. A long shot by Pedro Aquino is easily taken by the keeper.
A foul on DePaul brings Peru's moment to an end as Argentina regain possession with a free kick.
Perhaps Peru's best spell of play so far. Cueva has an attempted lobbed pass blocked. The intent was correct.
Peru attempt to build from the back as they continue to grow in confidence.
Argentina now on the move as Messi finds his way down the right side blocked but the ball is out for a throw.
Peru again clawing more possession out of the hands of the Argentinians
Lo Celso is forced into an error an Peru regain possession. The Peruvians have started the half in a more positive manner as they appear to be showing a bit more adventure.
Messi has adopted a different role tonight. The maestro has occupied the midfield zone more opting to display his creativity rather than precision in front of goal.
Argentina have started the half at a casual pace and seem content to feel their opponent out for the moment.
We are underway once again with Argentina leading Peru 1-0 in this CONEMBOL World Cup 2022 qualifier!
Though it was a half of few chances it was most definitely not short on intensity as the Peruvians continue to show themselves a plucky opponent. Argentina will want to consider a more direct approach as for all their possession and their goal, they have not truly threatened.
The half comes to a close here in this CONEMBOL World Cup 2022 qualifier
A dirty challenge on Messi after he displaced the defender leaving the referee no choice but to issue the first card of the night.
Argentina is closing out the half strongly as the goal has clearly lit a fire.
As if they got the memo, the Argentines construct a lovely goal after once again marauding down the wing. DePaul was the protagonist this time, laying in a delightful cross for Lautaro Martinez to head to the far post!
The Albiceleste will undoubtedly feel confident that they are in the driver seat so far, however, they will be frustrated that they have not arrived at their intended destination.
The Peruvians are unfortunately forced all the way back to their own goal which in turn leads to a heavy challenge on Paredes. Again they will want to be careful as they continue to accumulate fouls.
Peru on a rare venture forward have found themselves with a throw in close to the Argentine area.
Perhaps Argentina's best chance so far. The ball is crossed deep by DePaul who sees Martinez miss his volley only to find a waiting DiMaria who in turn fires his opportunity high as Messi looks on.
The freekick is badly cleared finding the waiting Leandro Paredes. After some good footwork his shot goes just wide.
Another foul on Lautaro just 10 yards from the area. Messi stands over the ball.
Peru until now have been able to force Argentina into a left to right approach as opposed to vertical but one has to wonder how long they will be able to maintain this intensity.
Gallese takes it easily an starts play once again.
A freekick to Argentina with Messi to take
Peru are making no pretense about their game plan when it comes to Messi as they continue to commit three players at a time to the man of mischief
Messi is dispossessed in front of the area but Argentina regain possession almost immediately.
Martinez has rejoined the action but still seems to be in some discomfort
Play restarts as he makes his way to the halfline on his own steam. It seems as though he will be OK to continue.
The Inter Milan striker is being lead to the sideline by medical staff.
Martinez is caught by the Peruvian keeper while attempting to block his clearance. As he gets to this feet he is in visible pain.
Leo Messi is doing his best to pull the strings but it seems as though some of his teammates are just not on the same page tonight.
Argentina are trying to tighten the grip as we approach the half hour mark but a Lautaro Martinez shot is charged down
DiMaria flashes a shot wide and high after a decent cross to the left side of the box.
There is indeed a bit of bite to this Peru side as they hold nothing back in each challenge. They will want to be mindful as they rack up more fouls.
Though short on opportunities Peru are proving themself a difficult opponent to break down as Argentina continues to look for a way in behind their defense.
A great chance by Lapadula as he controls the ball on his chest after a delightful long ball into the area, however, he's just unable to generate enough power on the shot to trouble the Argentine goal.
A cynical foul on Paredes by Cueva in the middle of the field but still the referee shows no card
Messi goes on a run into the Peruvian area and though surrounded by 3 players somehow manages to retain possession but in the end is forced to pass home .
DiMaria with a cheeky nutmeg on the wing but in the end his run is thwarted
A heavy challenge in midfield from Peru's #9 Gianluca Lapadula
A foul on Cuenca in the middle of the field but the referee will keep his cards in his pocket
As we approach the 15 minute mark there have been no clear cut chances but Argentina has been the clear aggressor so far.
Argentina attempts to drive down the left side through DiMaria but in the end the PSG winger is dispossessed. Peru to restart.
Pedro Gallese, the Peruvian goalkeeper shows a sign of clear relief as he restarts play.
The referee waves for play to resume. Peru will restart proceedings with a goal kick.
A crafty freekick is headed in by Cristian Romero but he's judged to be offside.
A heavy foul on Leo Messi in midfield. The Peruvians have seen enough.
The Albiceleste continue to dominate proceedings in these early stages as their quick inter passing seems to be complicating life for Peru
Argentina breaks again this time Leo Messi the architect.
Christian Cueva brings a good save out of the Argentine keeper after a decent free kick.
Peru with a rare moment of possession are now on the attack and have won a freekick on the edge of the Argentine area.
Argentina again going close after a deft pass from Messi. this time to the left side finding DiMaria who sends a low cross in front of goal.
Playing around the back Argentina are currently probing the Peruvians for a weak point.
Argentina going close almost immediately through DePaul down the right side after neat work by Messi who played the flick to the winger.
And away we go as Argetina playing in their dark blue strip get us underway!
Argentina have opted for what appears to be a 4-2-4 formation with Lautaro Martinez atop a triangle of Messi, DiMaria and Lo Celso
There is a capacity crowd in the Estadio Antonio Vespuci Liberti
Leo Messi leads the Albiceleste onto the field alongside Peru as the teams prepare to face the crowd
If you're just joining in it's almost time for kick off in Buenos Aires as Argentina take on Peru in a CONEMBOL World Cup 2022 qualifier!
Peru's are facing the dire circumstances coming into this qualifier. Having lost 1-0 to Bolivia they now sit four points behind fifth-placed Colombia. If that wasn't bad enough, three of their remaining six qualifiers are against teams directly above them in the race for fourth and fifth. If they are to get back on track it will require a top performance and a historic win in Buenos Aires.
In their last match history was made as Lionel Messi became the first South American to score 80 international goals. The iconic #10 did so as he guided his team to a 3-0 victory over Uruguay their record to 24 games unbeaten!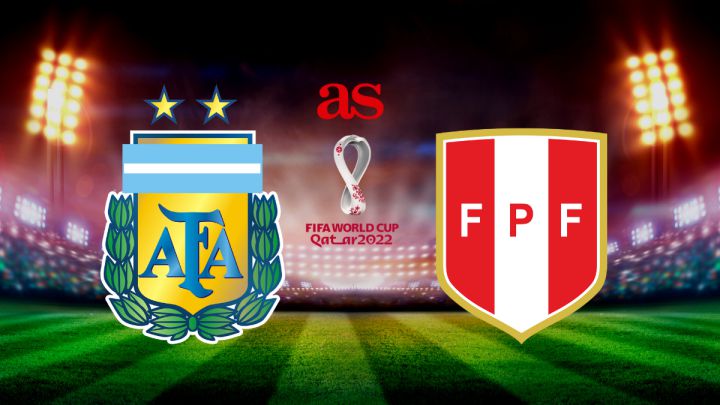 Argentina are currently on an impressive run of form as they play at home in the Estadio Monumental Antonio Vespucio Liberti!
Welcome to our live text coverage here on AS English as we take you through a CONEMBOL World Cup 2022 Qualifier between Argentina and Peru.