9

2
Astros 9-2 Red Sox summary, scores, stats and highlights ALCS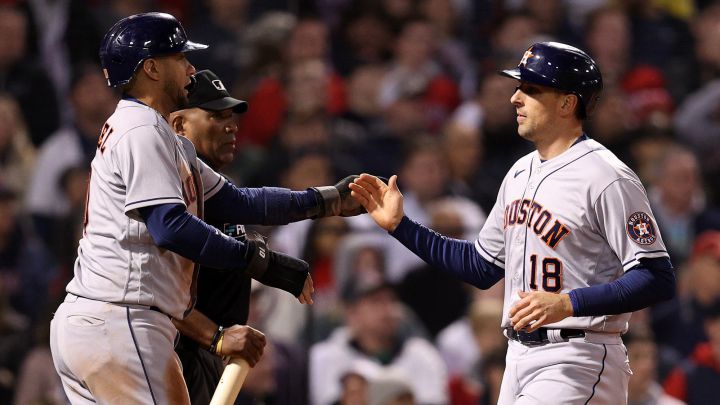 Astros v Red Sox
This ends our live coverage of Game 4 of the ALCS. Check out all of the news on en.as.com/mlb to stay up to date with the MLB playoff picture.
Houston win this game in an emphatic way, taking all of the air out of the Boston Red Sox. They must take this as a simple loss and not get caught up in the score, just as they could not get caught up in the high scores that they won by, they can not make this more than it is. It is simply a leveling of the series at two games apiece.
Bogaerts has a hot bat tonight with a home run and a double and he takes one in the dirt before Houston pitching coach Brent Strom makes a visit to the mound. Pressly offers up a strike and it gets past Castro, advancing the runners to second and third.
A 92 mph fastball is swung and missed for strike two and then the final strike is a breaking ball away.
Devers comes to the plate with a man on first and two outs. He is 0 for 3 with a walk and a run scored tonight. He slaps one past Altuve into right. Hernandez moves over and we have men on first and second.
Kiké Hernandez represents the last out, the last lifeline that Boston have available to them. He keeps it alive with his first hit of the night, a single to center field.
Schwarber comes to the plate 0 for 3 and runs the count full before whiffing at a low breaking ball for the second out.
Travis Shaw stands in and gets caught looking for strike three. The Red Sox have two outs of life left.
Houston bring on Ryan Pressly to try and slam the door on the ninth.
Gurriel flies out to left to finally let Boston off the hook, but the damage is already done. We go to the bottom of the ninth Houston leading 9-2.
Kyle Tucker comes to the plate and hits a shot to shallow right and Houston score another run. Seven runs in this inning and we still have two men on and two out.
With two out and two on, Correa comes to the plate. Fenway is almost silent. Houston have scored five runs in the ninth inning.
Correa hits a swinging bunt and the throw ricochets off Correa. Everyone is safe and another run scores.
Bregman gets the intentional walk and Yordan Alvarez slaps a little flare into left scoring Brantley from second. 7-2 Houston.
Brantley is first pitch swinging and knocks it into the gap and blows the doors off the joint! He winds up at second and scores three more.
Altuve comes to the plate with men on the corners and two outs. Fenway is noticably quieter. The Red Sox faithful are stunned.
Jose runs the count full and draws the walk to load the bases. Eovaldi will hit the showers and Martín Pérez will get the call to face Michael Brantley.
Jason Castro comes up and takes a first pitch strike. He hangs in and pushes the count to 2-2 before slapping a single to center. Correa scores from second and Gurriel goes to third.
Gurriel gets the intentional walk to set up the possible double play. Aledmys Diaz pinch hits and gets fanned on four pitches. Two down.
Tucker comes up 0 for 3 today. He has a man in scoring position and nobody out. He swings at strike three in the dirt and we now have one out.
Correa hits one off the right field wall and comes up with a double to lead off the inning.
Nathan Eovaldi will take the mound for Boston to face Correa
Christian Vázquez launches one to the warning track in left. Not quite enough, so near yet so far. The Astros get out of the eighth and we move to nine still tied at two.
Hunter Renfroe has a strong at-bat, running the count full and drawing the walk.
JD Martinez comes up to the plate and strikes out on a 97 MPH fastball.
Graveman faces off with Verdugo in the bottom of the eighth. Boston has Nathan Eovaldi up in the pen. Verdugo chops it to short for the easy out at first.
Alvarez flies out to center to end the inning, but the Astros draw us level in the eighth 2-2
Bregman is at the plate and there is a bit of action in the Red Sox bullpen. He shows restraint and lays off some close balls before hitting into a 6-4-3 double play.
Brantley drops one in for a single to center. The go-ahead run is on first. Dave Bush goes out to have a chat with Whitlock.
Top of the 8th and Jose Altuve takes the first pitch over the Green Monster! We have a tied ball game.
Bogaerts comes to the plate hot on the night, going 2 for 3 with a homerun and a double. He fights off a few good pitches and stays strong, fouling them off, before chasing an outside breaking pitch for strike three to end the inning.
Devers comes up to bat and pops it into shallow right where Tucker puts it away for the second out.
Kendal Graveman comes in to try and close out the seventh. Jason Castro also takes over the catching duties.
Kiké Hernandez leads off for Boston and runs the count to 2-2 before grounding out to short. One away
Castro comes to the plate and works the count to 2-2 before hitting it bang on the screws, a line shot straight to Schwarber at first and the Red Sox get out of jail. The middle of seven and they still lead 2-1
McCormick punches a two-out single through to right and the tying run is on base.
Gurriel comes up and hits a routine ground ball to short stop for the second out.
Former Yankee Garrett Whitlock takes over the pitching duties for Boston. He jams Tucker, who flies out to center field for the first out in the seventh.
Schwarber comes in, perhaps with a leg injury. If I were the Astros, I would look to stay inside on him, test that leg out. Maton does just that and he flies out to center to end the inning.
Arroyo will come in now with a man on and one out. He digs himself a hole and goes down swinging, striking out for the second out.
Vazquez squares up to the plate and Maton sends his first offering, a fastball strike. After fouling another off, Vazquez pops out to second base.
Right on cue, Dusty Baker makes the walk to the mound and Javier's night is done. Phil Maton is brought on to see to the Red Sox.
Houston sticks with Javier for the bottom half of six and he goes to work on Renfroe. He works the count full before losing him. Dusty has got to be thinking about the switch.
Correa takes a first pitch strike. He offers at the second but comes up empty. Both were four-seam fastballs and he has struggled with that pitch all season. He gets caught looking on the third strike to end the inning. ꓘ
Boston makes the pitching change and yanks Taylor for Adam Ottavino. He will come in to face Correa with a baserunner on first.
Yordan Alvarez looks to go to work and hits a hard drive off the glove of Arroyo for a single.
Bregman steps in and pops out to right for the second out.
Josh Taylor takes over the pitching duties for Boston in the sixth. His first pitch is grounded out to first by Brantley.
The DH, JD Martinez steps in and Javier offers the pitch up. No good. Working the count full, Martinez whiffs on a sick curve to end the inning.
With the short fence in Fenway Bogaerts wisely chooses not to try and advance. Man on second, now with two outs.
Verdugo comes up with a man in scoring position and only one out. Javier composes himself and throws a breaking ball strike. Verdugo fouls the next one off and then flies out to the warning track in left.
Bogaerts is first pitch swinging and hits a double off the centerfield wall.
Javier faces Devers who flies out to shallow left.
Jose Altuve gets a called strike that was a bit outside. He takes a swing and comes up empty and suddenly he is 0-2 in the count. He fights it back to 2-2 before hitting to third and being thrown out in a spectacular play by Devers. We go to the bottom of the fifth.
Maldonado steps in and the infield shifts heavily to left field side, offering him pretty much the entire right side of the infield if he takes it.
He goes right, but in the air. Renfroe hauls it in near the wall and we have two away.
Chas McCormick tries to get something started for Houston in the fifth. Pivetta has other ideas and catches him looking on a high curveball for a called strike three. One out.
Kiké Hernandez comes in 0 for 2 on the evening and he pops one up in third base foul territory. Maldonado snags it for the final out. We go to five 2-1 Red Sox
Schwarber taps a routine ground ball to second for an out at first. The baserunner has to hold at third.
The infield is playing in for Schwarber's bat. Man on thrid with one out. First swing he grabs his hamstring. This could be a big problem for Boston if he comes up injured, he has been such a big part of this Red Sox offense.
With one out now, Arroyo takes the plate. He shows constraint and works the coutn to 2 and 2 before slapping a triple to the right field corner! He never hesistated when he rounded first.
We head to the bottom of the fourth and Javier goes to work on Vazquez. He swings at the first pitch and flies out to right.
Yuli Gurriel comes to the plate and takes a high fastball before offering a check swing at the same pitch. He pops the next pitch up behind the mound to end the inning.
Tucker hits a pop fly behind third base and Devers hauls it in for an out.
Pivetta goes to work on Alvarez in the top of the fourth and struggles to find the zone. He gives up a walk to the leadoff batter for the first time tonight.
Pivetta to Alvarez at the start of the fourth.
Renfroe moves to 0-2 and Javier throws one miles outside and low. Waste of a pitch, never going to tempt Renfroe into swinging at something that far outside.
But Javier strikes him out swinging next pitch! END OF THE THIRD!
Martinez trundles out to the plate. The Red Sox have 1 out. Bottom of the third.
Another full count! Javier throwing wide too often here.
Martinez thought that was ball 4, it was strike 3! He then walked in front of Maldonado, stopping him getting the ball away and he's raging! Couldn't prevent Verdugo stealing a base. He's at second now.
Verdugo up!
And at 2-2 he watches one down and in and it's a full count.
Next one is outside and Verdugo walks. Great patience. FIVE walks so far.
Christian Javier pitching at the start of the Red Sox' 3rd innings. Bogaerts at bat. Who hit a homerun in the first innings to give the Red Sox their 2-1 lead.
Three innings, three pitchers for the Astros.
Javier fast ball, Bogaerts fouls it away. And another foul for 0-2.
Javier can't keep it tight and there we have it 2-2.
Action ball allows Bogaerts to get the ball off the plate, but he grounds out to third.
Bregman, who scored the homerun in the first is up. And he sends a high one out to lett field and that's the end of the innings.
Brantley grounds out to second. Two out for the Astros.
Top of the order. Altuve will be up next for the Astros.
Still Pivetta pitching.
Skied at home plate off a ball he should have done a lot more with and Altuve is out of here. First out for the Astros, top of the 3rd. Brantley next up.
Devers skies right and Raley has shut the door on that innings. End of the 2nd and the scoreboard didn't move. 2-1 Boston.
Two outs for the Red Sox here in the second. Devers at bat. Bogaerts on deck.
Raley to Hernandez, and he comes up empty with a big swing and no contact first ball.
And another big swing sees Hernandez make contact, but it's a foul ball.
Another foul and then a poor pitch to move to a full count. Raley following in Greinke's footsteps here. But the next pitch is a breaking ball that Hernandez swings at and misses. OUT!
Full count on Schwarber... and ball 4 trickles away behind. Walk. Another one. Changing over to Raley not changed things.
Raley takes over at the mound from Greinke for the Astros. Shortest start since 2012 for Greinke.
Schwarber will be up next for Boston.
Gurriel moves superbly to pick up from one off the end of the bat and feed Greinke who'd moved neatly to first and Arroyo grounds out! Vazquez moves on to second.
Red Sox one out, bottom of the 2nd.
Arroyo up for the Red Sox. Fouls out to the pole down right field. Into the seats and first strike.
Vazquez wants a piece of this, but his connections fly off behind and he's 2 and 2. And Greinke again gives the batter a chance with a poor low pitch to get us to 3 and 2. And a walk! Third walk gifted to the Red Sox!
Greinke, grunting away as per usual, gets us going.
Red Sox up next in the second, leading 2-1. Christian Vazquez up next, followed by Christian Arroyo.
Maldonado at 2-0 must be thinking he's going to get something to hit here...
It was there, but Maldonado leaves it. 2-1.
And then one that's outside, 3-1.
Maldonado gets bat on the next one, but it flies for an easy catch for Kike Hernandez . And that's the innings.
Astros will be frustrated at not making more of that situation, but Maldonado...
Runners advance as Vazquez can't hold a low one. Goes down as a wild pitch. Gurriel at third, McCormick at second.
Pivetta to McCormick. And he watches as it moves to 3 and 0. And then another ball and it's a 4 pitch walk.
To third... Devers with a neat pick up but his throw is high, and Gurriel gets to first. Then he gets to second as the ball flies off a TV camera from the overthrow.
Kyle Tucker the new man up. Strike, and fouls for strike two.
Pivetta goes high, but Tucker chases it and strikes out! Two out for the Red Sox.
Correa hits, but grounds out to shortstop. First out.
Second innings. Red Sox's Pivetta to Correa, let's see if he can belt one.
Renfroe up and he's straight to 2-0. Astros wanted pressure, they're not getting any. Greinke looked serious before this game, his face is a picture right now. Gets a strike with the next one, but AGAIN lets the pressure off with on that's high and tight next up. 3 and 1.
Renfroe gets it away left, but that's a superb pick up from Bregman and Martinez is out at second. Innings over!
Martinez at 2-2 now and he lets one inside go and he's on 3-2. Greinke keeps Verdugo honest at first base, but his next pitch is in the dirt and Martinez walks!
Martinez was on two strikes, but Greinke couldn't keep the pressure on. That last pitch in particular was really shaky to allow him to walk.
Boston with two out, Astros need to put this innings to bed as quickly as possible. They can't afford to let the Red Sox get away early on here.
J.D. Martinez up, first ball, strike one...
Verdugo at bat. He gets it away and safe at first base after an error from third baseman Bregman.
Fenway is a hitter's paradise. Can't deny it.
BOGAERTS! BOOM! HOME RUN!
Red Sox on top! 1-2!!
Ball 2 as Greinke lets another one slide outside. Then 3 as one skips in. Then Devers checks his swing on ball 4 and he gets the walk.
Devers next to the plate for the Red Sox.
Hernandez gets one away along the deck left, but he can't make first and is second out.
Kike Hernandez up next for the Red Sox. Strike at 90 to start.
Schwarber at 2-1 gets right under one, and he's first out.
Greinke up to the mound. Schwarber up first for the Red Sox.
Alvarez pops out and that's the end of the innings. Short but sweet enough for the Astros who are on the board.
Astros 1-0 Red Sox.
Bregman up next for the Astros. He's nearly hit by one that's inside, but nips out the way. Fast feet.
And he makes contact with the next one! Flyball into left and that is a home-run! He didn't actually fully get hold of it, but here at Fenway it was enough. 1-0!
Brantley on strike. He moves to 2-2 and Pivett strikes him out with a high fast ball! Big swing, no contact.
That's just not the start the Astros wanted. Altuve out first ball. That's NOT how you put pressure on the Red Sox
Here we go!
Pivetta pitching to Altuve... and he goes after the first pitch, flies high to left and he's out first ball. Brantley up next.
Starting Astros pitcher Zack Greinke looks extremely, extremely serious as he walks round the field. Not long to go now.
All the questions on the Astros after the last two games, but remember they're actually only down 1 game.
Weather in Boston
It's 58 degrees in Boston and overcast, though very little chance of rain. Humidity sitting at 43%, with a few gentle puffs of wind swirling round Fenwick Park - not much more than 10mph though.
Injury update
Boston are only missing righty reliever Garrett Richards, otherwise they are a picture of perfect health.
The Astros meanwhile are missing pitcher Luis Garcia, who picked up a knee strain in Game 2. He might be back for Game 5. Meanwhile Meyers could come back tonight after injuring his shoulder flying into the wall in Game 4 of the ALDS.

Cora not cocky
Red Sox manager Alex Cora wasn't getting carried away in the slightest despite his on-fire offense smashing 21 runs in two games.
"Like we always do, we turn the page. We'll be ready for tomorrow. That's a really good team out there. It's never comfortable with them. We got to be ready," said Cora yesterday.
The Astros go with fancy video for their starting line-up tweet. Not entirely sure about that 'equaliser' effect on the coloured bars for each player, but here's who they've gone with.


What went before...
In the opening game of the series the Astros just prevailed, 4-5, in a tense affair at Minute Maid Park, with José Altuve scoring 3 for the home team. That all changed in game 2, as the Red Sox turned the tables to level the series with a 9-5 victory before returning to Fenwick Park for game 3. And that game saw an even bigger win for the Red Sox, thumping the Astros 3-12, having led 0-9 at the end of the third.
So Boston come into today's game having scored 21 runs in the past two tie-ups, 12 of which have come on a postseason-series-record three grand slams. And they're at home again tonight, where yet more high scoring certainly can't be ruled out within the narrow confines of their home ground, and particularly given the quality, or lack thereof, of pitching we've seen so far.
Prediction: the Red Sox offense will be just too strong; expect a third win a row for Boston that will leave the Astros teetering on the brink at 1-3.
Red Sox Batting Order
Kyle Schwarber (L) 1B
Kike Hernández (R) CF
Rafael Devers (L) 3B
Xander Bogaerts (R) SS
Alex Verdugo (L) LF
J.D. Martinez (R) DH
Hunter Renfroe (R) RF
Christian Vázquez (R) C
Christian Arroyo (R) 2B
Astros Batting Order
Jose Altuve (R) 2B
Michael Brantley (L) LF
Alex Bregman (R) 3B
Yordan Alvarez (L) DH
Carlos Correa (R) SS
Kyle Tucker (L) RF
Yuli Gurriel (R) 1B
Chas McCormick (R) CF
Martín Maldonado (R) C
Astros vs Red Sox - live!
Welcome to the live commentary of Game 4 of the American League Championship Series between the Houston Astros and the Boston Red Sox . With Boston putting on an incredible display at the plate last night, all of the momentum is swinging their way. Fenway Park has been a key component in the smashing that Boston gave Houston in Game 3 and we can expect more of the same.
.