Dynamo Kiev vs Barcelona summary: score, goals and highlights, Champions League
Dynamo Kiev 0-1 Barcelona: as it happened
Peeep peeep peeeep! A massive win for Barcelona in Kiev. Ansu Fati's goal gives Barcelona three points which, combined with Bayern Munich's 5-2 victory over Benfica, take the Catalans into second place in Group E.
They're now two points ahead of Benfica, who go to the Camp Nou in three weeks' time for what will be a huge matchday-five clash. Although Kiev aren't mathematically out, it's essentially become a straight fight between Barça and Benfica for the right to join the now-through Bayern in the last 16.
That's all from me - thanks for reading!
Dembélé scampers towards the Kiev box before slipping Balde into shooting space on the left-hand side of the area, but the youngster sends his shot well off target. What an asset Dembélé's pace can be.
Five minutes of time added on in Kiev.
Oh, that's a let-of for Barça. Kiev win a corner, which is played short to Lednev. He whips a lovely ball over to the back stick, where Zabarnyi is in acres of space to volley at goal - but miskicks, and the ball bobbles across the face of Ter Stegen's goal and out.
Barça may win this, but it's clearly Kiev who've been the more productive side in terms of proper chances.
Ansu Fati comes off for Alejandro Balde.
Balde immediately receives the ball and takes on Tymchyk, but is penalised for clipping the Ukrainian's heels as he bursts past him.
Barcelona are minutes away from a huge three points.
Kiev want a penalty when Busquets appears to tug down his man as they challenge for a free-kick delivery into the Barça box from the right, but the referee says: nothing doing. Replays suggest Busquets is a little lucky.
Mingueza was booked a few moments ago, by the way.
There's a fine chance for Kiev to equalise, but Ter Stegen beats it out! Verbic's low ball across the box runs through to Tsygankov, who takes a touch and aims a curler at Ter Stegen's far corner, but the Barcelona keeper is on his toes and parries. Probably Kiev's best chance so far tonight.
Shaparenko is down and clutching the back of his thigh; he'll be replaced by Shepeliev. Lednev is also on, to replace Buyalsky.
Kiev make a double change, throwing on Tymchyk and Verbic for De Pena and Kedziora.
At one end, Buyalsky volleys a tame shot right at Ter Stegen, who a few moments earlier had looked alive to parry a Sydorchuk shot.
At the other end, a Depay shot is deflected wide, and the corner comes to nought.
How things now stand in Group E
That Fati goal changes things somewhat in Group E. With Bayern now 4-1 up on Benfica, Barcelona will move into second and two points ahead of the Portuguese side if they can hold on to their lead in Kiev.
But Barça get it to Ansu Fati now, and he rifles the visitors into the lead!
Mingueza crosses low from the right and, when it takes a touch off a Kiev boot, it sits up perfectly for Fati to thump it high into the net from the penalty spot.
Five games later, Barça have scored away from home.
Kiev mount a quick break that is snuffed out, and in the blink of an eye Dembélé is speeding over the halfway line and at a backpedalling home defence. He has Ansu Fati free to his left, but his attempt to find the teenager is cut out. A shame.
Dembélé takes on his man and bends over a cross from the right, but Bushchan comes out and claims pretty easily. Barcelona have flung a lot of crosses into the box, but not enough have them have been any good.
Barcelona bring on Dembélé, Gavi making way. They've huffed and puffed in attack, and could do with the Frenchman's pace.
Ah, hold on. Hategan comes over to the pitchside monitor for a second look at it, and decides Fati tripped himself up. No penalty!
Penalty to Barcelona! I was beginning to wonder how Barça were ever going to score tonight, and now they have been given a chance to. Fati's leg appears to be taken as he prepares to pull the trigger in the box, and Hategan points to the spot!
There's a chance for Karavaev, but he curls it just wide! He slips Buyalsky into the Barcelona box, but his pull-back from the left-hand byline is cut out by García. However, it drops straight back to Karavaev, who bends a shot towards Ter Stegen's far top corner, but it's just a couple of yards off target.
At the other end, Mingueza whips in a cross from the right for Barcelona, but it's too far in front of Depay.
Alba gets the ball out of his feet and crosses towards Lenglet. He gets there ahead of Bushchan, who has strayed into no-man's land, but his header is directed high and away from goal, and the chance is lost.
Lenglet then almost gets on the end of Depay's right-wing corner, darting ahead of his marker to stick out a boot that does connect with the ball, but not well enough to generate the power he needed. It trundles into Bushchan's arms.
Tsygankov absolutey skins Lenglet on the halfway line, nutmegging the Frenchman. Lenglet responds by fouling him, and is rewarded with the most richly deserved yellow card you're every likely to see.
Gavi is immediately into the referee's book for tugging back Karavaev, and Dynamo Kiev have a free-kick on the left. The delivery pinballs through to Garmash at the back of the box, but he blasts a wild cross high and out into touch. (Or was it a shot? Not sure.)
Moments later, Kiev get De Pena into crossing space on the left, but his ball is too close to Ter Stegen, who is quickly off his line to gather it.
Peeeep! We're back underway at the Olympic National Sports Complex.
No Dembélé yet, and indeed no changes at all for either team.
Barça to bring on Dembélé?
No shots on target in that first half for Barcelona, who have now gone four and a half games in all competitions without scoring away from home.
Ousmane Dembélé is warming up out on the pitch and looks like he may be preparing to come on for his first Barça appearance of the season.
Bayern beating Benfica in Munich
Over in Germany, Bayern Munich are doing Barcelona they favour they needed: the Germans are 2-1 up on Benfica, courtesy of goals by Robert Lewandowski and Serge Gnabry.
As it stands, Bayern are going through as group winners, and Barça and Benfica will end the night level on four points, setting up their matchday-five meeting at the Camp Nou very nicely indeed.
Peeep peeep peeep! That's half time in Kiev. Barcelona have had most of the ball and have spent most of the first 45 in Dynamo Kiev's half, but you'd have to say the better chances have gone to the hosts.
Buyalsky is booked for a late challenge on Gavi.
Back come Barcelona, who release Depay into space on the right. He drives towards the box, before playing it across the top of the area to Fati. Fati lets it run to De Jong, who's arriving in acres of space - but the Dutchman can't quite collect. Alba then crosses low from the let, but Bushchan gets a hand to the cross and Kiev clear.
Nico goes close! Mingueza lifts over a cross from the right that drops on to Nico's forehead, 10 yards or so out. He directs the ball downwards, towards Bushchan's corner, but Depay gets in the way of his team-mate's header!
Garmash is booked for nasty little challenge on Busquets.
After a few minutes where Kiev had Barça rather on the ropes, the visitors look to have regained a measure of control.
Memphis plays a corner to Alba at the top of the box - Scholes-at-Bradford style, or Mendieta-at-Camp Nou, if you prefer - but doesn't direct his pass quite right, and Alba has to adjust his feet before controlling and shooting from range. His effort is well over.
Alba curls a delicious dead-ball delivery into the box from the left, the type that just needs the slightest of touches to redirect it into the net. Lenglet meets it, Bushchan is beaten all ends up, but it bounces back off the post! Ah, and Lenglet was one of two or three Barça players who were offside.
And again Kiev open Barça up! The hosts have their tails firmly up now. Tsygankov plays the ball inside to De Pena, who slips Shaparenko into space in the box - but his shot is just wide of Ter Stegen's near post!
Kiev are coming to life now, and create their second excellent shooting chance in two minutes. A right-wing free-kick runs through to the back of the box to De Pena, who strikes - and draws a smart stop from Ter Stegen.
The noise has risen a decibel or two in Kiev.
Oh, that's fine chance for Shaparenko, but he utterly fluffs it. Kiev get Tsygankov scuttling into space down the right wing, before he lifts his head and cuts it back to Shaparenko at the top of the box. He takes a touch and shoots, but drags his effort horribly wide! A let-off for Barça.
Ansu Fati produces a sumptuous piece of control to pull down a diagonal ball to the left wing, before cutting it back to the top of the box. Fati's lay-off falls to Busquets, who skies it from 20 yards. Not the man Barça would have wanted that opportunity to drop to.
Eric García gets the first yellow card of the night when he goes in late on De Pena, who makes a bit of a meal of it, if you ask me. Busquets complains that a similarly ill-judged tackle on Depay a few moments earlier did not persuade Mr Hategan to get his cards out.
78% possession for Barcelona so far tonight.
Lenglet lifts a ball into the box towards Gavi, who's darted forward down the right-hand channel, but the Frenchman's pass is overhit and drifts out for a goal-kick.
Nico exchanges passes with Depay before slipping it right to Gavi, who whips over a ball across goal. It sails over Bushchan and Alba is arriving at the pace at the back post, but he can't connect! He had a semi-open goal there, but it was by no means an easy chance.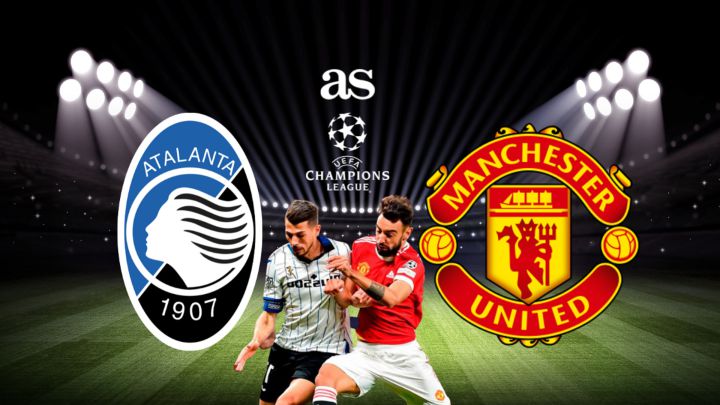 Gavi heads Busquets' long ball across the box to Depay, who can't quite turn it on to De Jong as he arrives at pace. It finally falls to Ansu Fati at the back of the box, the teenager getting the ball out of his feet and striking towards goal - but his shot is blocked by a gaggle of white shirts.
Barça have made an encouraging start going forward. They've got themselves into dangerous shooting positions a couple of times, now.
Dynamo create their first moment of attacking danger, De Pena slipping Karavaev into a good position to cross low towards Garmash. Eric García is there to sweep up and clear the ball into the box, though.
There are a good few boos from the home fans as Barça continue to plop it about. Lenglet lifts a ball into the Kiev box towards Nico, but Buschchan is quickly off his line to claim. Kiev have had about two touches of it so far.
It's been all Barcelona ball so far, Dynamo Kiev sitting and waiting for the Catalans as they stroke it about in the hosts' half.
Just as I wad about to say the Blaugrana hadn't actually done anything with their possession, Memphis Depay carves out a shooting chance inside the Kiev box.
The Dutchman barrels his way into the area, before the loose ball drops to Ansu Fati. He's tackled, but it slips back to Depay, on the penalty spot... but his shot is blocked!
Peeeep! We're underway in the Ukrainian capital.
Teams out!
The teams are out at a noisy, rainy Olympic National Sports Complex. Tonight's referee is Romania's Ovidiu Hategan.
By the way, Barcelona are the first LaLiga side to name a team with three teenagers in it in the Champions League, Opta note.
Dynamo Kiev vs Barcelona: head to head
Since suffering a famous 4-0 home thumping by Dynamo Kiev in the 1997/98 Champions League group stage - a game in which Andriy Shevchenko scored a hat-trick and, as I mentioned earlier, Sergi Barjuan was sent off - Barcelona have won five on the bounce against the Ukrainians.
That run includes a group-stage double over Kiev last season, crowned by a 4-0 win in the Ukrainian capital.
However, Barça tonight face a Kiev side who haven't conceded at home in 13 games in all competitions, going back to a 2-0 Europa League defeat to Villarreal eight months ago.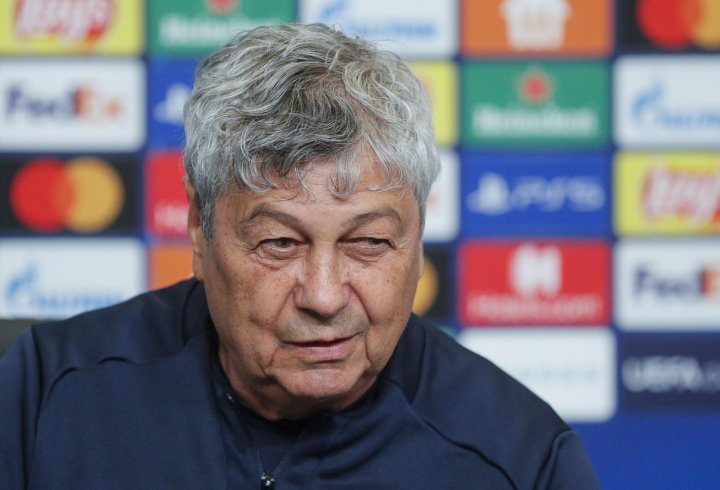 What the coaches said: Mircea Lucescu, Dynamo Kiev
How significant for Barça is the loss of Gerard Piqué and Sergio Agüero?
Not too significant. [Eric] García will replace Piqué. He's Barcelona future. Agüero hasn't played a lot recently, so his absence isn't a problem for the visitors either. They have [Memphis] Depay, who scores a lot. Of course [Lionel] Messi's departure influences the team. On the other hand, we also lack very important players – [Denys] Popov and [Artem] Besedin. Anyway, I'm sure we'll have a good game tomorrow.
Will Barcelona benefit from a new-coach bounce?
I haven't seen any changes so far. They didn't manage to win against Alavés. Unfortunately for Sergi Barjuan, some of his players have health issues. It's hardly possible to change something in three days.
(Photo: SERGEY DOLZHENKO/EFE)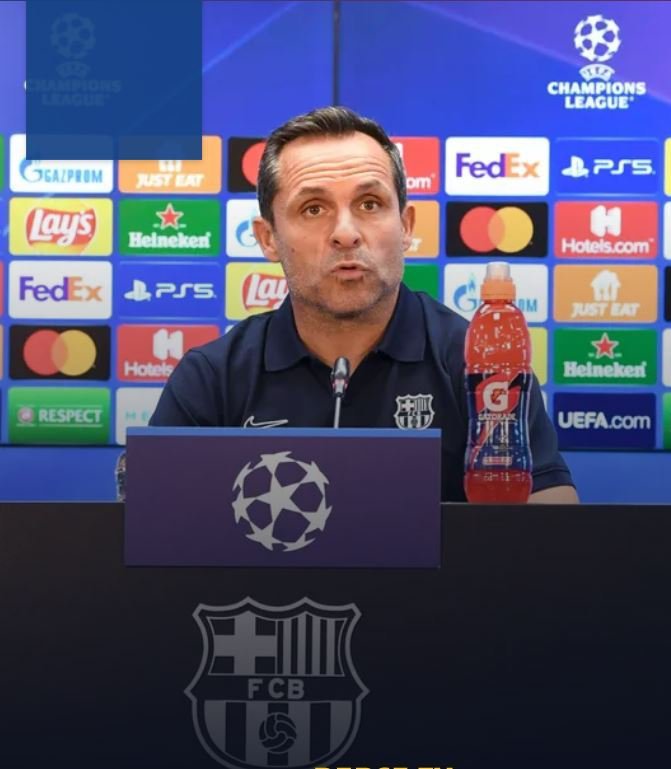 What the coaches said: Sergi Barjuan, Barcelona
Does this game feel like a cup final for Barcelona?
We have only had a few training sessions. The players are training the same as before. The only thing I ask of them is that they are well organised and play intense football. They have talent and we have to get that out of them during the game. All of us know how important this game is. But we can't allow anxiety to creep in. With calm we can pass the ball around and find spaces - that's the Barça we want to see.
How are you after just a few days in the job, how have the players taken to you? How is Kun Agüero?
I feel very proud to be here and represent the club at this moment. We Culés need to be strong, now's not the time to show weakness. I believe that the team i very capable. I spoke to Kun yesterday via WhatsApp, he's holed up in his hospital room but he's relaxed.
Have a read of Sergi's pre-match press conference in full
(Photo: Diario AS)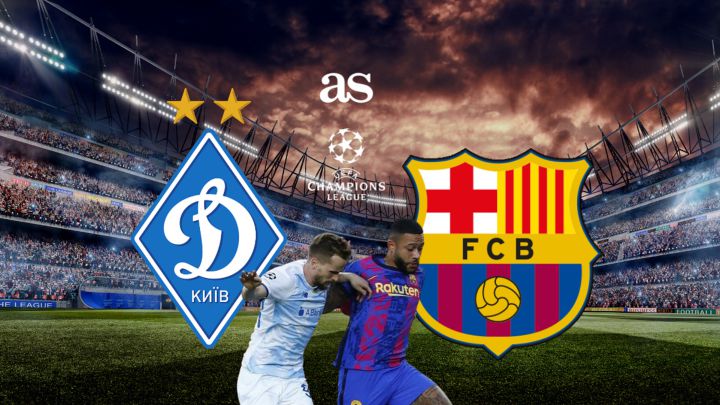 How things stand in Group E
Having got their first Champions League win of the season last time out, Barcelona are looking slightly better off now - but they still trail Benfica by a point and need leaders Bayern Munich to do them a favour in tonight's other Group E clash.
Were Barça to go out at the group stage, it would be the first time they have suffered such an early Champions League exit since the 2000/01 season, when they were out-qualified by AC Milan and Leeds United.
Bayern can wrap up their last-16 place tonight: they'll be through if they avoid defeat to Benfica, and will be confirmed as group winners if they win and Barça don't.
As for Kiev, they'll go out tonight if they lose to Barça and Benfica avoid defeat to Bayern, albeit the Ukrainians would still be able to finish third and earn a Europa League place.
Lenglet, Frenkie and Fati in for Barcelona, one change for Kiev
Sergi Barjuan makes three changes to the Barcelona team that began the 1-1 draw with Alavés at the weekend, as Clément Lenglet, Frenkie de Jong and Ansu Fati come into the side in place of Gerard Piqué, Sergiño Dest and Sergio Agüero.
Piqué and Agüero are unavailable, after the former was ruled out with a calf strain and the latter was forced off against Alavés with chest pains. Subsequent tests revealed heart issues that look set to keep the Argentinian out for at least three months.
For hosts Dynamo Kiev, meanwhile, there is just one change to the side that beat Illichivets Mariupol 3-2 in the Ukrainian Premier League this weekend, as Denys Garmash replaces Benjamin Verbic up top.
Dynamo Kiev team news
Starting line-up: Buschhan, Kedziora, Zabarnyi, Syrota, Karavaev, Shaparenko, Sydorchuk, Tsygankov, Buyalkskyi, De Pena, Garmash
Barcelona team news
Starting line-up: Ter Stegen, Mingueza, García, Lenglet, Alba, Nico, Busquets, De Jong, Gavi, Ansu, Depay
Dynamo Kiev vs Barcelona: Champions League preamble
Good evening, good afternoon, good morning - whichever applies to you, wherever you are in the world.
Welcome to our live coverage of a rather important Champions League game for Barcelona, who visit Dynamo Kiev in something of a sorry state, and very much in need of a win.
Gerard Piqué's first-half strike against Kiev on matchday three two weeks ago gave Barça their first goal and their first points in Group E, but the Blaugrana remain in serious danger of exiting the Champions League at the group stage for the first time in 21 years.
Barça have, of course, dispensed with head coach Ronald Koeman since that win over the Ukrainians at the Camp Nou, defeats to Real Madrid and Rayo Vallecano culminating a run of three wins in 10 that put paid to the Dutchman's tenure.
So interim boss Sergi Barjuan - a man who as a player was once sent off for Barça in a 4-0 defeat to Kiev - is tasked with getting a result against a side the Catalans have beaten in their last five meetings, but who haven't conceded a goal at home since March.
Anyway, the teams are in, so let's have a look at them.