BARCELONA
Barcelona's Sergio Agüero ruled out for at least three months
Barça have not issued an official diagnosis of Agüero's arrhythmia but have confirmed that he will be out of action until February 2022.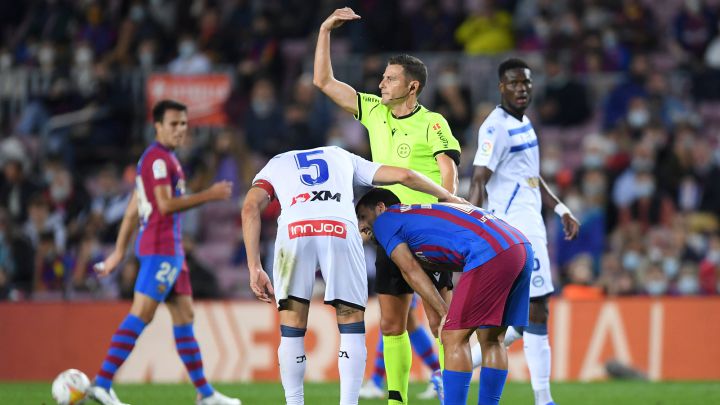 Sergio Agüero will be out of action for at least three months, according to FC Barcelona. The LaLiga club issued a statement on Monday, confirming the striker won't make a return to action until the new year.
LATEST NEWS | Barça player Kun Agüero has been subjected to a diagnostic and therapeutic process by Dr. Josep Brugada. He is unavailable for selection and, during the next three months, the effectiveness of treatment will be evaluated in order to determine his recovery process. pic.twitter.com/My9xWpm6I4

— FC Barcelona (@FCBarcelona) November 1, 2021
If the treatment goes well, the 33-year-old is expected to make a return, however, Agüero, who joined the Camp Nou outfit on a two-year deal in the summer, knows his future is unclear.
Agüero leaves Camp Nou for hospital

The Argentine came off before half-time in Barcelona's 1-1 draw with Alavés on Saturday. The former Manchester City player complained of suffering chest discomfort and dizziness and ended up in hospital. Agüero suffered a similar incident when he was 12 years old and that alarmed the doctors, who after observing the player's history and the symptoms of last Saturday's episode, have decided to monitor him and rule him out of action for at least three months.
Barcelona send support
Minutes after issuing the official statement confirming Agüero's time out, Barcelona also posted a tweet in support of the Argentinian player.
Agüero recently netted his first goal for his new club against Real Madrid in El Clásico at Camp Nou and was looking forward to playing regularly.
According to Catalan daily Sport, Agüero is distraught and is understandably worried about his future. The player's mother and brother, who have been living in Madrid for the last two months, will go to Barcelona to be with him during the hardest spell of his career.