NFL
Raiders release Ruggs after involvement in deadly crash
The promising wide receiver now faces two felony charges and possible prison time after he was deemed to be driving under the influence of alcohol.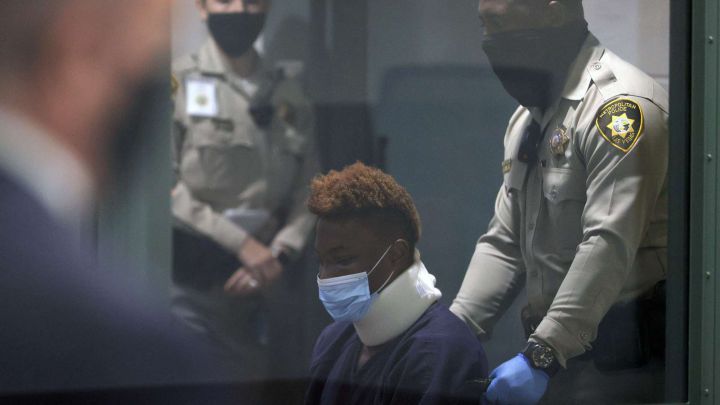 Having been involved in a deadly car crash that left a woman dead, Henry Ruggs has been released by the Raiders as he faces two felony charges.
The Raiders release Henry Ruggs
The Las Vegas Raiders released wide receiver Henry Ruggs III on Tuesday night following his involvement in a deadly car crash that left a woman dead in the early hours of Tuesday morning. Ruggs is facing two felony charges, the first of which is for driving a vehicle while under under the influence of alcohol resulting in death and the second is for reckless driving.
According to court records once he was released from a hospital in Las Vegas - Ruggs and his passenger suffered injuries in the accident - he was escorted to prison that same day. Ruggs is scheduled for an preliminary court appearance on Wednesday.
How did Henry Ruggs get into the accident?
According to statements from Las Vegas' police, Ruggs who is 22 years old was driving a Chevrolet Corvette at high speed when he slammed into the rear of a Toyota Rav4 in a residential area just west of the Las Vegas Strip at approximately 3:39 a.m. local time Tuesday. The Raiders wide receiver and his passenger who has now been identified as Kiara Je'nai Kilgo-Washington - the mother of his young daughter - were hospitalized with what police referred to as "serious" injuries, though they were deemed non life threatening. The Toyota into which they crashed, however, had burst into flames on impact, leaving the driver and her dog dead. The police also added that at the time, Ruggs "showed signs of impairment." The identity of the deceased driver has not yet been made public due to a federal policy which disallows the disclosure of medical information.
Henry Ruggs III was driving 156 mph just seconds before the crash that left a woman dead, according to prosecutors.

Prosecutors also said Ruggs' blood-alcohol content was twice the legal limit and that a loaded firearm was recovered from his car. https://t.co/HLHX6b9819

— SportsCenter (@SportsCenter) November 3, 2021
What does Henry Ruggs face now?
Although the Clark County District Attorney Steve Wolfson did not accept requests for comment regarding the charges laid against Ruggs, it is understood that according to Nevada law, probation for a conviction on a charge of DUI causing death is not available as an option. What that means is that if Ruggs is in fact convicted, he will face a possible sentence of two to 20 years in state prison. Regarding his reckless driving charge, the possible sentence one to six years in prison, with probation available. Ruggs' attorneys, David Chesnoff and Richard Schonfeld gave a statement in the wake of the tragedy saying they are in the process of investigating on their client's behalf, "and ask everyone to reserve judgment until all the facts are gathered."
Interestingly Chesnoff and Schonfeld also represented fellow Raiders running back Josh Jacobs after his January 4th single-car crash. Jacobs was arrested for DUI, however, were never actually filed as it was later found through investigation that his blood-alcohol level was below the legal limit.
For more from the NFL
Where do the Las Vegas Raiders stand?
Following a statement early on Tuesday in which they made clear they were "devastated by the loss of life," the Raiders moved quickly to separate themselves from the player, announcing his immediate release. In addition NFL spokesman Brian McCarthy also followed up with a league statement saying, "Our hearts go out to the family and friends of the victim of this horrific tragedy. We will continue to gather facts and monitor the matter under our policies, but our thoughts at this time are with those impacted by this devastating incident."
Aside from the terrible fact that needless loss of life, the accident also sadly brings a tragic and abrupt end to what was becoming a promising career. With 24 catches for 469 yards and two touchdowns, Ruggs' 19.5 yards-per-catch average was second in the NFL among wide receivers with at least 20 receptions. Ruggs was the Raiders' first-round draft pick in 2020 from Alabama at No. 12 overall. Speaking on his signing at the time, Raiders' owner Mark Davis said "He was the only person I wanted in this draft."