NFL
How broken are the Chiefs? Packers may provide answer
With Kansas City stumbling from one unconvincing performance to the next before facing Green Bay, Stats Perform asks, how broken are the Chiefs?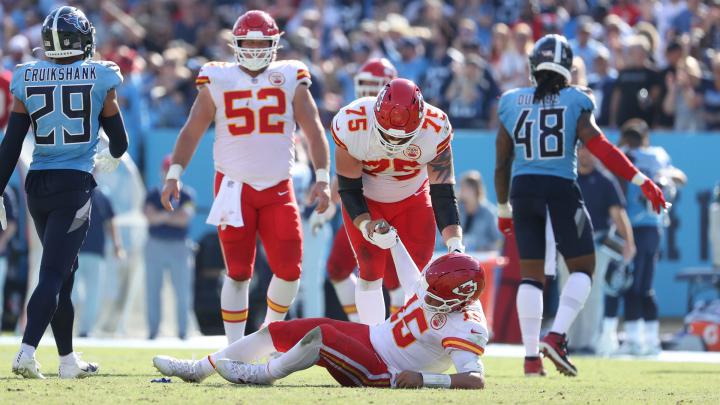 It is the one question that has dominated the 2021 NFL season: what is wrong with the Kansas City Chiefs?
The Chiefs, expected to return to juggernaut status after completely remodelling their offensive line in the wake of their blowout Super Bowl loss, have lurched from one unconvincing performance to another this campaign.
They sit at 4-4 heading into a matchup with the 7-1 Green Bay Packers that has lost a significant amount of its prestige due to Aaron Rodgers being ruled out after testing positive for coronavirus.
A 20-17 victory over the New York Giants on Monday did nothing to calm concerns about Kansas City and this weekend's visit of Green Bay may provide the answer as to how broken this Chiefs team really is.
Heading into a clash that could play a critical role in determining the direction of the 2021 Chiefs, Stats Perform assesses whether a contender that has often looked more like a pretender is as broken as many believe.
Explosives in short supply
The offense was expected to be at its devastating best in 2021 following the reconstruction of the offensive line.
That has not come to pass. The Chiefs have moved the ball efficiently for the most part of the season, they are ninth in yards per play with 5.99, but have seen turnovers continually undermine their production, which has tailed off to 4.84 yards per play over the last two weeks.
Patrick Mahomes has thrown a league-leading 10 interceptions, though a deeper dive into his performances this year strongly indicates he should not have thrown anything close to that number.
Indeed, Mahomes has delivered an accurate, well-thrown ball on 80.5 per cent of his passes this season, down from 81.1 in 2019 but significantly up from 76.7 in 2020, while his pickable pass percentage of 1.99 is the seventh-best among quarterbacks with at least 50 attempts.
Mahomes has thrown six turnover-worthy balls in 2021 with those numbers reflective of a series of accurate passes that have clanked off the hands of his receivers and into the arms of grateful defenders.
Does that mean the receiving corps is to blame for the Chiefs' struggles?
Not necessarily. Star wideout Tyreek Hill has been credited with five drops and has played a part in some of those Mahomes' interceptions but the speedster is still consistently creating separation.
Hill has produced a burn, which is where a receiver wins his matchup with a defender on a play where he is targeted, on 71.9 per cent of his targets. That is well above average among receivers (minimum five targets) of 61.1. With his 3.0 burn yards per route superior to the league-wide average of 2.3 for his position, Hill is still a huge problem for opposing defenders along with tight end Travis Kelce.
The metrics suggest Kelce's play has tailed off a little. His burn percentage has dropped from 72.3 in 2020 to 67.6 this year and he is putting up 2.6 burn yards per route compared to 3.1 last year. He is still on the right side of the ledger in each of those categories, however.
Where there has been a clear drop-off from Kansas City's chief offensive weapons, is in explosive plays.
Hill delivered a big play on 35.6 per cent of his targets last season but is doing so 23.8 per cent of the time this year, comfortably below the league average of 29.1 for receivers. Kelce's dip is less dramatic, going from a big play rate of 36 per cent in 2020 to 28.9 in 2021.
That is compounded by the lack of depth the Chiefs have at receiver. Their investment in Mecole Hardman as a second-round pick in 2019 continues to look ill-advised. He is averaging a disappointing 1.7 burn yards per route while Demarcus Robinson (0.8) has also struggled when it comes to creating clear separation.
Byron Pringle is third among receivers with at least 10 targets with a big-play rate of 49.8 but with a relatively small sample size of 22 targets. He has a strong case for a greater role in a Chiefs offense that is turning the ball over and getting a declining rate of explosive plays from its top weapons.
And yet it is still not their biggest problem.
Chiefs' Dismal defense
The Chiefs not living up to their extremely high standards would not be receiving the same level of scrutiny if Kansas City did not also possess the worst defense in the NFL.
That defense is allowing a league-high 6.43 yards per play, they are third-worst in the NFL against the pass (7.79) in that regard and fifth-worst (4.64) versus the run.
Kansas City's defense is one with problems in essentially every area. Their front has found it difficult to generate pressure, ranking 29th in pass rush win rate according to Stats Perform data.
Their issues in that regard forced their hand in trading for Melvin Ingram, who through seven games with the Steelers had a win rate of 30 per cent, above the average of 21.88 for edge rushers.
Yet there are also glaring concerns in the secondary.
Of the four Chiefs' cornerbacks to have been targeted at least 10 times, only Rashad Fenton (1.71) has a burn yards allowed per snap rate that is the right side of the league average of 1.97.
Perhaps an even bigger problem is the play of much-maligned safety Daniel Sorensen, who has given up a big play on 37.8 per cent of his targets, the third-highest rate among players at his position.
As such, Sorensen can expect to be attacked consistently by the Packers' offense, which should still have plenty of confidence of moving the ball despite Rodgers' absence.
All you need is Love?
The Packers have not been efficient, ranking a disappointing 20th in yards per play, but may have found a winning formula on the ground, having rushed for at least 100 yards in five of their last six games.
Given the Chiefs' deficiencies in stopping the run, Kansas City can expect to see heavy doses of Aaron Jones and A.J. Dillon.
Yet at some point, the Packers must put their faith in Rodgers' backup Jordan Love in his first start, providing Steve Spagnuolo's defense with cause for optimism.
In his final season at Utah State in 2019, Love delivered a well-thrown ball just 66.74 per cent of the time, putting him significantly shy of the average of 73.20 per cent for Power 5 and Group of 5 quarterbacks with at least 100 attempts. His pickable pass rate of 8.21 per cent was the third worst.
And he deteriorated under pressure, his well-throw rate dropping to 54.89 and his pickable pass percentage increasing to 12.03 when under duress.
With limited NFL experience to his name, the Chiefs will hope the accuracy issues and his troubles against pressure continue at the NFL level.
But the impact of any inability to deal with the pass rush from Love will not be felt if the Chiefs cannot drastically improve their success in defeating opposing pass protectors.
The Chiefs are clearly a long way short of their usual standards but, with Mahomes more accurate than in recent years and their top receivers still getting separation from defenders, to label them broken may be a stretch.
However, if they cannot get the job done in a high-profile matchup that has, at least on paper, drastically tilted in their favour due to the controversy surrounding Rodgers, then it will be a fitting adjective for a team long since associated with much more complimentary language.