SOCCER
Is Barcelona's Dani Alves the most decorated men's player ever? How many trophies has he won?
38-year-old Alves is to rejoin Barcelona after the LaLiga club confirmed they have reached a deal "in principle" to sign the Brazilian.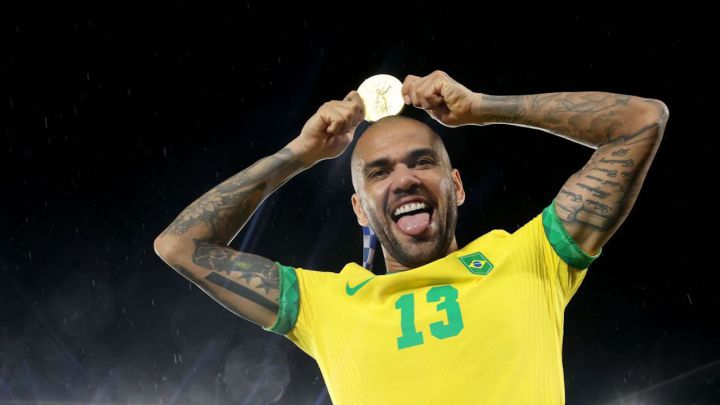 Barcelona on Friday announced they have reached an "agreement in principle" with Dani Alves to re-sign the right-back, whose haul of 43 senior trophies for club and country makes him the most decorated player ever in men's football.
Alves reunites with Xavi at Barcelona
Barça's deal with Alves, which is set to run until the end of the season, sees the veteran link back up with former Camp Nou team-mate Xavi Hernández, who was this month appointed as the LaLiga giants' new head coach in place of the sacked Ronald Koeman.
Alves, who has been without a club since leaving São Paulo in September amid a pay dispute, "will be joining training from next week", Barça said in a statement. However, despite signing as a free agent, he will not be eligible to make his second debut for the Catalans until January, potentially in a LaLiga clash against Real Mallorca.
First Barcelona spell yielded most of Alves' nearly 40 club trophies
The 38-year-old returns to a club where he enjoyed a trophy-laden spell between 2008 and 2016, collecting a total of 25 winners' medals. That haul places him sixth on the list of Barça's most successful players, behind only Lionel Messi (who won 35 trophies with the Blaugrana), Andrés Iniesta (32), Gerard Piqué and Sergio Busquets (both 30) and Xavi (25).
Alves had already won six trophies with his first two clubs, Bahía and Sevilla, and after leaving Catalonia five years ago, the Brazilian continued to add to his list of honours in stints at Juventus, Paris Saint-Germain and São Paulo. Indeed, São Paulo's Campeonato Paulista win in May 2021 was the 38th piece of silverware of Alves' club career.
Five winners' medals at international level
In his 15 years as a senior Brazil international, meanwhile, Alves has won five trophies. Most notably, he helped the Seleção to Copa América victory in 2007 and 2019, while his most recent international medal came in August 2021, when he captained the Brazilians to gold in the 2020 Olympics men's football tournament.
Dani Alves' 43 senior trophies
Bahía (2001-02)
Sevilla (2002-08)
1 Copa del Rey
1 Spanish Super Cup
2 UEFA Cups
1 UEFA Super Cup
Barcelona (2008-16)
6 LaLiga titles
4 Copas del Rey
4 Spanish Super Cups
3 Champions Leagues
3 UEFA Super Cups
3 Club World Cups
Juventus (2016-17)
1 Serie A titles
1 Coppa Italia
Paris Saint-Germain (2017-19)
2 Ligue 1 titles
1 Coupe de France
1 Coupe de la Ligue
2 Trophées des Champions
São Paulo (2019-21)
Brazil (2006-)
2 Copa Américas
2 Confederations Cups
1 Olympic football tournament
Alves: I knew I'd be back one day
Reacting to the confirmation of his Barcelona return, Alves posted an emotional Instagram message to the club's fans on Friday, declaring he had "never left". "Almost five years fighting like crazy to get to this moment," he said. "I didn't know it would take so long, I didn't know it would be so difficult, but I knew within my heart and within my soul that this day would arrive.
"I am returning home to a place I never left and, as I said before going: I'M ONE OF YOU. I DON'T KNOW HOW LONG THIS DREAM WILL LAST, BUT MAY IT FEEL ETERNAL AS LONG AS IT LASTS!! We'll see each other soon at the place that gives me the biggest buzz, with the same excitement as the first time and the same desire to help rebuild THE BEST CLUB IN THE WORLD!!"