BOXING
Has Jake Paul refused to sign up for drug test as Fury says?
Ahead of his fight against Tommy Fury, the YouTuber has been accused by John Fury, Tommy's father, of not signing up to VADA's testing process.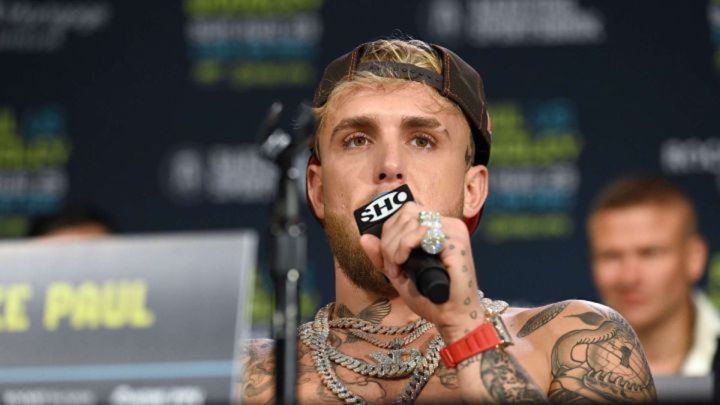 Ahead of December's clash between Jake Paul and Tommy Fury, a new accusation has been made to stir things up. According to John Fury, Tommy's father, the YouTuber, who now makes a pretty penny as a pro-boxer, is said to have not signed up for the voluntary drug testing for the bout.
Jake Paul accused of avoiding VADA drug testing
So, assuming you've got at least a passing interest in this latest fight, you'll likely be aware that as well as some serious cash being on the line, there are also some other conditions. You see what happens when the bickering gets going on social media for weeks in advance!
A pot of half a million dollars awaits Fury if he comes out victorious over Fury, but if he loses, he has to change his name - legally - to 'Tommy Fumbles'. Fury senior, talking with YouTube star Rob Moore, has said that there is "all kinds of stuff in the contract" but highlighted the issue with the VADA testing.
"You've got to do this and you've got to do that. I could go into it more and more but I don't want to bore people with the politics.
"They [Paul's team] wouldn't sign up to the VADA testing. That bothered me a little bit because I wanted that in the contract, but they wouldn't do that.
"I'm not even bothered about that, because of what they're going to do, they're going to do anyway. We just want the fight because we know we can win it.
"People think that Tommy's getting paid to lose. They're joking - Fury would rather be put to death than go down that road."
It's worth noting that Paul was tested by the Ohio State Athletic Commission - not that of VADA - ahead of his August fight with Tyron Woodley. The Florida State Boxing Commission is likely to take charge of this one.
Jake Paul vs Tommy Fury: the background
Officially announced at the end of October, the bout places Fury, who is in fact the brother of two time heavyweight world champion Tyson, against the divisive American. Fury confirmed it on social media writing, "Time to do what should've been done to you a long time ago...You're getting knocked spark out."
John Fury: "You're swearing now? You know, when Tommy knocks you out..." 😳

Jake Paul: "You're cringe as f**k bro!" 🤬

Tommy Fury couldn't believe his own dad said this right next to him. Let's hope Molly-Mae wasn't watching... 😬https://t.co/JJ8P56meDJ

— SPORTbible (@sportbible) November 24, 2021
Jake was equally combative in his response - if not more - as is his well publicized way. "It's finally official. Timothy had no choice but to sign the contract so he could finally pay his bar tabs, afford a shirt for the club and stop living off Molly." Paul added, "I'm changing this w***ers name to Tommy Fumbles and celebrating with Tom Brady. Pucker up Timmy, it's time to kiss your last name and your family's boxing legacy goodbye," he continued.
When and where is the fight?
The Jake Paul vs Tommy Fury fight is will take place on December 18th 2021. They two boxers will be fighting in Tampa Bay, Florida, at the Amalie Arena, which has a capacity of 21,500 seats. Though an official start time has not been made public, it is widely expected that the evening's events will get underway at 8 p.m. ET. as has been the case with most of Jake Paul's fights.
Interestingly there is co-main event, which will see Amanda Serrano - one of the best female boxers in the world - step into the ring.