NBA
Curry salutes Klay Thompson after latest Warriors masterclass
Stephen Curry had words of encouragement for Klay Thompson, the injured star who watched the Warriors beat the Trail Blazers on Friday.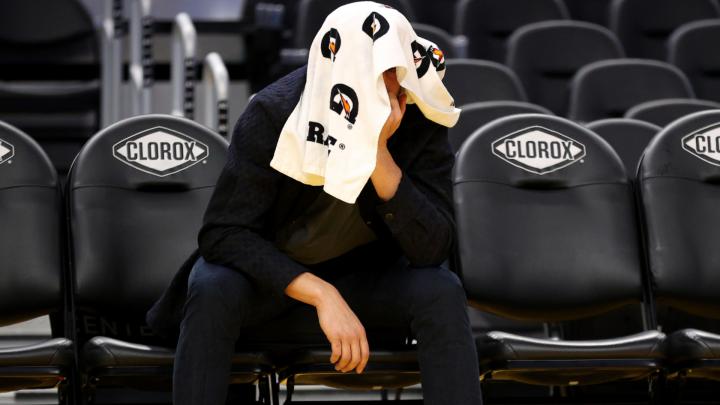 Stephen Curry had complimentary things to say about Klay Thompson even though he dazzled himself with yet another spectacular performance for the Golden State Warriors on Friday. The Warriors extended their winning streak to six games as they beat the Portland Trail Blazers 118-103 to move to 17-2 for the season.
Curry edges past Pippen
Curry led the way with 32 points, eight assists and seven rebounds, surpassing Scottie Pippen for 62nd place on the NBA's all-time scoring list. The Warriors' impressive form has come despite the continued wait for the return of star shooter Thompson, who this week returned to full-team practice for the first time in more than two years.
Thompson, a key part of the championship-winning sides in 2015, 2017 and 2018, suffered an anterior cruciate ligament tear during the Warriors' failed 'three-peat' attempt in 2019 and then injured his Achilles tendon during recovery. The shooring guard, who was serenaded by the crowd at Chase Center where he stayed on the bench for more than 20 minutes, is now going through perhaps the most difficult part of his journey back to the court, according to Curry.
"I kind of predicted this would be the hardest part of his journey because he's got the basketball back in his hands every day, he's feeling like himself, he's playing pickup and he's around our practices and back with us in those type of situations, but he's still not on the court," Curry said. "The good thing is we're talking weeks instead of months now. I'm super proud of just the way he's approached this two-year window because unless he wants to write a book and [explain] every step, nobody will understand what he's been through away from the game so long. And it shows how much this game matters to him."
Portland threatened a late comeback when they moved to within eight points in the final six minutes, but the Warriors are nothing if not resolute, two Curry three-pointers helping to safeguard their lead. "We know these type of nights where we play at home, do the defence, get the crowd into it. It's all about just trying to create an identity here. We've got to do our part throughout the season to win games," he said. "The defence is huge. We always pride ourselves on being a top-five defensive and we got to that level quickly. We've got to sustain it, obviously. Integrating our new guys, the shooting we have, ball movement, there was no guarantee that was going to be a smooth process. I'm proud of everybody stepping up, understanding how we play and everybody enjoying themselves."