NFL
The Cleveland Browns believe in Baker Mayfield
Though the QB has come in for criticism from various corners, the fact remains he's a former No.1 pick and has proven himself to be as tough as they come.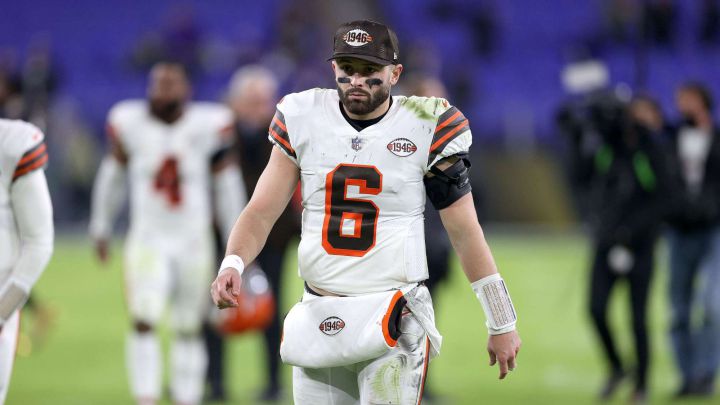 Though the Browns' QB has been under the microscope recently in the wake of the controversy surrounding the departure of Odell Beckham Jr., he remains the QB that Cleveland will count on.
Baker Mayfield has the Cleveland Browns' backing
On Wednesday Browns' general manager Andrew Berry once again backed Baker Mayfield, saying that the quarterback remains the Cleveland Browns' starter and that he expects him "to play his best football" once the Browns return to action after their bye week. "Baker's our quarterback," Berry said. "He's healthy enough to win games for us. If he's ready to go, he's going to be our starter."
For more from the NFL
Mayfield for his part has in fact struggled in various moments this season. At the same time it must be said that the quarterback has had to contest with various injuries. Most recently Mayfield has been hindered by a torn labrum in his non-throwing left shoulder, something that has progressively worsened since Week 2.
The Browns who are currently 6-6 have only scored more than 17 points in a game once since October 10th. That being said they have no intention of changing quarterback according to head coach Kevin Stefanski. Speaking after the Browns lost 16-10 to the AFC North rival Baltimore Ravens, Stefanski maintained his stance. "We all know Baker is incredibly physically tough," Berry said. "He's had stretches where he has played well."
The low down on Baker Mayfield
Picked as the No. 1 overall draft selection in 2018, Mayfield is currently under contract through the 2022 season, with his fifth-year option being picked up by the Browns during the off season.Interestingly, Mayfield is also up for a contract extension. Though Berry opted for discretion when discussing Mayfield's contract details, he did say that any decision regarding the player's future wouldn't be based solely on his performance this season. For the purpose of context, it must be said that Mayfield led the Browns to their first playoff victory in 26 years last season, while also finishing in the top 10 in QBR.
"With Baker, from a long-term perspective, you try to take a big picture," Berry said. "With any player, it's about the body of work over several years. We've seen Baker play good football here and play good football this season. There will be plenty of time to think about how we're going to build the roster next year. Right now, we're focused on doing everything in our power to maximize this current season."