La Palma volcano, live updates: summary, 16/12 | Canary Islands
La Palma volcano: live updates
Headlines
- Cumbre Vieja remains silent for second consecutive day
- The La Palma volcano originally sparked in to life back on 19 September
- 10 days of inactivity required to confirm end of volcanic eruption
- Lava flows have covered over 1,220 hectares of land on La Palma
- 3,000 buildings affected by lava flows (>1,600 destroyed), according to Copernicus Earth observation programme
Useful information
- Volcanologist speaks to AS about the effects of lava reaching the sea
- Where are most volcanoes located on Earth?
- A look at the active volcanoes on the Canary Islands
Further reading:
Waiting ten days is more bureacratic than scientific
Volcanologist Juan Carlos Carracedo says "with every probability we are witnessing the end of the erruption" and that waiting for 10 days until the end can be confirmed is merely standard practice. He added that Cumbre Vieja started showing signs that it was weakening a week and a half ago while sulphur dioxide emissions have ceased completely. Drones have not detected any new lava being produced, and scientists agree that it is difficult to see the volcano entering into a new phase of greater activity.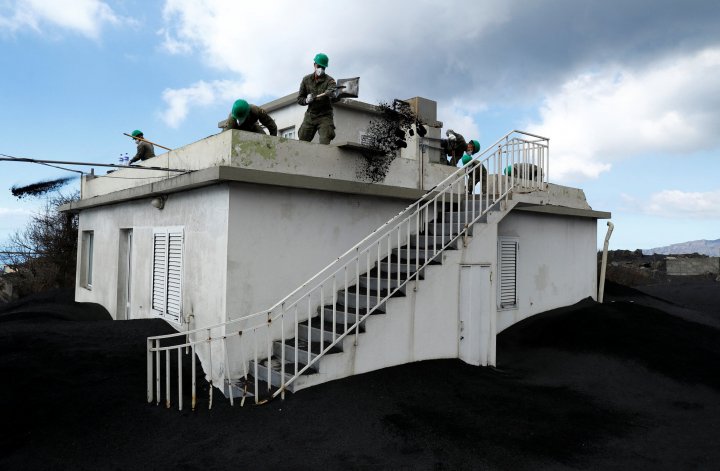 Spanish military clean the ash from the roof of a house in Las Manchas, La Palma, on Thursday.
(Photo: REUTERS/Borja Suarez)
Renault makes La Palma donation
The Cabildo de La Palma, the island's local government, has revealed that car manufacturers Renault have donated 337,750 euros to helping those affected by the eruption of the Cumbre Vieja volcano.
IGN creates 3D virtual model of volcano
Spain's National Geographical Institute (IGN) has shared this 3D virtual model of the Cumbre Vieja, depicting the volcano as seen in the early hours of Thursday morning local time. The model was created using images filmed by a drone equipped with a thermographic camera.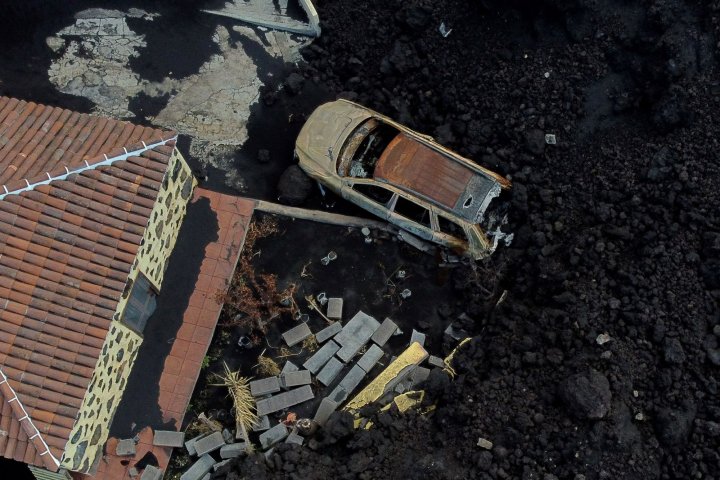 This aerial picture taken on Thursday shows a destroyed house covered with lava in La Laguna, La Palma, amid the eruption of the Cumbre Vieja volcano.
(Photo by JORGE GUERRERO / AFP)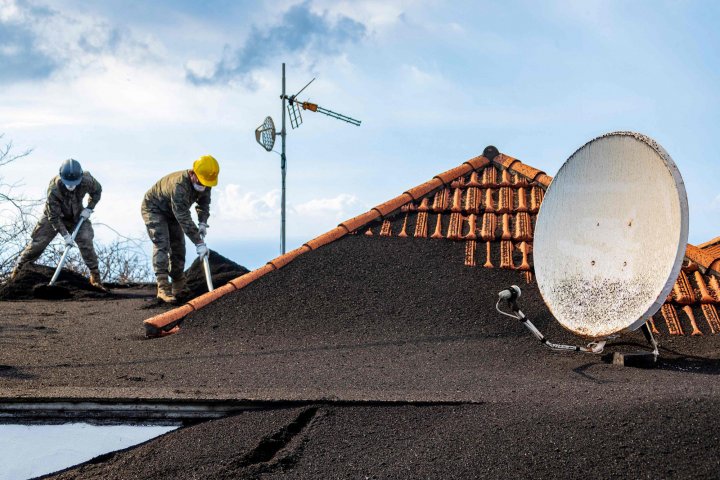 Cautious clean-up on La Palma
Authorities on Spain's La Palma island allowed evacuated residents to return to clear their ash-covered houses on Thursday as scientists suggested solidifying lava vents beneath the Cumbre Vieja volcano could herald an end to the three-month eruption.
Deep banks of black ash had piled up to head height outside Daniel Geronimo's whitewashed house in the village of Las Manchas, below the eruption zone. "It's sad. It's sad to see the houses buried like this," the 26-year-old nurse said, as his aunt swept ash from the roof.
Soldiers from Spain's emergency military unit helped them shovel debris from an outdoor corridor where it had formed thick drifts in the six weeks they had been prevented from visiting. "It's really difficult because cleaning all this up, assuming the volcano really has shut down, will take time," he said.
Underground conduits that channel magma up to the surface at Cumbre Vieja are solidifying and no seismic activity has been registered since late on Monday, fuelling optimism the longest eruption in La Palma's recorded history could be declared over in time for Christmas. But Geronimo, who will have to leave the house again after Thursday's clean-up, is not getting his hopes up. "It could well come back," he said. Even if the eruption has fizzled out, the emergency is far from over as existing lava deposits can still emit dangerous sulphur dioxide fumes.
Miguel Angel Morcuende, head of a task force set up to monitor the volcano, warned returning homeowners, most of whom will not yet be allowed to stay overnight, to be cautious, especially those who live near the lava flows. Thousands of people have been evacuated, at least 2,910 buildings have been destroyed and the island's economically vital banana plantations have been devastated.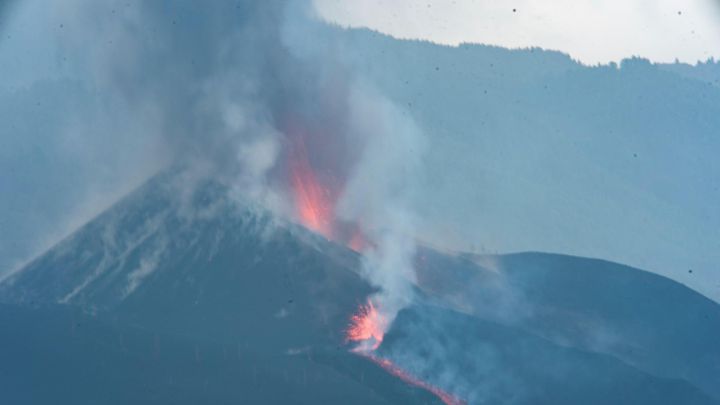 Air quality still a concern in Los Llanos de Aridane
PEVOLCA technical director Miguel Ángel Morcuende explained in today's press briefing that there remains an obvious issue with the quality of air in Los Llanos de Aridane due to " the airborne concentration of particles less than 10 microns".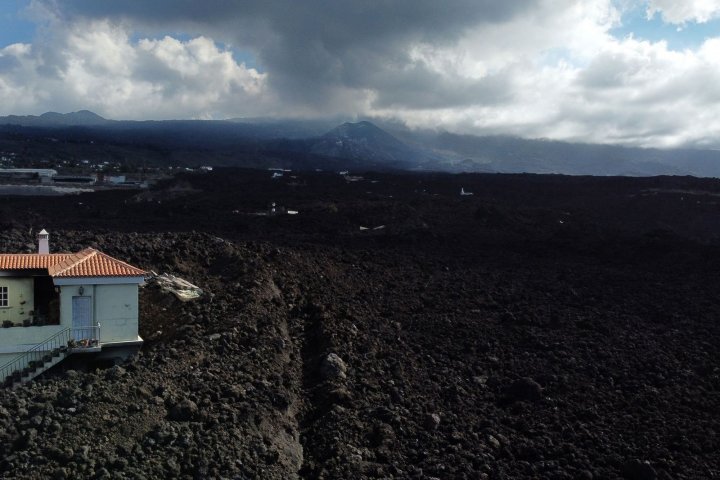 Scientists to wait 10 days before making judgement on sleeping Cumbre Vieja
PEVOLCA director María José Blanco urged caution on making any judgements about whether Cumbre Vieja's activity is definitively at an end. The volcano has been 'sleeping' during the past 48 hours - no lava, no gases or ash but scientists will wait a minimum of 10 days before declaring the end of the volcano's activity. María José Blanco added that a period of security must be adhered to before those who have been evacuated can return to their homes.
Video: The calm after the storm
The current view of the Cumbre Vieja volcano on 16 December. The video was recorded by the biologist Manuel Nogales.
Volcanic tremors stop on La Palma but eruption may not be over
Reuters - The Cumbre Vieja volcano on the Canary Island of La Palma fell silent as constant tremors stopped late on Monday, though experts cautioned this did not necessarily mean the eruption is nearing an end after 85 days.
Seismic activity all but stopped around 9 pm local time on Monday, the Canary Islands Volcanology Institute, Involcan, said on Tuesday. It's the longest period without tremors since the eruption began.
"This does not imply the eruption is ending since on other occasions halts were followed by a renewed increase in activity," Involcan tweeted.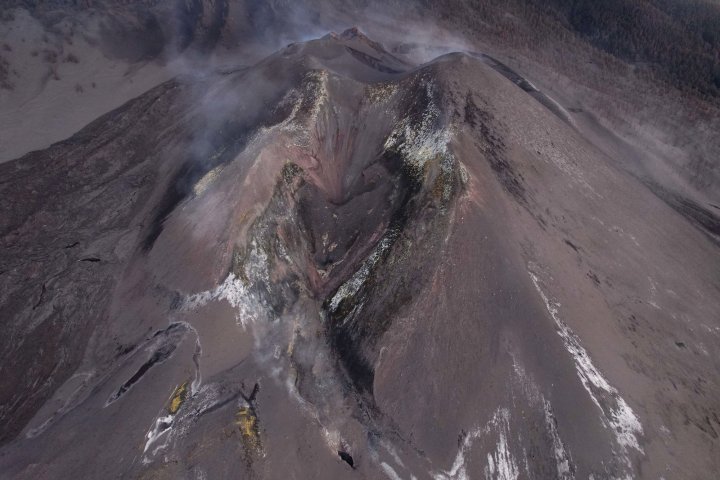 'The tremor level is zero'
"We can see now that the seismicity is very weak, the deformation is zero, the tremor is zero," said Rubén López, a volcanologist with the Spanish geographical institute on being asked about the Cumbre Vieja volcano running aground.
Financial aid arrives to La Palma banana farmers
Banana farmers in La Palma have received this a first advance payment of 13.5 million euro to alleviate production losses on farms affected by the eruption.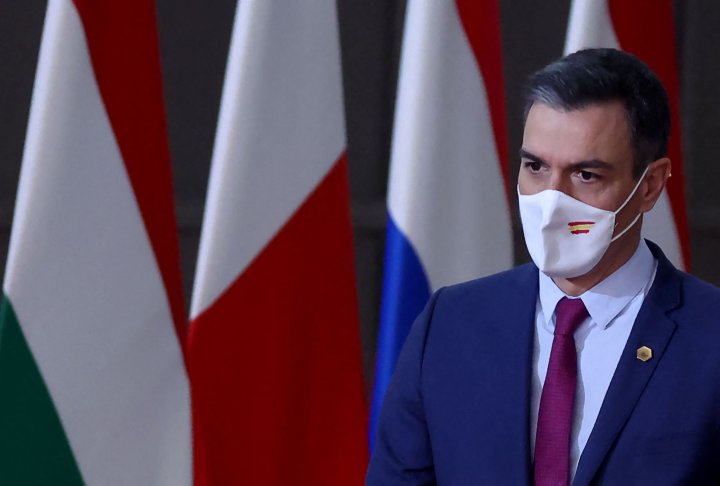 Spanish government announces new aid for La Palma
Speaking in Brussels this morning, Spanish PM Pedro Sanchez stated: "Tomorrow we will approve a new package of measures for the reconstruction and revival of the economy on the island of La Palma. We will also expand existing aid and make those arrive as soon as possible."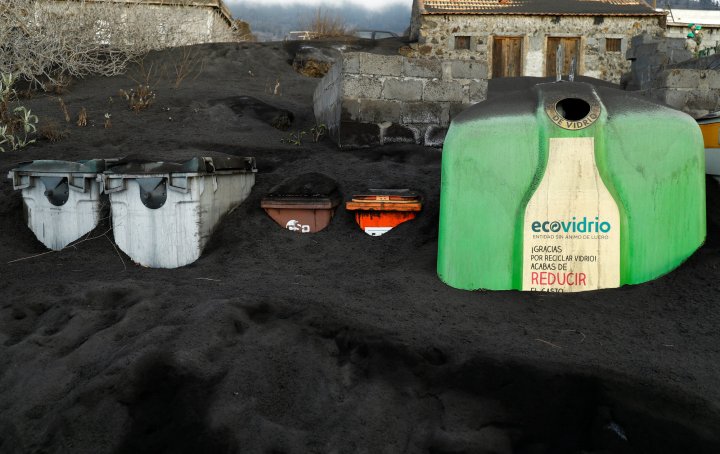 24 minor tremors registered las night on La Palma
In line with the trend that the volcano is losing force, there were a reduced number of minor tremors registered overnight with just 24 monitored. All registered lass than 2 on the Richter Scale and none were felt by members of the public. An additional element of data to reinforce the general consensus that the Cumbre Vieja volcano has run out of steam.
All quiet on the Cumbre Vieja front
Involcan offer one of their daily snaps of the volcano. This time taken from Los Llanos de Aridane showing a rather calm Cumbre Vieja.
Christmas Day key for La Palma
25 December has a special significance for the islanders on La Plama this year as, that could be the day when experts officially announce the activity as over with all signs pointing to an end to seismic and volcanic activity from the Cumbre Vieja.
Volcanologist Stavros Meletlidis offers latest on volcano
Stavros Meletlidis, a volcanologist with the National Geographic Institute, said there were multiple possible explanations for the latest Cumbre Vieja situation.
Around a week after the eruption started, seismic activity suddenly dropped off for several hours before restarting with renewed vigour, a pattern that is not uncommon in the early stages of an eruption, he said.
But after nearly three months of activity, the eruption is in a different phase and could be losing strength. "The magma needs energy to get to the surface and it seems that it does not have it at the moment," Meletlidis said, explaining that could be due to a decline in levels of gases or magma volume as the eruption loses force.
However, it could be the result of a blockage between subterranean magma chambers and the surface vent, in which case pressure would continue to build up until reaching critical mass and causing new explosions. "It's too early to tell if we're entering a terminal phase," Meletlidis said.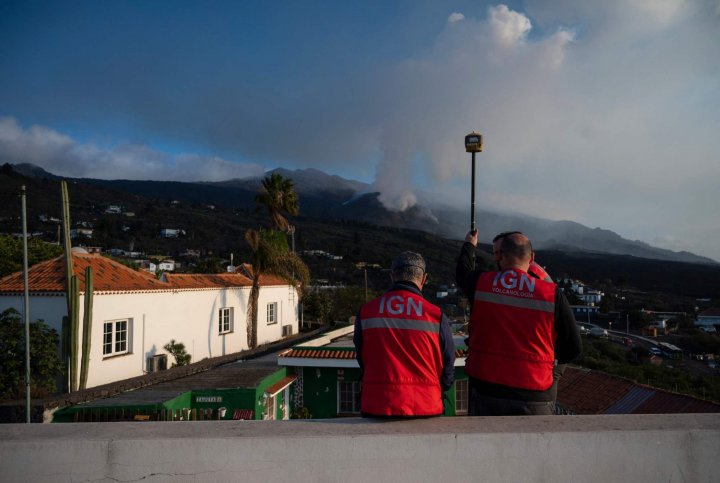 Cumbre Vieja in numbers
1,237 hectares of land have been affected by lava from the Cumbre Vieja eruption with a total of 2,988 buildings having been damaged by the eruption and 7,000 islanders forced to leave their homes during the activity.
Beginning of the end for Cumbre Vieja?
Scientists consider it 'improbable' that the Cumbre Vieja volcano it will reactivate, but are not ruling out that possibility for now needing at least ten days to pass before the activity can be considered a thing of the past.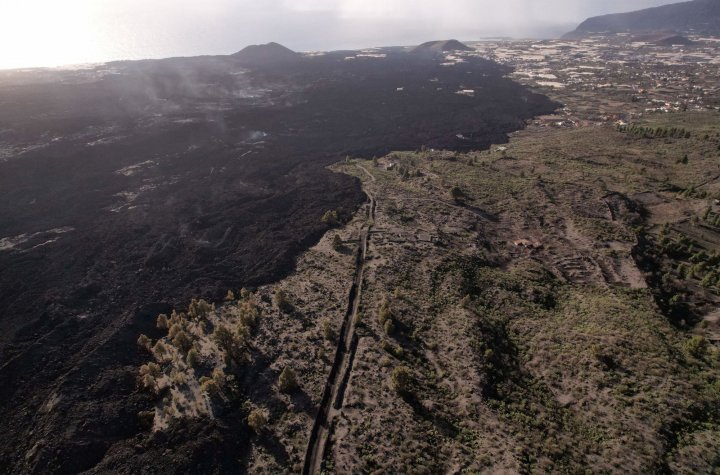 10 days on inactivity required to signal end of volcano
The eruption response committee said that in order to confirm that the eruption is finally over, "the recorded and observable data must remain at current levels for 10 days". "The best thing to do is not to give false hopes, for example in the 1949 eruption it stopped for several days, and several days later it got reactivated," geologist Eumenio Ancoechea told Reuters.
The eruption, which sent rivers of molten rock down the slopes of Cumbre Vieja for weeks and expanded the size of the island by more than 48 hectares, is the longest on La Palma, according to records dating back to the 16th century.
Thousands of people have been evacuated, at least 2,910 buildings have been destroyed and the island's main livelihood, banana plantations, have been devastated.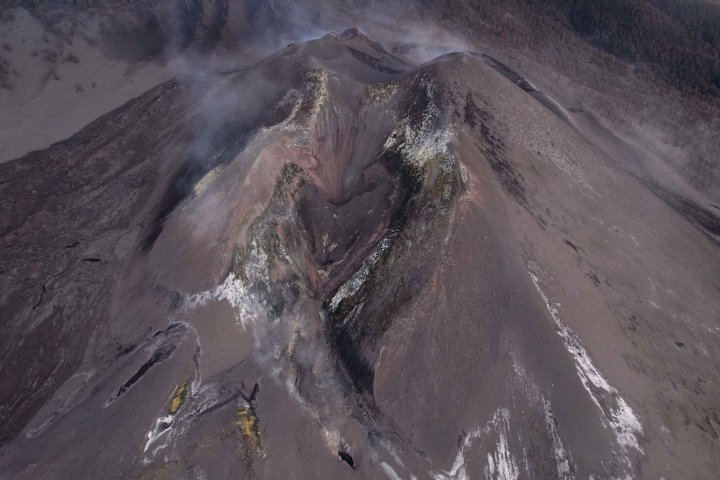 Two days of Cumbre Vieja inactivity
The Cumbre Vieja volcano on the Spanish island of La Palma was silent for a second day on Wednesday, giving scientists the first chance to study the main crater from its brink as the eruption appeared to be nearing its end after three months.
A group of scientists collecting gas geochemistry data reached the crater at 1300 GMT, the Canary Islands Volcanology Institute, Involcan, said, sharing the first footage of the interior of the volcano's most active vent not taken by a drone.
La Palma volcano has been quiet since seismic activity all but stopped late on Monday. It is the longest period without tremors since the eruption began on Sept. 19.
La Palma volcano blog: welcome
Good morning and welcome to our daily live blog for Thursday 16 December 2021, offering the latest updates on the Cumbre Vieja volcano, which has now been erupting on the Spanish Canary island of La Palma for nearly three months.