NFL
Has Green Bay made Aaron Rodgers an offer for the 2022 NFL season?
The Green Bay Packers have made their intentions very clear to Aaron Rodgers- the team has made an offer that could potentially change the quarterback market, per ESPN.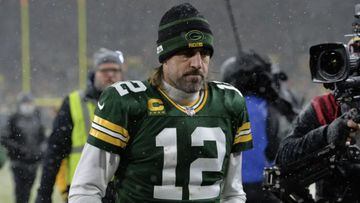 Aaron Rodgers is taking his time in deciding what he will be doing in the coming season, with a lot of speculation about which team, if any, he will join. It appears that the Green Bay Packers are trying to hurry up his process and nudge him in their direction.
Other NFL stories:
 An offer Rodgers can't refuse?
The franchise has reportedly made him an offer that might be very difficult to refuse. According to a report by ESPN, the team has extended Rodgers a deal that is so significant, it has the potential to "alter the quarterback market".
There were no details of the exact amount mentioned in the report, but if the agreement is indeed that remarkable, it could well surpass the contract of Patrick Mahomes, who currently holds second place in the list of biggest sports contracts in history. The Kansas City Chiefs' ten-year deal has a value of up to $503 million.
Freeing up the salary cap space
The new league year is only more than a week away, and the timing of Rodgers' decision could have an impact on how much cap space Green Bay will have. His existing contract gives him a cap hit of almost $46.1 million for the 2022 season, and this amount could be lowered markedly should he be given a new contract.
Rodgers has been saying for weeks that he would be making a decision soon, and that he would factor in the needs of the team as they begin planning for the offseason.
The 38-year-old has been reported to be have options with three teams- the Denver Broncos, the Pittsburgh Steelers, and the Tennessee Titans.
The franchise tag deadline is only a day away, so maybe all the conjecture about Rodgers' future will be finally be over very soon.