Barcelona vs Galatasaray summary: stats and highlights, Europa League 2021/22
Barcelona vs Galatasaray: as it happened
Barcelona vs Galatasaray: headlines
- Barcelona dominate possession but struggle to create chances
- Galatasaray's Gomis has second-half goal ruled out on the break
- Second leg in Turkey is on 17 March
Peep peep peeeep! There's time for one more Barcelona attack, but Dembélé can't find a Blaugrana shirt with his cross, and goalless it ends.
Most of that second half was spent in the Galatasaray half, but Barça really didn't create anything clear-cut, other than that Frenkie de Jong chance that wouldn't have counted anyway.
It's the first time in three months that Barça have failed to score. They'll now have to go and win in Istanbul on 17 March, or start practising their penalties.
Galatasaray may be having a nightmare of a domestic season, but they looked like a very well organised team tonight, and clearly have a rising star in their ranks in Kerem Akturkoglu.
Thanks for joining!
Galatasaray look for a moment like they might have the last word, when they find themselves just outside the Barça box and with numbers forward. Kilinc's low ball into the box is hugely overhit, though, and the chance is lost.
Galatasaray make a final sub. Akturkoglu, who looks like a real talent, is off for Baris Yilmaz.
Four minutes of time added on in Barcelona.
Aubameyang brings down Kilinc with a bit of a hack from behind. Alba lets his frustration get the better of him, and earns himself a yellow card for his protests at the decision. Silly yellow; it was a clear foul.
Dembélé cuts in from the right, drops a shoulder and turns away from Akturkoglu into shooting space, some 25 yards out. It's a move we've seen him do a thousand times. He gets plenty of welly behind his strike, but it's blocked.
Barcelona are absolutely laying siege to the Galatasaray box, but the visitors are very well organised, it must be said. Busquets tries to lift an angled ball into Alba's run towards the left-hand byline, but Boey is perfectly placed to clear.
Five minutes left.
Luuk de Jong is on for Barcelona, Adama making way.
Galatasaray also made a change a few moments ago, Feghouli coming off for Cicaldau.
Gomis has the ball in the net for what seems like the dictionary definition of a smash and grab... but the flag is up!
Van Aanholt lifts a through ball over the Barça backline for Gomis, who runs in on Ter Stegen and fires a fine finish high into the German's net. But Galatasaray's celebrations are very quickly nipped in the bud. Gomis was very clearly offside.
Taylan is booked for a foul on Dembélé.
Galatasaray are scarcely able to get out of their own half. Again it's Adama who crosses, towards Pedri. He can't connect with it, but it drops to Aubameyang, whose attempted overhead kick drops to De Jong inside the six-yard box. He gets a boot to it, but can only direct it against the post! It seemed harder to miss.
Ah, but it appears it wouldn't have counted. A foul was given against Pedri.
Adama cuts inside from the left, produces a stepover and aims a shot at Peña's far top corner, but it flies well wide.
A minute later, Dembélé scampers inside from the left wing and wraps his right boot around a shot from 20 yards or so out, but again it's well off target.
Dembélé clips an inswinging cross from the left towards Aubameyang's run into the six-yard box, but the striker can't get his head to it. It was a lovely ball by Dembélé. There are half-hearted calls for a penalty for an alleged shove by Marcao on Aubameyang, but there's nothing in it.
Double change for Galatasaray. Bafetimbi Gomis and Emre Kilinc are on for Mostafa and Babel.
Now De Jong fires in a shot from 20 yards or so out. It's hit quite centrally, however, and Peña beats it out. Barça are enjoying far and away their best spell of the game.
Close from Alba! Adama again gets to the byline and lifts the ball into the box, where it skims off the top of a head and through to Alba on the edge of the box. He gets plenty of power behind his right-footed volley, but it flies just wide!
Another change for Barcelona: Pierre-Emerick Aubameyang is on, to huge cheers from the Camp Nou crowd. He replaces Depay.
Twice Barcelona get dangerous efforts away. First, Dembélé's deflected shot falls to Adama, who controls at the back post before firing towards Peña's goal, but he can't get it through a wall of white shirts.
A moment later, Busquets' header from a left-wing corner forces an extremely decent save from Peña.
You can hear it in the home crowd that they're encouraged by Barça's start to the second half.
Barcelona look much more dangerous going forward in this second half.
Just as I say that, though, Galatasaray enjoy their best moment since the break, when they work it out to the left to Akturkoglu. He jinks past Dest and into the box, and it takes a Dest-García double team to finally muscle him off the ball. He's fun to watch, is Akturkoglu.
Again Adama runs at the Galatasaray backline, bursting past Van Aanholt and into a crossing position on the byline. His ball is deflected behind for a corner, which ends up in Busquets being penalised for a foul on Peña. Busquets is mystified by the decision, it's fair to say.
Adama cuts inside, skips inside Kutlu and sets off towards the Galatasaray box, forcing Kutlu to bring him down.
Depay looks like he's going to take the free-kick, but in the end it's Alba who lifts it into the middle towards Piqué's run. The centre-back is a good yard or so away from connecting with the ball, though.
Peeeep! Back up and running in Catalonia.
It was Nico, Araujo and Ferran who made way for Piqué, Busquets and Dembélé.
Barcelona boss Xavi has opted to make a triple change at the break, in what is a very clear indication of what he made of that first half. Gerard Piqué, Sergio Busquets and Ousmane Dembélé are all on for the hosts.
Peeep peeep peeeep! It's mostly been played in the Galatasaray half, but Barcelona have struggled to open the Turks up. Depay went close with a free-kick, but it's the visitors who came closest to scoring - and what a goal it would have been from the impressive Akturkoglu. Scoreless it remains.
One minute of time added on at the Camp Nou.
That's better from Barcelona. Or, at least, from Depay. He cuts inside from the left and thumps a shot at Peña's near post. The keeper gets a strong hand to it to knock it behind.
Feghouli controls and crosses from the right-hand channel, right onto Mohamed's head. He nods wide... and was offside, anyway. It's not been a great last five, ten minutes for Barcelona.
Blimey. Akturkoglu almost silences the Camp Nou with a wonder goal. The winger scampers down the left wing, skipping away from Dest and De Jong and into shooting space on the edge of the box. His strike appears to be curling right into Ter Stegen's left-hand top corner, but - via a touch off a Barça boot - flies just, just over.
Marcao then heads the corner straight at Ter Stegen. Galatasaray are growing in confidence.
Depay is booked for a bit of wild lunge on Boey.
That's a very dangerous ball into the box by Babel, who whips it across the face of Ter Stegen's goal from the right. Aktukoglu can't quite get on the end of it at the back post.
At the other end, Adama again gets himself into a crossing position, but his ball loops straight down Peña's gullet.
Galatasaray's Kutlu is booked for a late challenge on Pedri.
Kutlu brings Pedri down on the edge of the box, giving Memphis Depay an exceedingly inviting free-kick opportunity.
The Dutchman's shot looks for a moment like it's arrowing into Peña's right-hand corner, but the keeper scrambles across his goalmouth to get a firm fist to it!
On second viewing, Depay's shot isn't directed as far into the corner as it initially seemed. Very decent stop from Peña, though.
Galatasaray enjoy what is, probably, their longest spell in possession in the Barcelona half. Feghouli leads a break that runs out of steam, before the Turks work it back and round to Babel on the right wing. He tries to a flick an outside-of-the-boot ball through to Mohamed's run into the box, but doesn't connect properly. Barça bring it clear.
It's all Barcelona, but it's not as if they've been slicing Galatasaray open at will so far. Traoré looks like he's going to have Van Aanholt on toast all night, though.
Traoré takes on the left-back once more, clipping in an outside-of-the-boot cross that Akturkoglu deflects behind. There are timid appeals for handball against the Turk, but Monsieur Bastien says no, sir. The corner comes to nought.
Adama cuts inside from the right and sprints away from four men before slipping a pass into Ferran's run towards the near post, but the forward is well marshalled by Marcao, who shepherds the ball behind for a goal kick.
Galatasaray goalkeeper Peña gets his first warning of the night for taking a little bit too long over his goal kick, incidentally. All of 17 minutes or so in. The home crowd make their indignation audible.
Century of continental games for Alba
Jordi Alba is making his 100th club appearance in European competitions, by the way. 78 for Barcelona, 22 for Valencia.
Van Aanholt is going to have a fun evening marking Traoré, who again shows the Dutchman a clean pair of heels before darting into the box and cutting it back from the byline. Traoré's pass is cut out, but, as ever, he's showing his unerring ability to beat his man and get his cross away.
That's excellent from Dest, who takes a positive first touch out of his body before setting off at pace up the right wing and into the Galatasaray penalty area. With bodies waiting, Dest fires the ball into the box towards the penalty spot, but a white shirt gets in the way and the chance is lost.
Depay slips a low ball into Alba on the left-hand side of the box, but he's well offside.
It's all being played in the Galatasaray half.
Barcelona work the ball wide to Adama Traoré on the right, giving the winger his first chance to drive towards the byline. He skips past a two-man tag team of Van Aanholt and Kutlu, the former finally deciding he has no choice but to bring him down.
The free-kick is cleared, but back come Barça. Pedri slips the ball out to the left wing to Alba, who fizzes a low first-time towards Ferran's run to the near post. If he can turn it goalwards, it is, in all likelihood, 1-0 the hosts. He's just beaten to the ball by Nelsson, however.
Kutlu has a very presentable chance to release Mohamed in behind the Barcelona defence, but overhits his pass, much to his team-mate's visible ire.
Barça break, Alba lifting a high ball up to Ferran Torres to chase. He wins a corner, which is delivered dangerously towards the far post, but Mohamed gets his head to it and the Turks clear.
Peeeeep! We're underway at the Camp Nou.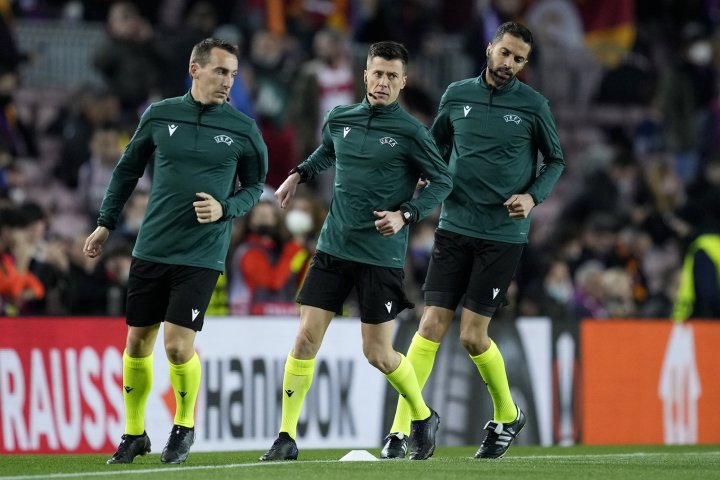 The man in the middle
Tonight's referee is France's Benoit Bastien.
(Photo: Alex Caparros/Getty Images)
Barcelona vs Galatasaray: head to head history
This will be Barcelona and Galatasaray's first meeting in just under 20 years. They last faced off in a 3-1 Champions League group-stage win for Barça at the Camp Nou in November 2002.
Dani, Gerard López and Geovanni, who clearly impressed the Hull City scouts, got the goals for Louis van Gaal's men that night. Can you guess who the Galatasaray coach was? Yep. Mr. Terim.
In all, Galatasaray have beaten Barça just the once in the teams' total of eight previous meetings. That victory, a 2-1 triumph in Istanbul, came in the 1994/95 Champions League group stage.
Barça have five wins against Galatasaray, and there have been two draws.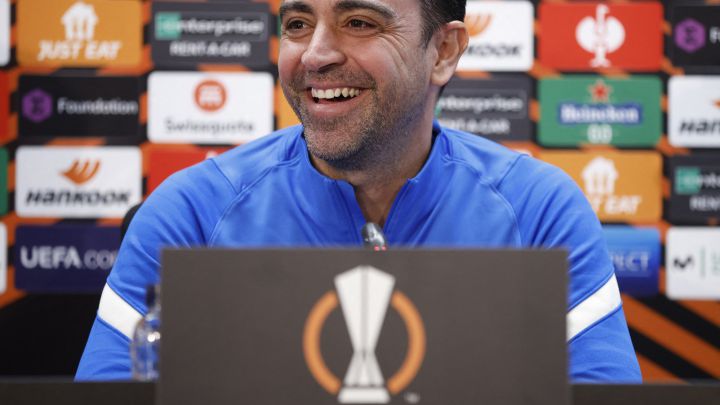 The form guide: Galatasaray
As for Galatasaray, they reached the Europa League last 16 by winning their group, and remain undefeated in 10 games in the competition this season.
If only their domestic form was as good: the 22-time Turkish champions currently languish in a scarcely believable 12th place in the Süper Lig, and in January sacked head coach Fatih Terim, replacing him with former Barça assistant Domènec Torrent.
Galatasaray's results under Torrent has hardly been stellar, either, it's fair to say. They have won two, drawn two and lost four in the Turkish league since his appointment.
That was Terim's fourth spell as Galatasaray boss, by the way. I actually thought he'd more, to be honest.
The form guide: Barcelona
Barcelona, who qualified for the last 16 after beating Napoli in the knockout round play-offs, have really started to find their stride under Xavi. They're now eight games unbeaten in all competitions, their improved recent form leading them up to third in LaLiga.
Helped somewhat by the January signings of the likes of Pierre-Emerick Aubameyang and Ferran Torres, they've really found their goalscoring touch. Indeed, the Catalans' weekend win over Elche was the first time in four games that they failed to score four.
One of those four-star displays was their hugely impressive second leg against Napoli in the last round. The 4-2 final scoreline really flattered the Italians; Barça gave them an absolute going-over.
New frontline for Barcelona, four changes for Galatasaray
Barcelona boss Xavi Hernández makes six changes to the team that began Sunday's 2-1 win over Elche. Sergiño Dest and Eric García come in in defence, Nico González starts in midfield, and it's a whole new forward line tonight. Adama Traoré, Ferran Torres and Memphis Depay all return to the XI.
As for Galatasaray, head coach Domènec Torrent - who was part of Pep Guardiola's coaching team at Barça - makes four changes to the side that lost to Konyaspor in the Turkish league on Saturday. Taylan, Ryan Babel, Sofiane Feghouli and Mostafa Mohamed are all brought into the team.
Galatasaray goalkeeper Iñaki Peña also has Barça links - he was previously a part of the club's youth set-up.
Galatasaray team news
Starting line-up: Peña, Boey, Nelsson, Marcao, Van Aanholt, Taylan, Kutlu, Babel, Feghouli, Akturkoglu, Mohamed
Barcelona team news
Starting line-up: Ter Stegen, Dest, García, Araujo, Alba, Nico, F. De Jong, Pedri, Adama, Ferran, Depay
Barcelona vs Galatasaray: welcome
Hello all, and let me extend to you the very warmest of welcomes to our live coverage of Barcelona and Galatasaray's Europa League last-16 first leg at the Camp Nou. Kick-off is an hour away, at 9pm local time (3pm ET), and the teams are in. So let's take a look at them, shall we?