Manchester United 0-1 (1-2) Atlético Madrid summary: score, goals, highlights | Champions League
Manchester United 0-1 Atlético Madrid: as it happened
Man Utd 0-1 (1-2) Atlético: headlines
- Atlético into quarter finals
- Goal 41': Lodi heads home after sweeping move to hand Atlético the lead
- Félix goal ruled out for offside in the build-up
- Cristiano Ronaldo in United XI, Griezmann and João Félix up top for Atleti
- The two sides have not met in European competition since the 1991-92 Cup Winners' Cup last 16, where Atleti won 4-1 on aggregate
Full-time analysis
Is there a better team in European football capable of hanging onto a 1-0 than Atlético Madrid ?
Following a decent first-half showing from the Premier League side, a 41st Renan Lodi header seemed to suck the belief from the men from Old Trafford as Atleti managed the second half to perfection, letting the home side have possession in the centre of the park with little or nothing of concern for Jan Oblak bar a Jadon Sancho speculative volley.
Rangnick threw caution to the wind as the clock ticked down and not even the introduction of Cavani, Matic or Rashford delivered the desired effect and it was Atleti who looked like the side more likely to strike with swift counter-attacking play.
Atleti march on and will take their place in Friday's quarter-final draw along with tonight's other winners Benfica. Another disappointing season beckons at Old Trafford with all efforts at the club now set to be centered on securing an all important fourth place finish in the Premier League that would guarantee Champions League football next season.
Heartbreak for United as Rangnick's side fail to get past the last 16, which they have only done twice in the last decade. Atleti meanwhile are into the quarter-finals for a sixth time in the last 10 years. It hasn't always been pretty but El Cholo tends to get the job done.
And there's the whistle! Atleti hold on for a 1-0 win on the night and a 2-1 aggregate victory!
Oblak smothers it and that's surely it now!
Corner for United... De Gea coming up!
Atleti win a throw and time is running out for United.
Griezmann off, Correa on.
Telles sends it in but it's short and Atleti clear.
Juan Mata wins a free for United out on the right.
Four minutes added at Old Trafford!
Pogba is pulled up for another foul as he clips Herrera in the chops. A bit harsh on the Frenchman but Atleti will not care a jot.
Félix heads off for Atleti, Felipe on.
Lodi wins a clever free kick off Pogba and Atleti will be in no hurry to take this.
Benfica take the lead in Amsterdam with Nuñez scoring for the Portuguese side.... The Lisbon giants five minutes away from a quarter-final place ....
Ajax 0-1 Benfica (2-3 agg)
Atleti have everyone back and other than De Gea everyone is in the blue half of the pitch. A classic Simeone rearguard action now for the final few minutes.
Maguire off for United, Juan Mata on.
Dalot! The United full back leads the shot count for his side this evening and that wasn't far away. Oblak happy to watch it flash wide of his post.
Ten minutes left at Old Trafford
It's the 3,000 Atlleti fans making all the noise now as they sense that they are just minutes away from staking a place in Friday's quarter-final draw.
The game management from the Spanish side is being employed with no rush for Simeone's men to take throw-ins, free-kicks etc. with United, for all their possession really toothless when it comes to creating clear chances.
United now boasting Ronaldo, Rashford and Cavani in attack but Oblak has really yet to be tested by the home side.
Is there time for a twist in the tie here in Manchester tonight?
Lodi sends in the free kick and Kondogbia lashes a shot high into the stands. Not necessarily the player you'd want on the end of a chance like that.
Matic finds his way into the book for a niggly foul on Félix.
Atleti captain Koke heads off as El Cholo sends Kondogbia on to shore things up.
Reinildo halts a Ronaldo run again as United break from their own half after a Félix slip. What a game from the Mozambique defender.

Extra time beckoning in Amsterdam....
Ajax-Benfica remains 0-0 as the clock ticks down with game ending 2-2 in Lisbon. Extra time will be used should the scoreline stays the same....
Oblak! Varane rises above the Atleti defence and plants a powerful header towards goal but the keeper makes another one-handed stop to keep his sheet clean.
Cavani on for United, Fred off. Rangnick throwing the kitchen sink at it now.
United have a moan as Llorente goes down in the area and the home side are forced to halt an attack. The ref beckons for the magic sponge.
20 minutes left at Old Trafford and United need a goal
Marcus Rashford, Matic and Pogba have been brought on for United as time ticks down and Atlei do look comfortable with the pattern of the game.
Still no changes for the visitors with United still bossing possession (60-40 %).
Atletico now taking their time with goal-kicks, throw-ins as they sense a place in the quarter-final of the 2021-22 Champions League lurks closer.
Oblak comes out and makes a solid claim though.
United have a free kick about 35 yards out. Ronaldo in the area rather than standing over it.
Reinildo has had an assured game on the Atleti left and he once again beats Ronaldo in a foot race to cut the ball out and clear.
Griezmann! The France forward is left unattended as United push up and he tries to beat De Gea with a cute chip from the edge of the area that floats over.
Changes for United. Pogba on for Fernandes and Rashford for Elanga.
Ufffff! Fernandes whips it in and Ronaldo almost gets his head to it. A training ground job there, only slightly marred by Maguire headbutting his teammate in the build-up.
Hello, Llorente goes into the back of Fred right on the edge of the area and United have a promising looking free kick here...
United-Atleti after an hour
A hint of restlessness emanating from the Old Trafford crowd now as United are still unable to carve out clear-cut chances with the LaLiga side looking comfortable sitting deep and happy to break on the counter.
Sancho did go close for the English side with a volley that was just too high in the execution. Time for United to make some changes? Edinson Cavani now warming up for the Red Devils and Cristiano has totally gone off the boil for the home side. Would German coach Rangnick sub. the Portuguese striker?
Félix! The Atleti forward just needed to apply a touch to Lodi's cross there but couldn't quite get his studs to it. Shades of Gascoigne in '96 there.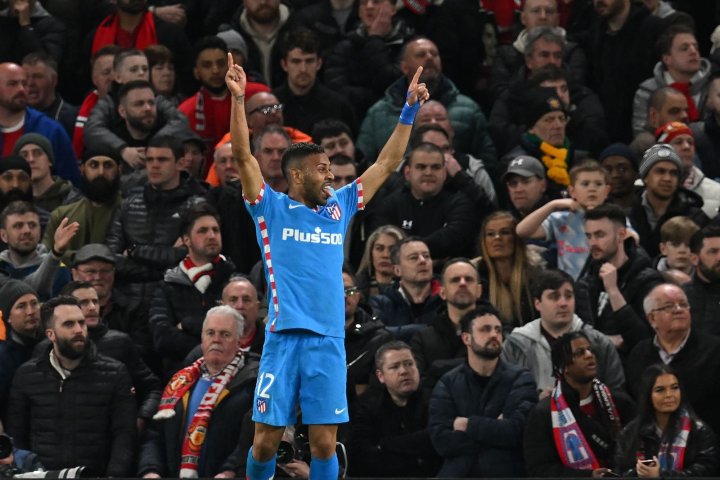 Lodi celebrates
Atletico Madrid's Brazilian defender Renan Lodi celebrates after scoring the opening goal of the UEFA Champions League round of 16 second leg football match between Manchester United and Atletico Madrid at Old Trafford.
Sancho! What a chance! The England winger has space on the far side as the ball finds him and he hits a decent volley from close range but it flashes over Oblak's bar!
United enjoying a long period of possession but finding few gaps in the Atleti back line.
Pogba, Rashford and Cavani warming up for United, Luis Suárez, Correa and Kondogbia for Atleti. Not bad benches to be fair!
Fred holds up his hands in a general apology after sending a shot well wide with options to his left and right.
Anaylisis on the 50' mark
United have come out with the same positive attitude that we saw at the start of the game but despite their domination of possession, the Premier League side are failing to translate their control into clear-cut chances.
A hint of frustration creeping into the game now for United as they make a series of unnecessary fouls.
De Gea almost creates a major problem for the home side as he clears to a man in a blue shirt but redeems himself with a straightforward stop.
De Paul! A decent low shot from the Argentinean that forces De Gea into a sprawling save.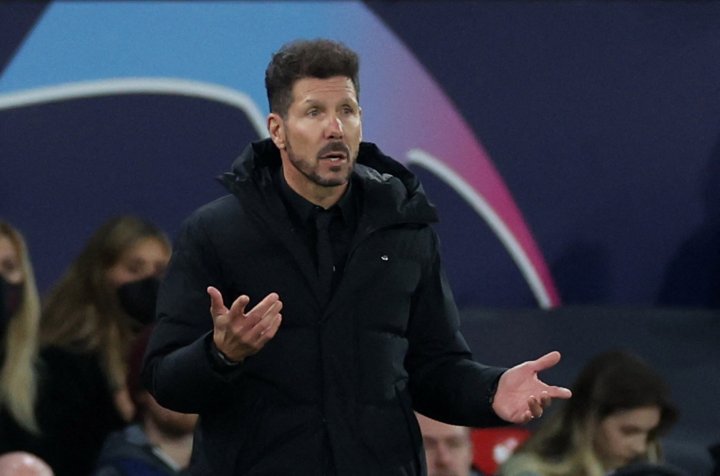 Simeone looks on at Old Trafford
Atletico Madrid coach Diego Simeone, the happier of the two managers as his Atleti side lead 0-1.
Sancho goes on a run and Reinildo reads his intention well to cut the ball out. Movement on both benches now.
Elanga! That was a fast answer! Fernandes feeds the Swede and he jinks through two challenges and fires just wide of Oblak's far post in a carbon copy of the shot that beat the Atleti keeper in Madrid.
United get the ball rolling! What have the home side got in response to going 1-0 down? No changes at half time as far as we can tell.
The teams are coming back out now and we're about to get underway for the second half.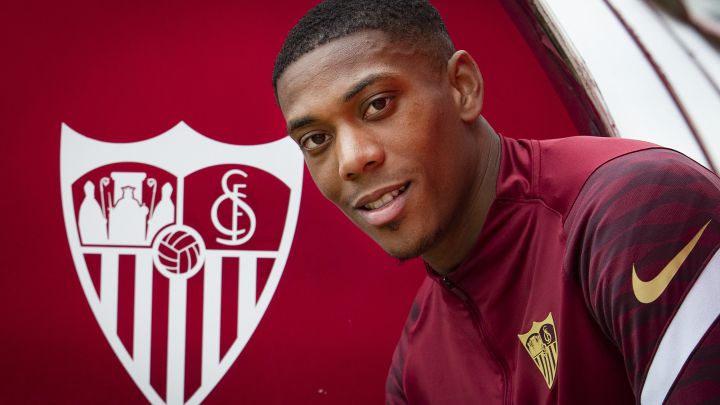 HT United-Atleti reflection
So Atleti lead at the interval and the goal has been highly disputed by the United players as they felt that Swedish striker Elanga was fouled in the build-up to the goal. Renan Lodi was on hand to nod home with the United rear-guard absent.
The Spanish side were outclassed for the first 30 minutes but have started to ease their way back into the action as the game evolves with a ruled out effort from Joao Felix providing a source of encouragement.
Bruno Fernendes did come close in added time with a ferocious swerving shot that forced Oblak to palm from danger.
Plenty of work ahead for the Old Trafford team but Simeone's side with a 0-1 lead.... expect attrition, resolute, dogged defending and plenty of gamesmanship !
And there's the whistle! Atleti will be very happy to go in at the break a goal up after United largely bossed that half.
Oblak! Fernandes hits a shot from distance that is swerving in as it reaches the Slovenian, who pulls off a low one-handed save to deny the United midfielder.
Cavani and Juan Mata also out to limber up for United. Rangnick looking at a half-time shake up.
The full back was man of the match in the reverse fixture and he pops up on the far side of the box unmarked to nod past De Gea! Atleti have the lead on the night and on aggregate!
Goooooooooooooooool! Lodi!
United-Atleti after 36'
A moment of anguish for United fans as João Félix tapped home, just as Atleti fans celebrated, a sigh of relief descended over Old Trafford as the linesman flagged with Marcos Llorente offside when picking up the ball.
United are still on top but despite their domination on the ball, Jan Oblak has yet to be really stretched by the home side.
One senses that a solitary goal will decide this tie!
Pogba and Matic out to warm up for United already.
Huge cheers from the Old Trafford crowd as Ronaldo puts in a sliding tackle to prevent an Atleti break. The Portuguese has been everywhere in the opening 45.
Gooooooooooooo.... Nope, the flag is up! Félix strokes the ball past De Gea but De Paul is adjudged to have been marginally offside when he delivered the pass.
Atleti go all the way back to Oblak. The arch-pressers are being counter-pressed here, a Rangnick trademark.
Atleti clear and the whistle goes for what looks like a Maguire elbow on Giménez.
Fernandes wins United a corner and the big men lumber forward.
Savic sends Ronaldo down in a heap and United have a free-kick. It's probably too far out for the Portuguese as his shake of the head indicates.
Analysis at 25' (plus)
Both sides have gone close with Elanga seeing his effort thwarted by Oblak and at the other end, David de Gea pulled off a stunning stop to deprive De Paul from opening the scoring for the Spaniards.
United did have a big penalty shout as Bruno Fernandes felt he was upended by Reinildo but the match official was not sufficiently convinced after VAR consultation.
We also some scintillating solo skill from Fred at the same area of the pitch where Fernando Redondo delighted the Old Trafford fans years ago with an audacious back heel flick.
Dalot! The United full back adds another to that statistic but it's straight at Oblak.
Very few clear-cut chances so far, just one shot on target from either side.
Félix attempts to break on the right but McTominay ensures he gets nowhere by ploughing into his back. Free kick for the visitors.
United appeal for a penalty as Reinildo and Fernandes go for an aerial ball but the Mozambique defender got a touch before he took the Portuguese out and the ref says no dice. Good defending from the Atleti man.
Ouch! Fernandes goes in with his studs up on Griezmann and he's lucky to escape a caution there, the Portuguese.
De Gea! Not to be outdone, the United stopper claws away an excellent shot from De Paul that was sneaking in the top corner.
Oblak! He's come in for some criticism this season but that was the Atleti keeper at his best. Fernandes gets away on the right and fizzes the ball in for Elanga, who flicks it goalwards to be met with a fine save from the Slovenia international.
Summary after 10' plus
United enjoying the better of the opening spell at Old Trafford with Alex Telles and Cristiano Ronaldo impressing early on for the home side. Nothing of any concern for either keeper but Jan Oblak was called into action to deal with a high ball in the third minute and came off worse for wear after a clash with Elanga.
Discreet start from the visitors who are being spurred on by 3,000 fans who have made the trip to Manchester this evening.
Atleti hit on the break through Griezmann but Llorente's return ball is poor and United clear.
Ronaldo is dropping deep and switching from flank to flank to probe Atleti's back line, but the visitors are comfortable at the moment.
Plenty of possession for United at the moment, Atleti happy to funnel their wide men into the channels and keep them out wide.
Telles jumps on an error from Llorente but sends his cross clean out on the far side.
Elanga! A ball is lofted into the area and Oblak thinks it's coming straight to him but the young Swede has other ideas and clatters into the Atleti keeper, who goes down in some discomfort.
Ronaldo gets his first touch and performs a few keep-ups on the far side, to cheers from the United faithful.
We're off! Atleti roll the ball off the spot.
The teams are in the tunnel now and we're just a few minutes from kick-off at Old Trafford.
Cristiano Ronaldo's recent record against Atlético is quite exceptional, but Simeone found a system to keep the Portuguese very quiet in Madrid. Ronaldo was afforded only two shots by the Atleti back line, neither of which were on target, and he only had 36 touches in the entire game, 10 more than David de Gea.
There's a large Atlético contingent in Old Trafford and they let out a huge cheer as Jan Oblak leads the Liga side out for the warm-ups. Should be a cracking atmosphere tonight.
Griezmann and Félix tasked with Old Trafford assault
It was a combination that worked well in the Metropolitano, the Portuguese opening the scoring and the Frenchman rattling the bar in the second half in a game that Atlético largely dominated. Ronaldo was reduced to pot shots and didnt' trouble Jan Oblak over the course of the 90 minutes but Atléti's two stand-out performers that night were Lodi, whose runs on the left had United in tatters, and Geoffrey Kondogbia, whose anticipation and positioning kept the visitors firmly in check.
Manchester United starting XI confirmed
Bruno Fernandes is in the United starting line-up after recovering from covid-19 with Scott McTominay back for the second leg. Ronaldo will be joined in attack by Jadon Sancho and Elanga, the Reds hero of the reverse fixture after his late equaliser.
Atlético starting XI confirmed
Simeone has indeed gone for a 3-5-2 with Lodi and Llorente providing the width. Félix and Griezmann get the nod up top with Herrera, De Paul and Koke in behind.
Wise man takes Knight
It's been a fair old while since there was a meaningful ding-dong between the two sides. Manchester United have not faced Atletico Madrid in European competition since the 1991-92 Cup Winners' Cup last 16, a tie the Spanish side won 4-1 on aggregate as Luis Aragonés got the better of Alex Ferguson.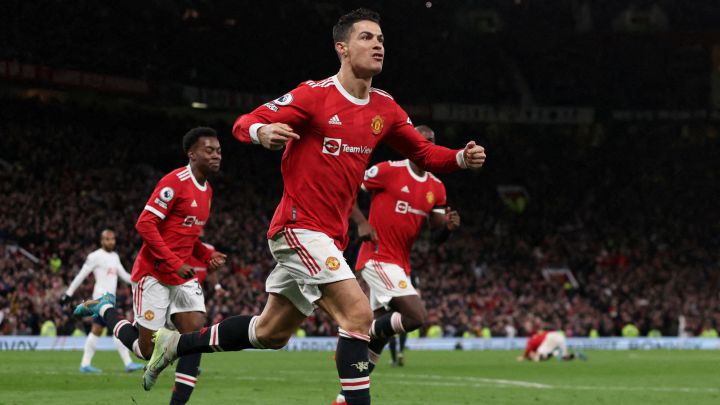 How many goals has Cristiano Ronaldo scored against Atlético Madrid?
It's no secret that Cristiano Ronaldo knows where the onion bag is. The Portuguesei is the Champions League all-time top scorer and recently became the most prolific goalscorer in the history of the game, as well as holding dozens of records at club and country level, including of course the highest number of goals in the history international football.
In 36 career appearances against Atlético Madrid, Cristiano has scored 25 goals - a haul that includes four hat-tricks. And two of those three-goal displays came in Europe's elite club competition.
In the 2016/17 semi-finals, Cristiano's first-leg treble for Real Madrid set up a 4-2 aggregate win, before Los Blancos went on to claim the 12th of their 13 continental crowns. Two seasons later, he repeated the feat for Juventus, his second-leg heroics ensuring the Vecchia Signora overturned a two-goal last-16 deficit to advance 3-2 on aggregate.
No player has hit more hat-tricks against a single opponent in the Champions League.
Simeone to play it safe?
The Atlético boss has been on a mission this season to turn his side into something a little prettier on the eye, with mixed results. The Argentinean has been through the full panoply of formations as he seeks to get the best out of what is, on paper at least, one of the finest attacking forces in Europe but generally leans towards a 3-5-2 against more testing opposition. That means only two of Félix, Luis Suárez, Antoine Griezmann and Ángel Correa will start in Old Trafford if Simeone opts to play three at the back.
Rangnick on Cristiano Ronaldo
In his pre-match press conference, the United boss discussed Cristiano Ronaldo after the Portugal captain bagged a hat-trick, against Spurs in a 3-2 victory at the weekend.
"I'm not worried that he has not been able to recover so far. He's always been a person who looks quite a lot after himself, his body, he exactly knows what to do so I'm not worried about that," Rangnick said.
"If he can score another three goals we will see. It's not so easy to score three goals against this team at all. His overall performance was just good [against Tottenham], if not even very good, and this is obviously what we hope to get from him again tomorrow night.
"It's not only about Cristiano, it's about the whole team. We saw in the first half in Madrid what we shouldn't do, how we should not play, this was obviously a big topic for us yesterday and today when we spoke pre-match about tomorrow's game.
"We have to know what it takes and what it tactically takes and the rest is all about energy.
The bookmakers have United as narrow favourites to go through, home advantage and the presence of a certain Portuguese lending Ralf Rangnick's side an edge. However, Atlético's recent record in the Champions League speaks for itself.
Manchester United have been beyond the last 16 just twice in the last decade, in 2013-14 and 2018-19, during which time Simeone has guided Atleti to two finals, a semi-final and two quarter-finals.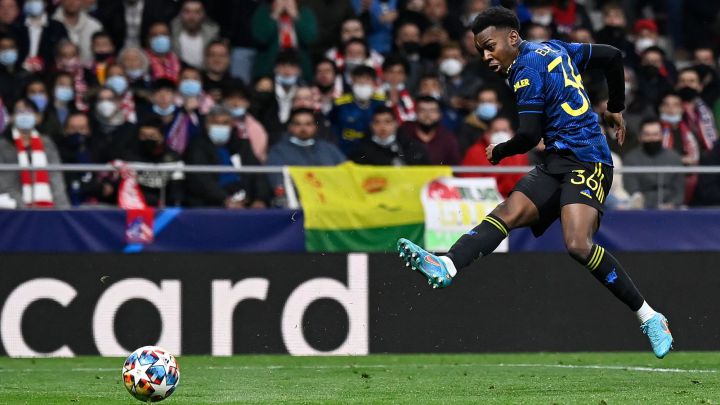 Hello and welcome to AS USA's live coverage of the Champions League last 16, second leg clash between Manchester United and Atlético Madrid from Old Trafford. Kick-off this evening is at 21:00 CET (16:00 ET and 13:00 PT).