Russia - Ukraine war news summary | 19 March 2022
Ukraine - Russia war: live updates
Russian invasion of Ukraine headlines
- Russia reportedly bombs Mariupol art school sheltering 400 civilians
- Ukrainian president Volodymyr Zelensky calls for 'honest peacetalks'
- US president Joe Biden holds long call with Chinese leader Xi Jinping
- Over 3 million Ukrainians, half of which are children, have fled since the invasion by Russia began
- Russia has imposed sanctions on US officials including President Biden and former First Lady Hillary Clinton
- Mariupol mayor confirms that around 350,000 people are still trapped in the city. Officials report that the city's "last reserves of food and water are running out"
Russia - Ukraine conflict information
- Can families in the US sponsor Ukrainian refugees?
- How have sanctions impacted the Russian economy?
- What are the key dates for Russia to pay its state bonds?
Related News
Mariupol art school sheltering 400 civilians bombed, officials say
According to city officials, Russian forces have bombed a Mariupol art school sheltering 400 civilians. It is not clear how many casualties there are.
Russia strikes Ukraine with cruise missiles from Black Sea and Caspian Sea
Russia struck Ukraine with cruise missiles from ships in the Black Sea and Caspian Sea, and launched hypersonic missiles from Crimean airspace, the Russian defence ministry said on Sunday.
Defence Ministry spokesman Igor Konashenkov said Russia had carried out strikes against Ukraine's military infrastructure on Saturday night and Sunday morning.
"Kalibr cruise missiles were launched from the waters of the Black Sea against the Nizhyn plant that repairs Ukrainian armoured vehicles damaged in fighting," he said.
Russia fired Kalibr cruise missiles from the Caspian Sea and hypersonic Kinzhal (Dagger) missiles from airspace of Crimea, the peninsula Russia annexed from Ukraine in 2014, to destroy a fuel storage facility used by the Ukrainian military, Konashenkov said.
Russia also hit a Ukrainian military preparation centre where foreign fighters joining Kyiv's forces were based.
(Reuters)
Some Syrian fighters primed for 'righteous war', commander says
Some Syrian paramilitary fighters say they are ready to deploy to Ukraine to fight in support of their ally Russia but have not yet received instructions to go, according to their commanders.
Nabil Abdallah, a commander in the paramilitary National Defence Forces, said he was ready to use expertise in urban combat gained during the Syrian war to aid Russia.
"Once we get instructions from the Syrian and Russian leadership, we will fight this righteous war," Abdallah said on March 14, four days after President Vladimir Putin gave the green light for 16,000 volunteers from the Middle East to deploy in Ukraine.
"We don't fear this war and are ready for it once instructions come to go and join. We will show them what they never saw ... We will wage street wars and (apply) tactics we acquired during our battles that defeated the terrorists in Syria," he added.
Ukrainian President Zelensky condemns blockade of Mariupol
Zelensky says Russia's siege of Mariupol is "a terror that will be remembered for centuries to come."
Around 300,000 people are trapped in the port city, which has no electricity, water, or gas.
Mayor Vadym Boychenko said their forces are "doing everything they can to hold their positions in the city, but the forces of the enemy are larger than ours, unfortunately."
Ukraine war presents opportunities for Qatar
Russia's invasion of Ukraine has opened up diplomatic and commercial opportunities for gas exporter Qatar to expand energy sales to the West amid US tensions with other Gulf Arab states.
Qatar has sought a largely neutral stance on the conflict, but while trying to avoid choosing sides, it has signaled through its response that it can offer significant political and economic assistance to Western partners.
With many European energy importers looking urgently for ways to ease their heavy dependence on Russia, Qatar has suggested it could direct more gas in fthe uture to Europe.
Saudi Arabia and the United Arab Emirates in contrast have resisted Western calls for a rapid rise in oil output to contain a jump in crude prices caused by the conflict in Ukraine.
China: Stance on the Ukraine war is on the right side of history
China stands on the right side of history over the Ukraine crisis as time will tell, and its position is in line with the wishes of most countries, Chinese Foreign Minister Wang Yi said.
"China will never accept any external coercion or pressure, and opposes any unfounded accusations and suspicions against China," according to Wang.
Wang's comments came after US President Joe Biden warned his Chinese counterpart, Xi Jinping, on Friday of "consequences" if Beijing gave material support to Russia's invasion of Ukraine.
During the video call, Xi told Biden the war in Ukraine must end as soon as possible and called on NATO nations to hold a dialogue with Moscow. He did not, however, assign blame to Russia.
Bombed theatre in Mariupol pictured from the air
As the battle for Mariupol continues to unfold, images have been released of the theatre which was housing 1,000 people. People have remained trapped for days.
Outside of the theatre is the Russian word for 'Children' in an attempt to spare the bombs.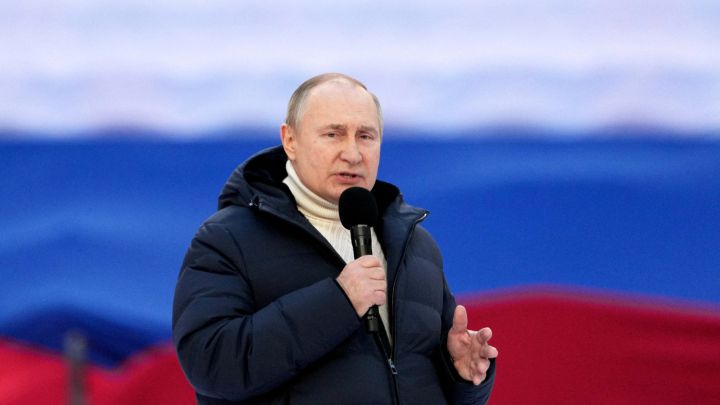 Russia uses new hypersonic missile technology
Russia's military has said it fired a "Kinzhal" hypersonic ballistic missile and destroyed a big underground arms depot in western Ukraine.
Russian leader Vladimir Putin unveiled the Kinzhal four years ago as one of a series of "invincible" weapons that he said would evade enemy defences.
Lavrov accuses US of swaying Ukrainian negotiators
It is constantly felt that the Ukrainian delegation is being held by the hand, most likely by the Americans, not allowing them to agree to the demands that I think are absolutely minimal.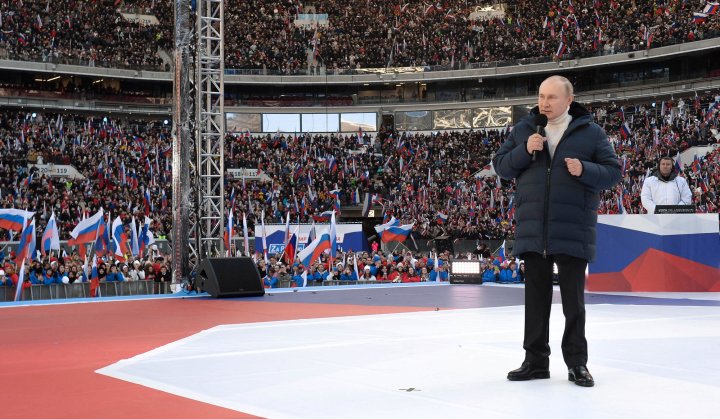 "Putin is absolutely fit, he's in better shape than ever"
Russian President Vladimir Putin is healthy, sane and "in better shape than ever", his close ally Belarus President Alexander Lukashenko has said in an interview with the Japanese television channel TBS.
"He and I haven't only met as heads of state, we're on friendly terms," Lukashenko said in a recording of the interview shared by state news agency BelTA. "I'm absolutely privy to all his details, as far as possible, both state and personal." Russia used Belarusian territory as a staging post for its invasion of Ukraine on Feb. 24.
Western leaders have suggested Putin made a costly miscalculation by launching the military assault on Ukraine, where Russian forces have taken heavy losses and their advance has largely stalled despite their apparent superiority.
British Prime Minister Boris Johnson has suggested Putin is being "irrational" and Dutch Prime Minister Mark Rutte has described him as "totally paranoid".
But Lukashenko dismissed the notion that Putin, who is 69, was not at the height of his powers. "The West, and you, should get this stupidity, this fiction out of your heads," he told the interviewer.
"Putin is absolutely fit, he's in better shape than ever ... This is a completely sane, healthy person, physically healthy - he's an athlete."
"Russian Warship, Go Fuck Yourself" stamp rumour is true
This rumour of the 'Russian Warship, go fuck yourself' stamp is true according to Fact-checker Snopes with the design for an official stamp that was approved by Ukrposhta, the Ukrainian post office confirmed.
The stamp will commemorate an incident that took place in February 2022, during the first few days of Russia's invasion of Ukraine, when a Russian warship threatened a group of Ukrainian soldiers on Snake Island.
Schwarzenegger's impassioned plea to people of Russia
The former actor and recent governor of California made a powerful and moving video address to the people of Russia citing his own father's experience during the Second World War.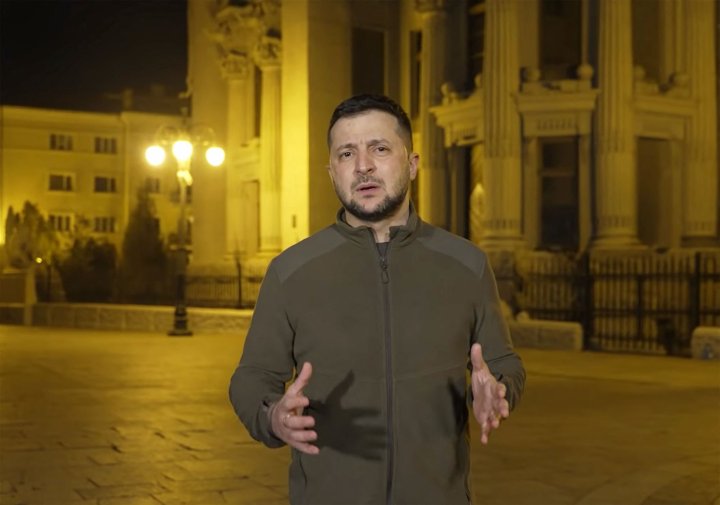 Ukraine's Zelenskiy says it is time for meaningful security talks with Moscow
Ukrainian President Volodymyr Zelensky on Saturday called for comprehensive peace talks with Moscow, saying Russia would otherwise need generations to recover from losses suffered during the war.
Zelensky said Ukraine had always offered solutions for peace and wanted meaningful and honest negotiations on peace and security, without delay.
"I want everyone to hear me now, especially in Moscow. The time has come for a meeting, it is time to talk," he said in a video address released in the early hours of Saturday.
"The time has come to restore territorial integrity and justice for Ukraine. Otherwise, Russia's losses will be such that it will take you several generations to recover."
The two sides have been involved in talks for weeks with no sign of a breakthrough.
Zelenskiy said Russian forces were deliberately blocking the supply of humanitarian supplies to cities under attack. "This is a deliberate tactic ... This is a war crime and they will answer for it, 100%," he said.
Zelenskiy said there was no information about how many people had died after a theatre in the city of Mariupol, where hundreds of people had been sheltering, was struck on Wednesday. More than 130 people had been rescued so far, he said.
Zelensky continues talks with global leaders
The Ukrainian president maintains his high levels of constant dialogue speaking with Boris Johnson, France's Macron and Guatemala's Alejandro Eduardo Giammattei recently.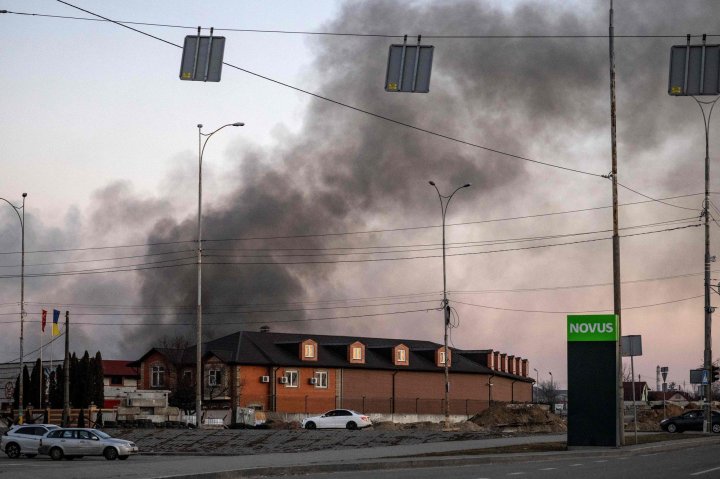 Shelling kills nine in outskirts of Ukraine's Zaporizhzhia - deputy mayor
Nine people were killed and 17 wounded in shelling of the suburbs of the city of Zaporizhzhia in southern Ukraine on Friday, deputy mayor Anatoliy Kurtiev said on Saturday.
The military has since declared a 38-hour curfew in Zaporizhzhia, which was being attacked by Russian forces with mortars, tanks, helicopters and rocket systems, Kurtiev said in an online post.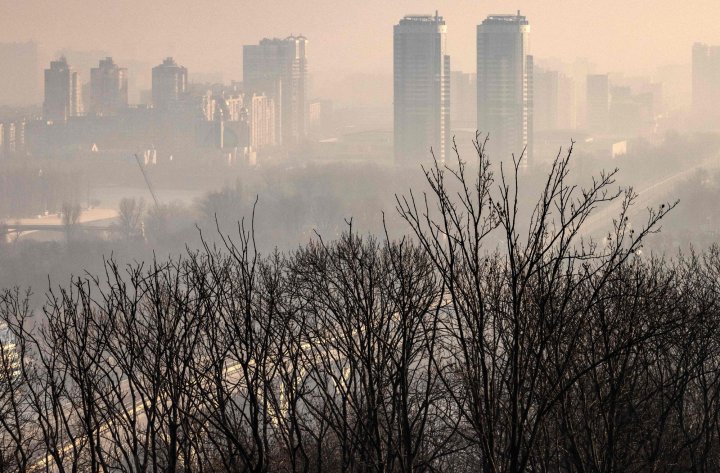 Ukraine sees no major changes in fighting over past 24 hours, says official
Ukrainian authorities have not noticed any significant shifts over the past 24 hours in front line areas where Ukrainian troops are battling Russian forces, presidential adviser Oleksiy Arestovych said on Saturday.
In an online video address, he said fighting was ongoing and named the southeastern city of Mariupol, the southern cities of Mykolaiv and Kherson, and the eastern town of Izyum as particular hotspots where Russian troops were on the offensive.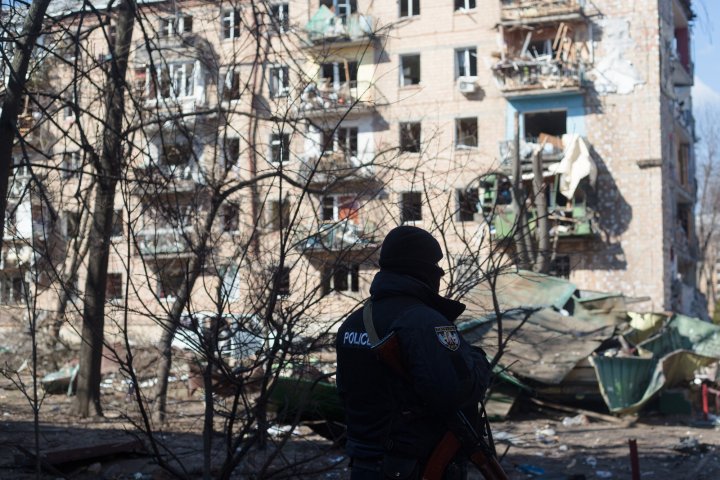 Russia uses hypersonic missiles in strike on Ukraine arms depot
Russia said on Saturday that it had used hypersonic Kinzhal (Dagger) missiles to destroy a large weapons depot in Ukraine's western Ivano-Frankivsk region.
Russia's Interfax news agency said it was the first time Russia had deployed the hypersonic Kinzhal system since it sent its troops into Ukraine on Feb. 24.
Defence ministry spokesman Igor Konashenkov told a briefing that the underground depot hit by the Kinzhal system on Friday housed Ukrainian missiles and aircraft ammunition, according to a recording of the briefing shared by Russian news agencies.
Ukraine-Russia live blog, welcome
We'll bring you all the latest from Ukraine and Eastern Europe as the Russian invasion crosses the three-week mark. European nations are looking to impose tough new sanctions against Russia while negotiations continue between Russia and Ukraine.