Coolio dies at the age of 59: How did the 'Gangsta's Paradise' rapper die?
The iconic artist released one of the most successful hip-hop tracks of all time and ushered in a new age of mainstream popularity for the genre.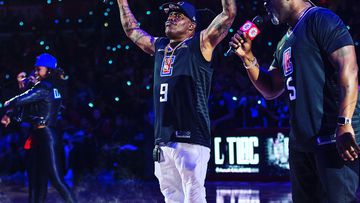 Rapper Coolio, best known for the Grammy Award-winning song 'Gangsta's Paradise', has died aged 59. The sad news was confirmed by his manager, Jarez Posey, on Wednesday evening.
NBC Los Angeles has reported that the rapper, real name Artis Leon Ivey Jr, may have died of a suspected heart attack, but an official cause of death has not yet been released.
"As far as what I know now is that he was at a friend's house and was in his bathroom and had a heart attack," Posey reportedly told NBC. The rapper had previously spoken of having severe asthma as a child, requiring hospital treatment on multiple occasions.
Coolio helped to bring hip-hop to the mainstream
The rapper's first single 'Whatcha Gonna Do?' was recorded in 1987, at a time when hip-hop was yet to achieve mainstream support. He would become one of the first rappers to marry together gritty life experiences with pop music sensibilities.
Growing up in Compton, he began his career at the same time as notorious gangster rap group NWA, but their style reflected the environment in different ways. Coolio's music tended to the exuberant and up-beat, opting to offer escapism to his audience.
He joined LA rap group WC and the Maad Circle in 1991 and was credited as a co-contributor on the group's 'Aint's a Damn Thang Changed' debut album.
But it was in 1994, after he signed as a solo artist to Tommy Boy Records, that Coolio's career really began to take off. His first album's lead single, 'Fantastic Voyage', peaked at No. 3 on the Billboard Hot 100 and received significant playtime on MTV.
All Music explains that his first major release was welcomed as a "friendlier, gentler approach to the gangsta-dominated West Coast sound," while still managing to tackle the same societal issues that the genre would become known for highlighting.
The following year, Coolio released the song that would go on to define his career and which became one of the most successful rap songs of all time. In 1995 'Gangsta's Paradise' was released and topped the Billboard Hot 100 for three weeks, becoming the highest-selling single in the United States that year.
Unlike some of his other output, 'Gangsta's Paradise' pulled no punches in describing the world that the artist had grown up in, bringing with it a darkly ominous atmosphere that captured audiences' attention.
The haunting opening bars of the song would become iconic in hip-hop history:
"As I walk through the valley of the shadow of death/ I take a look at my life and realize there's not much left/ 'cause I've been blastin' and laughin' so long that/ even my mama thinks that my mind is gone."
Coolio would go on to release another six studio albums after 'Gangsta's Paradise', bringing his total to eight. More recently he made a series of television appearances and continued to perform live. In 2021 he appeared on the album of Irish rap group Versatile, in a track named 'Coolio Interlude.'