Inflation relief checks by state news summary | 19 November 2022
Who is eligble for free internet?
In May President Biden announced that 20 internet providers, including AT&T, Comcast and Verizon, have committed tothe Affordable Connectivity Program (ACP). The program is designed to ensure access to high-speed internet service for no more than $30 per month, for eligible households. Roughly 80 percent of Americans live in communities where these providers operate.
The program also provides eligible households $30 per month off their internet bills, so families can receive high-speed internet at no cost when paired together. To check your eligibility, head over to the Affordable Connectivity Program website, or call (877) 384-2575.
Headlines: Saturday 19 November 2022
- 24 states saw increases in their unemployment rate in October
- 30-year fixed mortgage rates see biggest drop in almost 40 years
- Estimated $183 bn wiped off crypto markets after FTX collapse
- Class action lawsuit filed against FTX founder and numerous celebrity promoters, including Tom Brady
- Mass resignations at Twitter, Elon Musk closes offices to workers
- St Louis court issues another block on Student Loan Forgiveness
- White House considers extending the student loan moratorium
​​​​​​​- Elizabeth Holmes, founder of failed Theranos, sentenced to 11 years in prison on fraud convictions
Browse our latest articles:
Inflation easing across the border (and in the US too)
Price pressures have begun to ease in Canada, with gas prices falling from record highs and annual inflation holding steady at 6.9 per cent in October.
Inflation in Canada reached the highest levels since 1981 in the summer, with rates steadily increasing since the lifting of COVID-19 restrictions. Prices were up 8.1 per cent in June compared to a year earlier.
The good news is that the latest inflation report from the U.S. Bureau of Labor Statistics shows the inflation rate in the US also slowed to 7.7 per cent in October, which was a positive surprise for forecasters.
"Expensive money likely to stick around for another year, maybe longer"
Great news to bring you from various financial experts.
"Easing up on interest rates now would only embed high inflation in people's assumption, and that's where it becomes very long-lasting," says former UBS Group AG Chairman Axel Weber.
Meanwhile, Gita Gopinath, first deputy managing director of the International Monetary Fund, says the Federal Reserve will push interests up again. "For 2023, the question is more about how long are you going to keep these rates at the levels that they've moved them to. And we see a need to keep it at over 4% for all of 2023 to be able to bring inflation down durably,"
And according to Davide Serra, chief executive of asset manager Algebris Investments, "Globally, changes in the supply chain and the transition to a greener economy will drive up energy costs and could lead to structurally higher inflation."
How will inflation affect Thanksgiving travel?
Speaking of Thanksgiving, travel site hopper.com reports that airfares cost 22 percent more this year than in 2019, while the U.S. Travel Association claims that travellers are shifting their plans, travelling shorter distances, curtailing visits and lodging with friends or family instead of renting hotel rooms,
But, the AAA says that doesn't mean travelling isn't going to be busy. "The AAA predicts 54.6 million people will travel at least 50 miles to celebrate this Turkey Day season. It could be the third-busiest Thanksgiving travel period since AAA started tracking in 2000, but experts forecast that both car and air travel will remain just shy of pre-pandemic levels set in 2019."
Proposed December freight rail strike would cripple supply chain
A proposed freight rail strike in the run-up to Christmas would cost the US economy approximately $2 billion a day, according to the Association of American Railroads. Three unions voted down a deal last month, citing cite cuts and a lack of provisions such as sick pay. There is a growing possibilitty that freight rail workers could walk out next month, with other unions joining in solidarity.
BMWED president Tony D. Cardwell explained the situation in a statement last month, "Railroaders are discouraged and upset with working conditions and compensation and hold their employer in low regard. Railroaders do not feel valued. They resent the fact that management holds no regard for their quality of life, illustrated by their stubborn reluctance to provide a higher quantity of paid time off, especially for sickness. The result of this vote indicates that there is a lot of work to do to establish goodwill and improve the morale that has been broken by the railroads' executives and Wall Street hedge fund managers".
The BMWED has been joined by the BRS and other unions with negotiations to resume from today. If no agreement is reached with the Railroads, workers could go on strike from 0000:01 ET on Friday 9 December. A rail strike would cause havoc on the US' supply chain which has already been severly undermined by a shipping backlog since the start of the pandemic.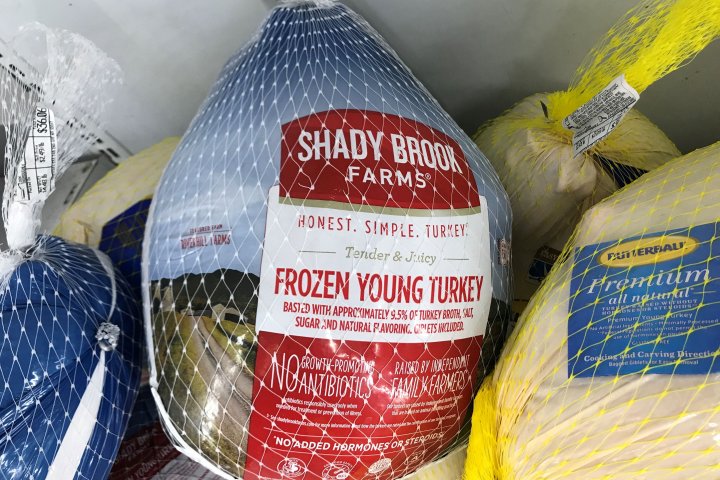 Consumers tighten belts ahead of Thanksgiving
Experts are expecting consumers to start cutting back on essentials including certain food products which have risen sharply during the past 12 months.
The Producer Price Index, which measures the cost companies pay for finished goods and services, increased 0.2 percent in October, seasonally adjusted, according to the latest report from the US Bureau of Labor Statistics issued last week. The 0.2 percent rise is half what analysts had expected, giving some hope that inflation may have plateaued.
Final demand prices rose 0.2 percent in September and were unchanged in August. On an unadjusted basis, the index for final demand goods rose 8.0 percent for the 12 months up to October.
The price of some foods has risen dramatically since October 2021. The price of fresh eggs has risen 157.9%, fresh fruit by 34.5%, processed turkeys by 39.9% and pasta products by 37.4%.
Some grocers are offering promotions and discounts on Thanksgiving staples such as turkeys and potatoes but in doing so, cut their profit margins to a bare minimum.
Starbucks workers strike on Red Cup Day
Over 2,000 Starbucks employees at 125 stores staged a mass, nationwide walk-out on Thursday in protest at the company's reluctance to strike a new labor deal with workers' unions. Starbucks Workers United said it wants to provide a safer work environment for its members and deal with other key issues such as understaffing and overworking.
Union requests include stopping harassment from managers, allowing employees to defend themselves against aggressive customers, letting workers pick up shifts at other non-union locations and formalizing employees' roles so that they cannot be asked to do additional work.
How to check your California Middle Class Tax Refund
The state of California is still in the process of distributing one-off payments worth up to $1,050 per person, to help residents deal with the crippling price rises recorded in 2022. Most of those receiving their payments now are doing so via a pre-paid debit card sent out by the state.
But how can you tell if you card are verfied? Here's what you need to look out for...
Is Twitter the place for financial news?
Twitter owner Elon Musk has overseen a chaotic few weeks in charge of the platform, but he maintains that the site is the place to be for breaking news. The collapse of FTX, one of the world's largest cryptocurrency exchanges, has been documented in full on Twitter in recent weeks and Musk rates the coverage on the site as the best in class.
Biden administration goes to the Supreme Court for student relief
President Biden's Student Loan Forgiveness program has been in the works for 18 months but, just weeks before it was set to go live, has been blocked by federal courts. Legal challenges in GOP-led states have slammed the breaks on Biden's proposal and left borrowers in a state of limbo with the student loan moratorium scheduled to end on 31 December.
What will the Federal Reserve do to interest rates next?
There has been much talk about the US entering a recession but the economy has yet to experience a major slowdown. There are fears though that the aggressive rate hikes by the Federal Reserve could tip the scales with St Louis Fed President James Bullard calling on his colleagues to raise rates to a minimum of 5% to 5.25%.
With data showing that inflation is slowing there had been hope that the Fed would ease up on future rate hikes which sent markets higher last week. But Bullard's comments dampened their enthusiasm.
Even so though, a report from Goldman Sachs is predicting that the US will narrowly avoid a recession in 2023. While there will be a slowdown in labor demand, they expect that the slack will come from the large numbers of vacancies reducing and not from rising unemployment. At a labor conference the new Boston Fed President Susan Collins concurred with that assessment.
What does the Republicans' narrow victory in the House of Representatives mean for President Biden?
What will the Republicans' control of the House of Representatives mean for the remainder of President Biden's first term in office? For the first two year the Democrats have enjoyed unified control in Washington, allowing Biden to pass more ambitious economic policy - such as stimulus checks and student loan moratorium extensions - than would otherwise have been possible.
Here's what the flip could mean...
US makes progress on unemployment
The St. Louis Fed has reported a decrease in the number of new claims to receive unemployment benefits over the last few weeks.
Enhanced unemployment benefits ended in September 2021, and since then the levels have remained quite consistent. Since January the rates have never surpassed 260,000, and have remained under 250,000.
Welcome to AS USA
Good morning, we'll be bringing you all the latest news and informaition from the United States as President Biden is forced to rethink his Student Loan Forgiveness plan.