Inflation Relief Checks: summary news 3 December
Headlines: Saturday, 3 December 2022
- US adds 263,000 jobs in November, surpasses expectations
- Senate approves deal to avert railroad strike, but rejects 7 days of sick leave measure
- Supreme Court to hear arguements on Biden Student Loan Forgiveness Program
- SCOTUS keeps hold on Biden student loan debt cancelation in place. When the program could start
- Experts predicting a significant market adjustment in house prices
- Inflation is changing consumer habits this holiday season
- Fed Chair Jerome Powell will "moderate the pace of our rate increases" to avoid a recession
- More than 19M California residents continue to receive Middle-Class Tax Refunds
- Who is eligible for tax relief in South Carolina and Virginia?
​​​​​​​- Social Security beneficiaries will soon see an 8.7% boost to their benefits payments
- Trucking companies struggle to attract and retain workers as wages fall
- Can you receive two Social Security checks in the same month?
Related news
Sen. Sanders remains committed to sick pay progress
Earlier this week Congress approved a bill to prevent railway workers going ahead with a planned strike. Workers had been looking for a pay rise and the introduction of sick pay for the first time. Although the railway companies did agree to a 24% pay rise for workers, they refused to budge on paid sick leave.
Sen. Bernie Sanders voted to support the bill preventing a strike, but reiterated that he will continue pushing for sick leave to be made a standard. "Let me be clear," he tweeted, "This struggle is not over."
When will Biden Student Loan Forgiveness be applied now that SCOTUS will hear case?
The Supreme Court announced on Thursday that it will hear arguments on the legality of President Biden's Student Loan Forgiveness Program on an expedited basis. However, the high court left in place the hold on the Department of Education discharging any student loan debt put in place by a lower court.
The White House had asked for the program to move forward while the various lawsuits against the program work their way through the courts. Maintaining the block comes as a setback for the Biden administration and borrowers looking for certainty.
What does this mean for borrowers waiting to hear about the relief?
Biden commits to continue sick pay fight
On Friday President Biden took the step of signing a bill into law that will prevent railroad workers from being able to strike next week. The dispute stems from a demand for paid sick pay for railroad employees, something that they do not currently have.
Biden may have squashed the planned strike action but has insisted that he remains committed to helping workers get sick leave. However it is not yet clear what the President intends to do, and whether he would want to offer it to all workers beyond just those involved in the railroad dispute.
Biden fails to secure sick pay for railroad workers
President Biden, previously heralded as one of the most pro-union Presidents in US history, has signed a bill preventing railroad workers from striking next week. Workers from four major unions have prepared a walk-out on 9 December due to a lack of sick pay for employees. They will receive a 24% pay rise as part of the compromise deal pushed through in Washington but will not receive the sick leave they demanded.
"The bill I'm about to sign ends a difficult rail dispute and helps our nation avoid what, without a doubt, would have been an economic catastrophe at a very bad time in the calendar."
How much is the middle class tax refund in California?
Over the last year, prices have consistently risen, and the Federal Reserve has aggressively attempted to ease consumer inflation.
The state of California alone has paid more than $5 billion to 19 million eligible residents and their families as part of an inflation relief program that helps soothe the blow of rising costs.
These figures represent over half of the total payouts expected under the program, with eligible residents expected to receive the balance of the payments throughout the start of the new year.
Will Student Loan Forgiveness arrive before Christmas?
The student loan relief program forwarded by President Biden faced another setback earlier this week when the Supreme Court rejected the White House's request to overturn the block on the plan. A federal appeals court in St Louis has prevented the Biden Administration from sending out a single cent from the Student Loan Forgiveness program.
Borrowers will now have to wait until the Supreme Court has issued a ruling on the case, which will proceed in an expedited manner.
What next after the November jobs report?
The progress made in the US jobs market will have been a relief for President Biden and suggests that the country's post-pandemic economic recovery is continuing at a good pace. However with the economy still making quick progress there are some concerns that this could encourage the Federal Reserve to continue to enact 'cooling' policies on the economy. This could seen interest rates remain high to tackle inflation.
Good news for Biden in November jobs report
The US Bureau of Labor Statistics released the November jobs report on Friday showing that the US economy continues to perform strongly. Non-farm payrolls increased by 263,000, higher than the 200,000 that had been expected. Unemployment remained unchanged at 3.7%.
Wages also surpassed what analysts had forecast increasing 5.1% year-on-year, half a percent over what had been expected.
While many will be happy with these numbers showing that the US is not headed for a recession, Wall Street didn't take the news well. The numbers could weigh on the Federal Reserves intention to pivot on their aggressive rate hiking policy over the past several months.
Policymakers may continue to jack up interest rates and keep them higher for longer than the markets would like. If they stay too high, for too long though there is the risk that that could tip the US into a recession.
What are the differences between the five types of mortgages?
At the start of 2022 interest rates were so low that it opened up the possibility of home-ownership to many more people, causing a rush to snap up properties. That trend only served to overheat the housing market however and typical property prices have reached record levels in many parts of the country.
This week the Federal Housing Finance Agency (FHFA) upped the backstop mortgage eligibility threshold to allow $1 million homes for the first time, a key sign that house prices have risen considerably.
Here's how to pick the mortgage that's right for you...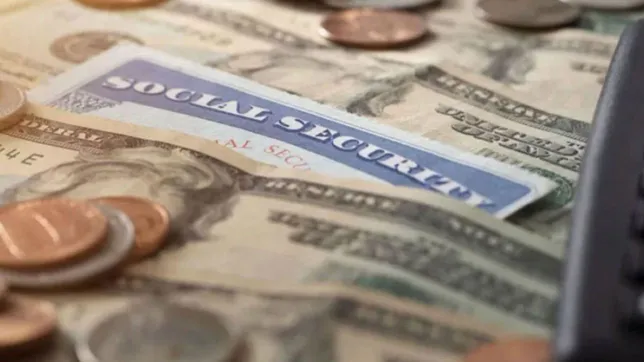 Social Security recipients who will receive two checks in December
Social Security is a broad term used to cover a few different forms of financial support made available by the federal government. Most people are refering to retirement benefits when they talk about Social Security, and older people do make up the vast majority of Social Security recipients.
As Christmas approaches, some recipients could be in line to get two payments this month. We take a look at who, and how...
What's the average price of gasoline?
While still slightly above where they were this time last year, the average price of gas has been dropping at a pleasant clip. The US average per gallon price at just under $3.45 is down 13 cents from this time last week and over 30 cents from a month ago.
This is good news for American household finances especially going into the holiday season.
Mortgage rates begin to fall as demand dips
Mortgage rates began to spike as the Federal Reserve tightened the screws on the economy with aggressive rate hikes to bring down four-decade high inflation. Higher borrowing costs coupled with ever higher house prices have driven many would-be homebuyers out of the market.
In turn that has cooled the overheated housing market and now mortgage rates are retreating after breaking the 7% mark. Tha latest data from Freddie Mac shows the 30-year Fixed Rate Mortgage at 6.49% as of 1 December, the third straight week of lowering FRM rates.
Welcome to AS USA!
Good morning, we'll be bringing you the latest news and information from the United States. On Friday a positive November jobs report showed that the US is still adding jobs, but inflationary pressures remain a major concern.