Johnny Depp v Amber Heard trial aftermath news summary: Monday 11 July 2022
Headlines:
- Lawyers for Amber Heard file for a mistrial over wrong juror seated throughout the trial
- Amber Heard's legal team previously petitioned to have the jury's verdict set aside based on lack of evidence
- Insurer sues Amber Heard to avoid paying damages awarded to Johnny Depp
- Johnny Depp remains in Europe on tour with Jeff Beck
- Depp to play Louis XV in a new film
- Depp supergroup the Hollywood Vampires to tour Germany, Austria and Luxembourg next summer
Check out some of AS USA's related news articles: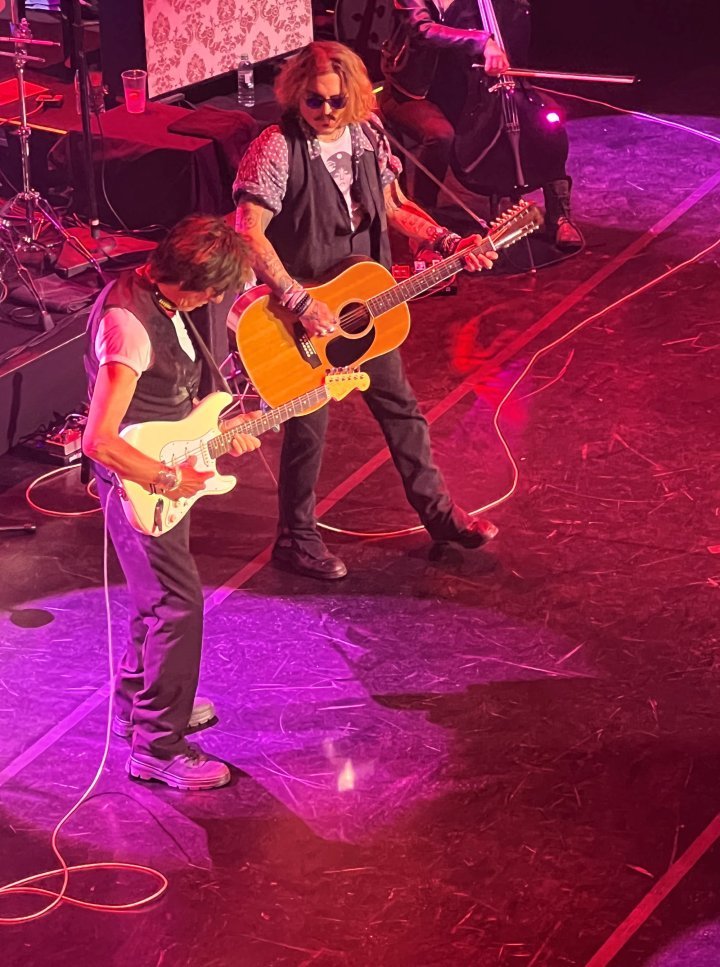 Depp to release self-penned song written about defamation trial
Going through a six-week defamation trial was such a harrowing experience for Johnny Depp that he has decided to put his feelings into words and write a couple of songs about it. This is a song for Miss Hedy Lamarr and Sad Motherfuckin' Parade are both Johnny Depp originals which he has been performing on tour with Jeff Beck and will appear on the pair's album 18 which will be released on Friday 15 July.
"You're sitting there like a dog with a seven-year itch … If I had a dime, it wouldn't reach your hand," he sings on Sad Motherfuckin' Parade, borrowing a line from black narrative Toast poem Hobo Ben.
Heard's insurance company refuses to cover damages costs
Amber Heard took out a $1 million liability policy with New York Marine and General Insurance Company which she had hoped that might cover at least part of the multi-million dollar damages bill she needs to settle after losing last month's defamation case with Johnny Depp.
Heard was ordered to pay Depp $10.35M, but was also awarded $2M in damages herself which means she must find $8.3M. But the insurance company insist they cannot pay out. The policy covers all sorts of wrongful conduct, including defamation but under California law, it is unenforceable if the holder commits willful, malicious misconduct.
Depp's first film role since defamation trial, "La Favorite"
More on that Netflix production - La Favorite will be Depp's first cinema role since he won last month's defamation lawsuit trial in Virginia. Shooting has already started shooting in Versailles and Paris for the movie, co-starring and directed by Maïwenn (Le Besco), which will go on general release in France in 2023. This will be the first time he has starred in a French-language production.
Next three stops on Jeff Beck and Johnny Depp tour set for Italy
Johnny Depp and Jeff Beck continue their tour across Europe with three dates in Italy.
17 July in Perugia at Arena Santa Giuliana
18 July in Gardone Riviera at Il Vittoriale Degli Italiani
20 July in Pordenone at Parco San Valentino
Johnny Depp donates proceeds from artwork NFT sales to children's hospitals
In January, Johnny Depp announced that he was selling over 10,000 NFTs of portraits he made of himself. They consisted of family, friends and personal heroes in his "Never Fear Truth" art collection.
Last week, the "Pirates of the Carribean" star donated nearly $800,000 of the proceeds from the artwork NFT sales to four children's hospitals, the Children's Hospital of Los Angeles, Perth Children's Hospital Foundation, the Footprint Coalition and the Great Ormond Street Hospital Children's Charity.
Depp and Beck signed T shirts auctioned to help animal centre
In the middle of their current European Tour, Jeff Beck and his special guest, Johnny Depp have very graciously signed 10 tour t-shirts to raise funds for Folly Wildlife Rescue, in Tunbridge Wells - a UK charity, dedicated to the rescue and rehabilitation of injured, orphaned and distressed wild animals and birds throughout West Kent, East Sussex and the surrounding region. Both stars are patrons of Folly Wildlife Rescue.
The shirts, which feature striking artwork from their forthcoming album, 18, were designed by Sandra Beck. Each shirt has a slightly different layout and wording and comes with a copy of a letter of authentication.
All proceeds will go 100% to helping UK wildlife in need.
The Ebay auction, which ends on Saturday 16 July, can be found here:
Johnny Depp takes time out to attend fans in Monte Carlo
Johnny Depp spent a few moments attending fans, signing autographs and posing for photographs outside Monte Carlo Casino on Saturday, following his gig with Jeff Beck at Salle Garnier, Opéra de Monte-Carlo. The video is credited to Ange Wickk
Depp/Heard aftermath: live udpates
It's Monday 11 July 2022 and welcome to our daily live blog on the aftermath of the Depp v Heard trial, which concluded early last month.
Last week, Amber Heard's legal team submitted a another motion to set aside the verdict reached by the seven-person jury, which awarded just over $10m to Johnny Depp after finding that Heard defamed her former husband in a 2018 Washington Post op-ed.
The actress' legal team had previously requested the verdict be declared void and want a retrial. Now they want a mistrial declared after one of the juty members was clearly not who he said he was.