Johnny Depp v Amber Heard news summary | 23 May 2022
Depp vs Heard court case: Monday 23 May
WATCH: Monday's live courtroom footage of the Depp v Heard trial
The trial, which had originally been due to end on Thursday, resumed on Monday for the final week's testimony.
Final arguments are to be heard on Friday 27 May.
CONTENT WARNING: The embeded live feed comes direct from inside the courtroom, where strong language and references to content including sex, violence and drug abuse is possible. Discretion is advised.
Online mob of Depp fans tanked Amber Heard's career says defamation trial witness
Amber Heard's career was on the verge of breaking out after her role in Aquaman according to testimony from Kathryn Arnold, an movie-industry consultant. She was hired by Heard's legal team to estimate the monetary losses the actress suffered as a result of Adam Waldman calling her a liar after she wrote a 2018 op-ed on being a victim of domestic violence.
The claim by Walder, who was Johnny Depp's lawyer at the time, Arnold said prompted a social media assault by Depp fans which stop Heard's career in its tracks. The resulting financial damage cost her $45 to $50 million of income she could have expected to earn from screen roles and product endorsements the consultant said.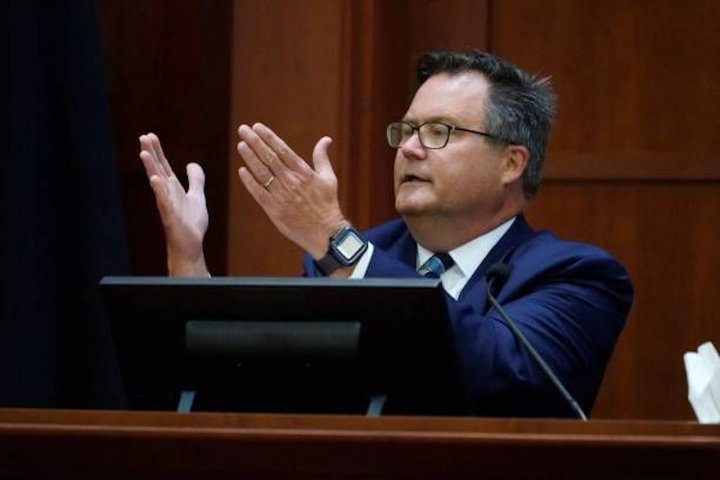 North Carolina hand surgeon Dr Richard Moore during his testimony on Monday.
(Photo by STEVE HELBER/POOL/AFP via Getty Images)
Expert witness questions Depp's claims over finger injury
An expert witness in the Depp v Heard trial on Monday challenged Johnny Depp's account of an alleged incident in which the tip of his finger was sliced off during an argument with former wife Amber Heard.
Depp claims the injury occurred when Heard through a vodka bottle at him.
"The medical data is inconclusive," Dr Richard Moore, a North Carolina hand surgeon, said. "It's not consistent with what we see in the described injury pattern or in clinical photographs […]. Based on the injury pattern I can say that the described mechanism of injury is inconsistent with medical findings."
Under questioning by Depp's lawyer Camille Vasquez, Dr Moore conceded he could not rule out that a vodka bottle is what caused the injury, but added: "I can rule out that it was caused in the manner described in his testimony."
Kate Moss set to be called as witness in Depp v Heard trial
Model Kate Moss is set to testify in the Depp v Heard trial on Wednesday, the New York Post has reported.
Citing "sources with knowledge", the Post said Depp's legal team will call Moss, 48, who dated the actor in the 1990s.
It has been suggested that Moss could be used by Depp's lawyers to deny claims that the 58-year-old pushed her down stairs during the pair's relationship.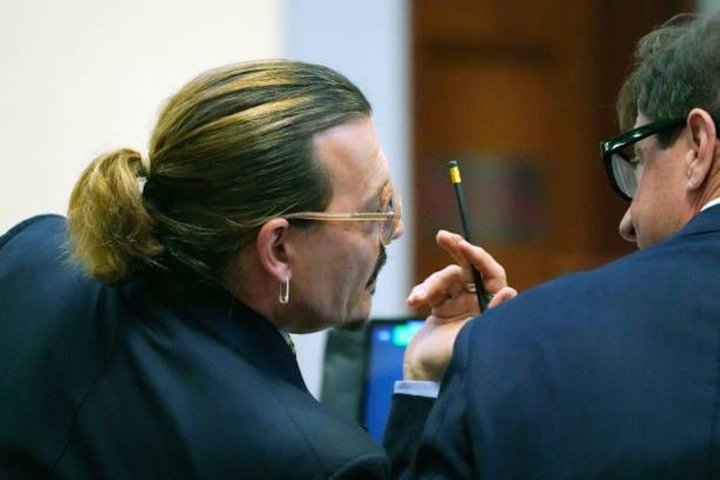 Johnny Depp talks to his attorney Ben Chew during Monday's testimony at the Circuit Court of Fairfax County, Virginia, on Monday.
(Photo by STEVE HELBER/POOL/AFP via Getty Images)
Heard team not planning to call Depp back to stand
A source close to Amber Heard has told NBC News that her legal team is not expected to call Johnny Depp back to the stand. The source said Depp's testimony has been "irrelevant to the heart of this case".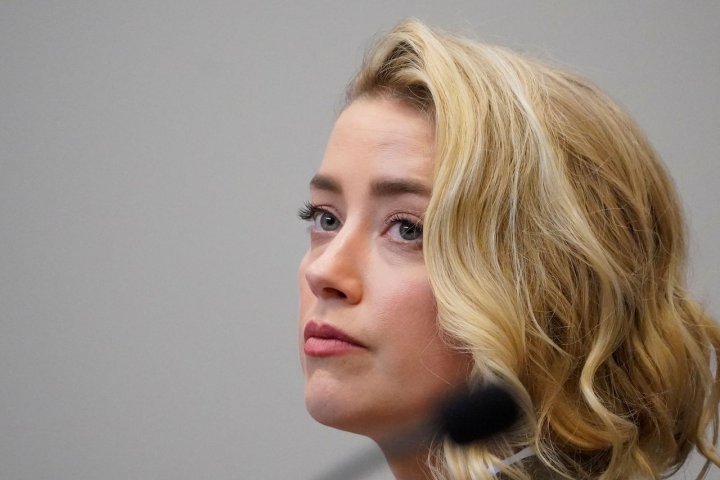 Amber Heard looks on during the latest day of testimony in her former husband Johnny Depp's $50 defamation lawsuit against her.
(Photo: Pool/Reuters)
Why does Amber Heard call Johnny Depp 'Steve' in love notes read in the trial?
The court case between Johnny Depp and Amber Heard has shown love notes written by Heard to Depp in 2015. The notes describe Depp as a friend who Heard had fallen in love with.
Heard wrote: "True love isn't just about the madness of passion or instead picking the safety of peace. No it's about having both. Falling madly in love with your friend."
She continued: "You are the last thing in the whole world who deserves it, [the] last person I ever meant to hurt. I love you, Steve. I am so forever yours. XX Slim."
Who is Ben Rottenborn? Amber Heard's lawyer in Johnny Depp trial
Representing Amber Heard is attorney Ben Rottenborn, who conducted a detailed questioning of Johnny Depp and many other witnesses during the first half of the trial.
During the course of the trial the two lead attorneys have been in the spotlight, and this is the most high profile case of Rottenborn's career to date. He joined Wood Rogers, a Virginia-based law firm where he is currently employed as principal attorney, in 2012, and specialised in complex civil litigation matters.
Attorneys for Depp attemp to discredit Heard's abuse claims
Reuters - Attorneys for Johnny Depp attempted to discredit Amber Heard's abuse claims in the former couple's defamation trial, introducing a knife she gave as a gift to the 'Pirates of the Caribbean' star and affectionate notes she wrote to him.
What time does the Depp-Heard trial start?
The trial will return for what is set to be its sixth and final week on Monday 23 May.
It was set to end last Thursday, but has now been extended until 27 May.
The trial starts at 9:00 am ET each day, and finishes at 5:00 pm ET.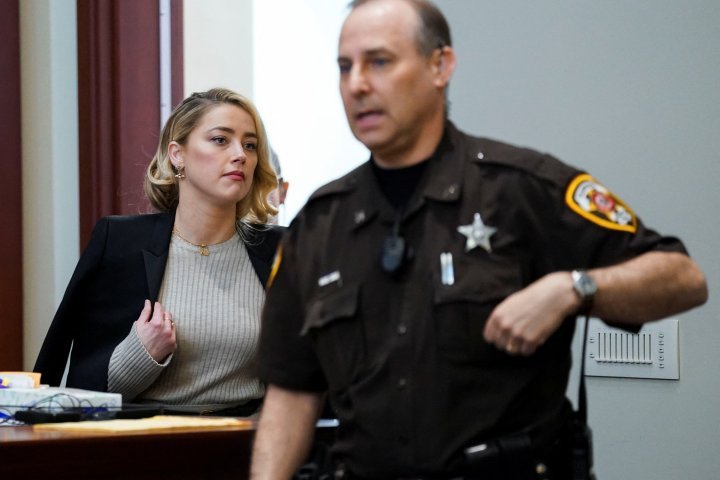 Depp v Heard: possible outcomes
After the lawyers for both sides have presented their closing statements in the case the jury will go off to deliberate their verdict.
They will decide whether, on the balance of probability, Heard did defame Depp in the 2018 Washington Post article.
If they decide she did, she will be ordered to pay Depp damages. He is seeking $50m in compensation, but the jury may recommend he is awarded more or less than this amount.
If they rule in favour of Heard she will not have to pay Depp any money and Heard will not go to prison even if the jury decides in Depp's favour as the case is a civil trial, not a criminal case.
When did Johnny Depp and Amber Heard's relationship begin? How long were they together?
Hollywood actors Johnny Depp and Amber Heard are opponents in a $50 million defamation case currently taking place in Fairfax, Virginia, some seven years after embarking on a marriage that quickly fell apart amid claims by Heard of domestic abuse.
Depp has brought the lawsuit against Heard over an op-ed she wrote in the Washington Post in 2018, in which she didn't mention her former husband by name, but described herself as a "public figure representing domestic abuse". Heard, best known for her role in the 2018 superhero film Aquaman, is countersuing Depp for $100 million.
Courtney Love: Johnny Depp saved my life
Courtney Love has claimed that Johnny Depp once saved her life with CPR after she overdosed outside the Viper Room in Los Angeles, in 1995.
In a series of videos shared by her friend Jessica Reed Kraus's Instagram account, the "Mono" singer expressed her support for Depp amid his defamation trial against his ex-wife Amber Heard.
"I don't really wanna make judgments publicly, but I just want to tell you that Johnny gave me CPR in 1995 when I overdosed outside the Viper Room with Sal," Love said.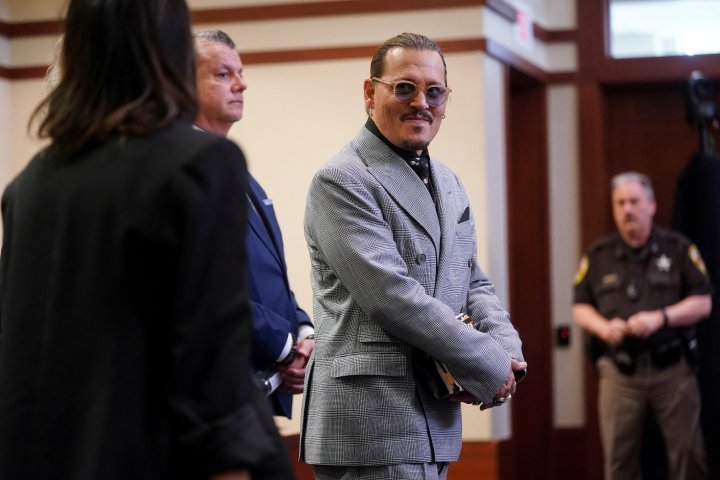 Depp accountant worried over 2015 financial situation
Josh Mandel, Depp's former manager, said he was "extremely concerned" about the actor's financial situation in 2015.
There were "constant" conversations for him to reduce his spending, but "that never happened," he added.
"Over time it became clear that there were problems with alcohol and drugs" and "that translated into more erratic behavior," he detailed.
At one point, Depp was spending $300,000 a month on full-time staff and another $100,000 a month on a doctor and nurses to ensure his sobriety, he said.
Mandel estimated that Depp earned about $600 million during the decades he represented him.
A three-time Oscar nominee, the actor in 2016 fired Mandel, who filed a lawsuit, though the two settled in 2018.
Who is Camille Vasquez? Johnny Depp's lawyer in Amber Heard trial
The highly watched defamation case between Johnny Depp and Amber Heard has been criticized as a media distraction that does not allow for a greater conversation over the complexity surrounding domestic violence.
One of Depp's lawyers, Camile Vasquez, has taken center stage as his team began their cross-examination of Amber Heard.
When will the Depp-Heard trial end?
The trial was scheduled to end on Thursday 19 May. However, with significant evidence yet to be considered extra time has been given to ensure the jury is in full appreciation of the information they have been given.
The new end date for the trial is 27 May. This won't be the end of proceedings, as the jury will still need to give their verdict on whether Heard did defame Depp in her Washington Post article.
Depp-Heard case resumes today at 09:00 am (ET)
The ongoing court case between Amber Heard and Johnny Depp resumes again on Monday 23 May at 09:00 am (ET) in Virginia's Fairfax County Courthouse.
The "Pirates of the Caribbean" star Depp is suing Heard for $50 million in damages for insinuating that he was an abuser.
The actress, a native of the state of Texas (south) and star of "Aquaman" filed a counterclaim for 100 million dollars, alleging that she suffered "physical violence and rampant abuse" by her ex-husband.
Johnny Depp - Amber Heard trial: welcome
You can follow the latest from the courtroom as the defamation trial between Amber Heard and Johnny Depp enters its final week today.
Depp is suing Heard, his ex-wife, for $50m over an article she wrote in The Washington Post in 2018, in which she described herself as a "public figure representing domestic abuse".