Johnny Depp v Amber Heard trial summary: 24 May
Depp vs Heard court case: Tue 24 May
WATCH: Tuesday's courtroom footage of the Depp v Heard trial
The trial, which had originally been due to end on Thursday, continued on Tuesday for the final week's testimony.
Final arguments are to be heard on Friday 27 May.
CONTENT WARNING: The embeded live feed comes direct from inside the courtroom, where strong language and references to content including sex, violence and drug abuse is possible. Discretion is advised.
Depp-Heard case raises awareness for male victims of domestic abuse
What has become clear throughout the Depp-Heard trial is the toxicity of the relationship between the two actors. While jurors will have to decide how the defamation case ends, the public has begun to focus on the issue of domestic abuse for both men and women. All people can be victims of abuse and ones gender or sexual orientation should never be a factor that makes a victim more or less credible. When watching the trial it is important to understand that the situation between the two actors may not be as cut and dry as it seems in the courtroom. Abuse, particularly domestic abuse, is a complicated and harmful and rarely a black and white picture. This does not mean that anyone deserves to be abused, rather that as outsiders looking in, we should be conscious of our biases and that there will be information that as onlookers we will never know.
For many men, seeing Johnny Depp speak publicly about this alleged abuse has created space for many others to speak about their own experiences. For those who may be struggling with their own abuse, resources are available.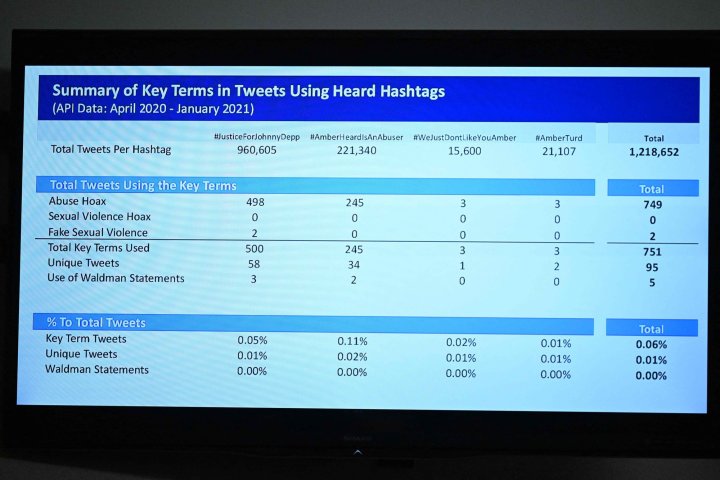 API data for tweets with Heard hashtags
Evidence showing a summary of key terms in tweets using Amber Heard's hashtags pictured on a screen during today's defamation trial at the Fairfax County Circuit Courthouse in Fairfax. Almost a million tweets were posted with the hashtag #JusticeForJohnnyDepp.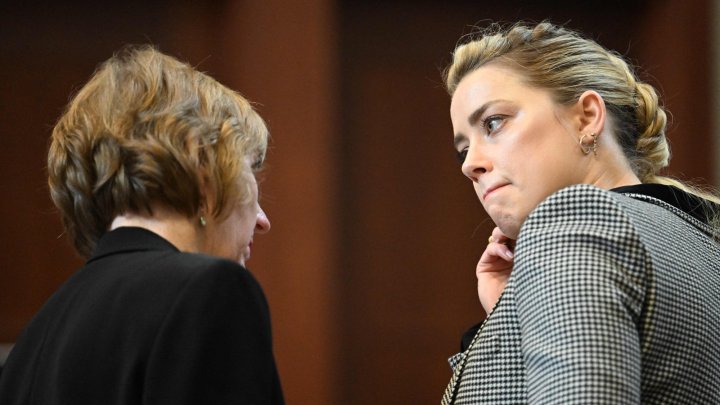 Amber Heard's Q Score "is very low" - Bania
Doug Bania returned to the stand after today's hearing was adjourned for lunch. He explained to the court that Amber Heard's Q Score, a measurement of how much a brand, celebrity or company is liked or disliked, is low compared to other actors.
Bania displayed charts showing positive and negative Q scores which showed Heard's positive score to be very low and her negative score, very high. Heard's popularity Q score has been as low as 1 while Depp's, according to Bania, was 35 in 2016 and his negative Q Score was 11.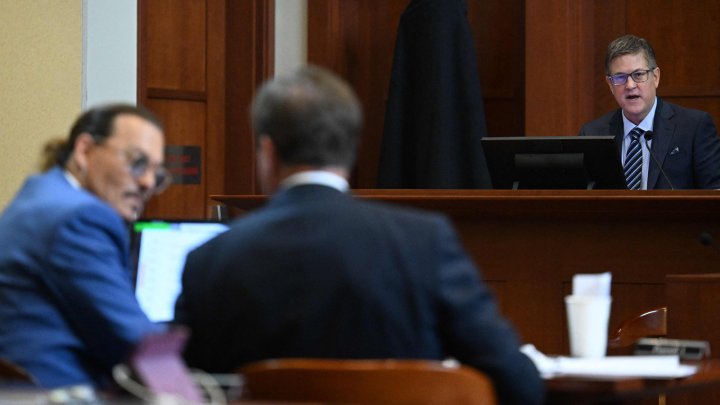 Depp's team call Douglas Bania to testify
Johnny Depp's team summoned social media analyst Douglas Bania to the stand for a second time - Bania also testified on 2 May. He responded to claims given by Amber Heard's witness and social media forensic expert Ron Schnell, regarding negative Twitter hashtags about Heard in relation to the Adam Waldman statements that the actresses' allegations of domestic abuse were fabricated.
'Mr Schnell chose hashtags that he felt were negative towarsd Miss Heard. Those hashtags range from 'Justice for Johnny Depp', 'Amber Heard is an abuser', 'Amber Turd' and the hashtag, '3We just don't like you Amber'. He used those hashtags and seached through the Twitter API and came up with any tweets that were using those hashtags. Did these tweets contain the Waldman statements? There are three Waldman statements that were published in the Daily Mail, on 8 April 2020, 27 April 2020 and 24 June 2020. If these tweets were prior to the Waldman Statements, in no way could they have anything to do with the Waldman statements".
Jury arrives
Everyone in the courtroom stands as the jury is finally allowed into the seats following what the judge calls 'housekeeping'.
Chew responds to Rotterborn comments
Depp's lawyer has again addressed the judge following Rottenborn's claims.
"They have been telling us for a week that they were going to call Johnny Depp [to the stand]. It's all games," he says.
He then paints Heard as the abuser after her recent testimony, saying that we should imagine if the tables were turned and Depp said to her, "Woman up. I didn't punch you, I just hit you."
Judge Penny has denied Depp's motion to dismiss Amber Heard's defamation countersuit. It is now time for Depp's rebuttal.
Depp-Heard drawing crowds
As the conclusion of this case gets ever nearer - remember we expect closing arguments on Friday - the interest in it seems to grow, both online and at the courthouse in Fairfax.
Here you can see a queue of people hoping to get in to see the trial up close and personal.
Rottenborn fires back at dismissal request
"There's also evidence that Mr Depp met with The Daily Mail, with Mr Waldman, prior to the defamatory statements being made and released," says Heard's lawyer. "I believe that was in February 2020."
Chew on Heard's countersuit
Today's trial has begun with Amber Heard's side resting and then Johnny Depp's lawyer, Benjamin Chew, asking the judge to dismiss Heard's counterclaims.
It's something that they need to do but given the judge's previous comments, it's unlikely to make any difference...except maybe to those watching, a point made by Heard's lawyer in an objection.
Why and when is Kate Moss testifying in the Johnny Depp v Amber Heard trial?
As we enter this second day of what is expected to be the final week of the trial, it has come to light that internationally-renowned model Kate Moss will be testifying as a witness.
The 48-year old was not originally expected to appear but is now doing so after Heard brought up her name in her own testimony.
Moss will attend in person in Fairfax tomorrow, Wednesday 25 May. Find out more about how this came about by clicking on the image above.
Depp fans caused Heard career to tank, says defamation trial witness
Heard's acting career was on the verge of breaking through after her role in Aquaman, according to testimony from Kathryn Arnold, a movie-industry consultant.
She was hired by Heard's legal team to estimate the monetary losses the actress suffered as a result of Adam Waldman calling her a liar after she her now infamous 2018 op-ed.
The claim by Walder - who was Depp's lawyer at the time - Arnold said, prompted a social media assault by Depp fans which stop Heard's career in its tracks. The resulting financial damage cost her $45 to $50 million of income she could have expected to earn from screen roles and product endorsements, the consultant said.
Expert witness questions Depp's claims over finger injury
Yesterday we saw an expert witness challenge Depp's account of the alleged incident in which the tip of his finger was sliced off during an argument with former wife Amber Heard.
Depp claims the injury occurred when Heard through a vodka bottle at him.
"The medical data is inconclusive," Dr Richard Moore, a North Carolina hand surgeon, said. "It's not consistent with what we see in the described injury pattern or in clinical photographs […]. Based on the injury pattern I can say that the described mechanism of injury is inconsistent with medical findings."
Under questioning by Depp's lawyer Camille Vasquez, Dr Moore conceded he could not rule out that a vodka bottle is what caused the injury, but added: "I can rule out that it was caused in the manner described in his testimony."
Here's a clip of that cross-examination.
Why does Amber Heard call Johnny Depp 'Steve' in love notes read in the trial?
One of the questions that was brought to the public's attention was regarding the love notes written by Heard to Depp in 2015. The notes describe Depp as a friend who Heard had fallen in love with.
Heard wrote: "True love isn't just about the madness of passion or instead picking the safety of peace. No it's about having both. Falling madly in love with your friend."
She continued: "You are the last thing in the whole world who deserves it, [the] last person I ever meant to hurt. I love you, Steve. I am so forever yours. XX Slim."
We looked into why Heard referred to Depp as Steve in the attached article.
Depp will not be called back to witness stand
We found out yesterday afternoon from a source close to Heard that the lawyers for the Aquaman actor had decided not to call Johnny Depp back to the witness stand as they wrapped up their defense this week.
Depp appeared on a list of potential witnesses as the trial entered its sixth and final week.
"The Pirates of the Caribbean" star could testify again if his own lawyers summon him for more questioning ahead of closing arguments on Friday.
What time does today's Depp-Heard trial start?
As previously stated, the trial began its sixth and final week yesterday. It was set to end last Thursday, but was extended until 27 May to allow more information to be shared with the jury.
Today's proceedings will begin at 9 am ET and should finish around at 5 pm. This is the same schedule for the rest of the week.
As soon as the live coverage from the courtroom is available it will appear at the top of this feed.
When did Johnny Depp and Amber Heard's relationship begin? How long were they together?
This court case comes seven years after Depp and Heard embarked on a marriage that quickly fell apart amid claims by Heard of domestic abuse.
They first met in 2009 while shooting the movie The Rum Diary, in which both starred. During his testimony Depp recalled the on-set chemistry between the pair, who were both in relationships at the time.
"There was a scene where I'm taking a shower and then she comes into the room and she opens the shower and we kiss," he said. "And that moment was… it felt like something that I shouldn't be feeling, because she had her wife and I had Vanessa [Paradis, Depp's then-partner] and kiddies."
Courtney Love: Johnny Depp saved my life
With another major celebrity readying herself to testify this week - more on that in a moment - Courtney Love has claimed that Johnny Depp once saved her life with CPR after she overdosed outside the Viper Room in Los Angeles, in 1995.
In a series of videos shared by her friend Jessica Reed Kraus's Instagram account, the "Mono" singer expressed her support for Depp amid his defamation trial against his ex-wife Amber Heard.
"I don't really wanna make judgments publicly, but I just want to tell you that Johnny gave me CPR in 1995 when I overdosed outside the Viper Room with Sal," Love said.
You can read more in this Hollywood Life report.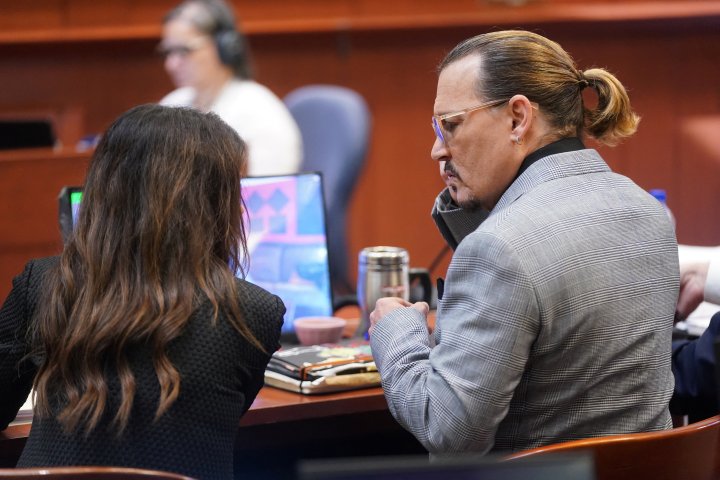 Depp v Heard defamation lawsuit at the Fairfax County Circuit Court
Josh Mandel, Depp's former manager, said he was "extremely concerned" about the actor's financial situation in 2015.
There were "constant" conversations for him to reduce his spending, but "that never happened," he added.
"Over time it became clear that there were problems with alcohol and drugs" and "that translated into more erratic behavior," he detailed.
At one point, Depp was spending $300,000 a month on full-time staff and another $100,000 a month on a doctor and nurses to ensure his sobriety, he said.
Mandel estimated that Depp earned about $600 million during the decades he represented him.
A three-time Oscar nominee, the actor in 2016 fired Mandel, who filed a lawsuit, though the two settled in 2018.
Depp vs Heard: some of the key points early in the trial
If you're only just coming to the Depp-Heard case now, here is a selection of some of the key points from earlier in the trial that will help get you up to speed:
-- Depp testified that he never hit Heard or any other woman. He said she was the one who became abusive and "bullied" him with "demeaning name calling." "It seemed like pure hatred for me," Depp said. "If I stayed to argue, eventually, I was sure it was going to escalate into violence, and oftentimes it did."
-- During an argument in Australia in early 2015, Depp said Heard threw a vodka bottle that severed the top of his right middle finger. The actor said he went into shock and wrote messages to Heard on the wall using blood from the finger. Heard offered a different account, sobbing as she told the jury that Depp sexually assaulted her that night by inserting a liquor bottle in her vagina. "I was scared," she said. "I had just married him."
-- A few months later, Heard said, Depp broke her nose and ripped out chunks of her hair during another violent encounter.
-- Heard's attorneys introduced photos that they said showed injuries after various arguments, including scars on her arm that were visible as she posed on a red carpet, and redness and swelling around an eye that she said was struck by a phone thrown by Depp. Attorneys for Depp showed images from public appearances that they said were taken around the time of their fights and appeared to show no injuries.
-- Depp testified that feces were found in the couple's bed in 2016. One of his security guards said Heard told him it was "a horrible practical joke gone wrong." Heard denied any involvement and suggested one of the couple's dogs was responsible.
-- Heard said Depp first became physically abusive when he slapped her after she laughed at a tattoo that said "Wino Forever." The tattoo previously said "Winona Forever," referring to Depp's former girlfriend, Winona Ryder.
-- Jurors heard an audio clip of Depp threatening to cut himself with a knife during one of their last in-person encounters. "That's psychologically, emotionally where I was," Depp said. "At the end, I was broken ... I thought the only answer is here, take my blood, that's all I've got left."
-- Heard's lawyers introduced text messages in which Depp called Heard a "filthy whore" and said he wanted her dead. Writing to actor Paul Bettany in 2013, Depp said: "Let's drown her before we burn her" and "I will fuck her burnt corpse afterward to make sure she is dead."
Who is Ben Rottenborn? Amber Heard's lawyer in Johnny Depp trial
In the other corner of this Hollywood bout, representing Heard, is attorney Ben Rottenborn, who conducted a detailed questioning of Depp and many other witnesses during the first half of the trial.
You can find out more about Mr Rottenborn by clicking on the image above.
Who is Camille Vasquez? Johnny Depp's lawyer in Amber Heard trial
The highly watched defamation case between Depp and Heard has been criticized as a media distraction that does not allow for a greater conversation over the complexity surrounding domestic violence.
One of Depp's lawyers, Camile Vasquez, has taken center stage as his team began their cross-examination of Amber Heard.
Find out more by clicking on the above image.
When will the Depp-Heard trial end?
The trial was scheduled to end on Thursday 19 May, however, with significant evidence still to be considered, extra time was given to ensure the jury would be in full appreciation of the information they had been given.
The new end date for the trial is Friday 27 May.
This won't be the end of proceedings, as the jury will still need to give their verdict on whether Heard did defame Depp in her Washington Post article. That could take a matter of hours, or potentially a few days.
Depp-Heard case resumes today at 9 am ET / 6 am PT
The ongoing court case between Depp and Heard resumes today, Tuesday 24 May at 9 am (ET) / 6 am PT in Virginia's Fairfax County Courthouse.
The "Pirates of the Caribbean" star Depp is suing Heard for $50 million in damages for insinuating that he was an abuser.
The actress, a native of the state of Texas (south) and star of "Aquaman" filed a counterclaim for 100 million dollars, alleging that she suffered "physical violence and rampant abuse" by her ex-husband.
Johnny Depp vs Amber Heard trial: welcome
Hello and welcome to our live coverage of the defamation trial between Amber Heard and Johnny Depp as we move into the second day of the final week.
You can follow all the latest from the courtroom as it happens and we'll be keeping you up to date as things transpire.