US Financial News: news summary | 28 July 2023
Headlines: Friday 28 July 2023
- Federal Reserve announces 0.25% hike in interest rates
- Inflation in the US was at 3% in June, as Fed bids to cut rate to 2%
- Initial unemployment claims fell by 9,000 in week ending 15 July, to 228,000
- June jobs report showed that US added 209,000 jobs last month
Take a look at related AS USA news articles:
Each year, all Social Security benefits increase, thanks to the cost-of-living adjustment. The COLA is not a fixed amount, as the Social Security Administration calculates the necessary increase based on changes in the Consumer Price Index for Salaried Workers in Urban Areas and Clerical Workers (CPI-W).
This adjustment is made annually so as maintain the purchasing power of the beneficiaries. Although in real terms, the increase is usually not enough in relation to inflation.
Find out the estimated COLA adjustment for 2024.
In June of last year, the price of gasoline in the United States reached a record after registering the highest price in history.
Subsequently, the price began to fall. However, this week, fuel prices reached their highest level in months, recording eight-month highs. On July 27, the average price of gas in the country was $3.714, the highest level since November of last year.
Why has the price of gas gone up so much? Will its price keep rising? Here is the explanation for the increase.
Win $50K in sandwiches by legally changing your name to 'Subway'
Subway fans now have the ultimate way to show their love for the sandwich, and win something nice along the way. All they have to do is legally change their name, per USA Today.
The chain is offering free Subway sandwiches for life (depending on how much Subway you eat) to a fan who agrees to legally change their first name to Subway. Interested parties can enter the contest beginning Aug. 1 at SubwayNameChange.com.
Subway will select one winner and provide them with $750 to cover the cost of legally changing their name, as well as $50,000 in Subway gift cards.
The Social Security Administration issues millions of payments monthly to program beneficiaries who are mostly retired workers. However, there are some people with disabilities who may be eligible for Supplemental Security Income payments or Social Security Disability Insurance.
Whatever your case may be, if you are a Social Security beneficiary, the administration will send your payment automatically each month according to the check distribution schedule.
Here is the timetable which shows who will receive a payment of up to $914 dollars on August 1.
It can be challenging to determine which state provides the most comfortable economic living conditions due to several variables to consider, including cost of living and income. Income is a significant factor, and to compare the average income between states, we will examine the per capita value.
To calculate per capita income, we add up all sources of income within the same region, including salaries, dividends, interest, rent, and benefits, and then divide it by the total population. The higher the per capita income, the greater the wealth of the region.
We took a look at the top ten US states with the largest per capita incomes.
Survey: We have no idea how much we'll need to retire
Many Americans have no idea how much they need to have saved for retirement, according to a survey by the nonprofit Transamerica Center for Retirement Studies (TCRS), in collaboration with the Transamerica Institute.
According to Yahoo Finance, based on median numbers, workers surveyed estimate they will need $500,000 by the time they retire in order to feel financially secure.
Estimated needs vary by generation with baby boomers estimating they will need $750,000, Generation X and millennials estimating $500,000, and Generation Z estimating $250,000.
Approximately 1 in 5 workers across generations estimate they will need to save $2,000,000 or more including baby boomers (24%), Gen X (22%), millennials (21%), and Generation Z (17%).
A new month is coming up and that means one important thing to all SNAP recipients: the arrival of a new payment.
Although the SNAP program is a form of assistance offered by the federal government, payments are administered by the state governments. This means that each state is required to issue its own coupons, which is why in some places the requirements and payment dates vary.

These are the payment dates for the month of August in each state of the country.
Meta shares rally after AI-boosted engagement and ad sales
Meta shares surged nearly 8% as a rosy revenue forecast showed that artificial intelligence was helping the social media giant boost engagement and ad sales even in an uncertain economy.
The Facebook owner was set to add about $60 billion to its market value after strong second-quarter earnings encouraged 18 analysts to lift their target price on a stock that has already more than doubled this year.
In late June, the Supreme Court decided to strike down the student loan forgiveness program proposed by President Joe Biden. It would have forgiven up to $20,000 in student loan debt for up to 40 million borrowers.
Following the decision of the highest court, the president announced a series of measures and new plans to help students and their families. As its implementation continues, borrowers should prepare for the resumption of loan payments.
Why do central banks raise interest rates to slow inflation?
By the way, if you're wondering exactly why central banks like the Fed tend to combat inflation by raising interest rates, here is a useful video explainer by the Economist.
Essentially, it all boils down to making people poorer and stop them spending - but not by too much...
You've saved for your retirement for most of your working life, and when you're ready to stop working, the last you thing you want to see is your retirement fund dwindling because of taxes.
There are some legal ways to protect your retirement savings from the IRS, and with some planning, you could enjoy more of your hard-earned dollars when you retire.
AI and automation likely to kill jobs sooner due to covid-19 says study
Automation was already expected to wipe out millions of jobs, but the pandemic hastened this process.
According to USA Today, nearly nine million workers switched occupations during the health crisis from 2019 to 2022, 50% more than in the prior three years, per a new study by McKinsey Global Institute.
Most left low-wage jobs in food services, customer service, office support and production. Meanwhile, high-wage positions grew in fields such as science, technology, health care, business, legal and management, says the report.
The federal government, through the Department of Agriculture (USDA), implements several nutritional programs. The best known is the Supplemental Nutrition Assistance Program (SNAP), but there is another one called the Special Supplemental Nutrition Program for Women, Infants and Children (WIC).
US economy grew faster than expected in Q2
The US economygrew faster than expected in the second quarter of 2023 as labour market resilience supported consumer spending and an increase in state and local government spending, while private businesses boosted investment in equipment, potentially keeping a much-feared recession at bay.
Real gross domestic product (GDP) increased at an annual rate of 2.4 percent in Q2, according to the "advance" estimate released by the Bureau of Economic Analysis. In Q1, real GDP increased 2.0 percent.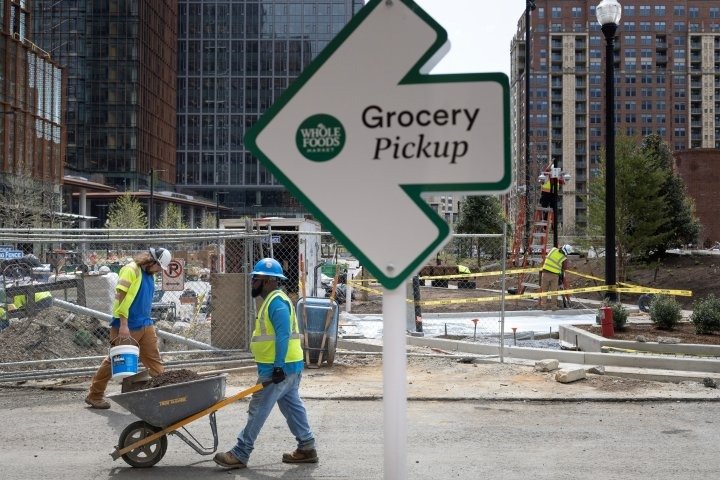 Unemployment insurance claims fall again
The number of Americans filing new claims for unemployment benefits fell for the second week running - the advance figure for seasonally-adjusted initial claims was 221,000, a decrease of 7,000 from the previous week's unrevised level of 228,000.
The 4-week moving average was 233,750, a decrease of 3,750 from the previous week's unrevised average of 237,500.
The largest increases in initial claims for the week ending 15 July were in Georgia (+4,879), California (+3,875), South Carolina (+2,376), Oregon (+1,354), and Texas (+1,267), while the largest decreases were in Michigan (-3,620), Kentucky (-2,730), New Jersey (-2,036), New York (-1,917), and Indiana (-1,360).
US finance news: welcome
We'll be looking at the aftermath of the Federal Reserve's decision to raise interest rates in a bid to curb inflation in the US.
You can also follow our live blog for news on SNAP benefits, IRS refunds and Social Security benefits.