Pokémon
New Pokémon anime to be adapted into manga
Liko and Roy's upcoming adventures not only will pick up where Ash and Pikachu left off this year, but will also reach other media, at least in Japan.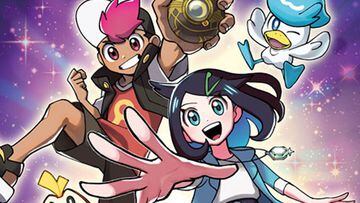 The final episodes of Ash and Pikachu in the Pokémon anime continue to roll on, and goodbyes have been flying everywhere. Just this weekend, Japanese fans said goodbye to the beloved Team Rocket, and now we're inching closer to seeing the last of the Palette Town Champion.
As previously announced, the Pokémon anime will continue with a new series featuring Liko and Roy as the new protagonists in the Paldea region. While the series will begin airing on Japanese television in mid-April, a preview of what to expect in this adventure, which will also find its way into the manga, has already been released.
A new Pokémon manga
The April issue of the comic magazine Coro Coro released a preview this Wednesday, showing 9 pages of this new anime adaptation of the Pokémon franchise. The art will be commissioned from Kei Yamadaka and for now there are not many details about this product, if it will be a one-shot to promote the premiere of the new anime or if it will be a series that will compile the new adventures.
The manga will be published in the pages of Coro Coro starting next April 14th, the same day the new anime will be released with a one-hour special.
The beginning of a new Pokémon adventure
Just earlier this month, we got a glimpse of the first trailer for the series, revealing new details about the main characters as well as other important figures who will accompany them on their journey through Paldea.
The 50-second trailer gave us a brief glimpse of Liko and Roy, as well as Pokémon Professor Friede and his partner, Captain Pikachu, and their motivations for embarking on a Pokémon adventure.
Source | Anime News Network