Marvel Calendar
All Marvel Cinematic Universe: complete list of series and movies with Marvel characters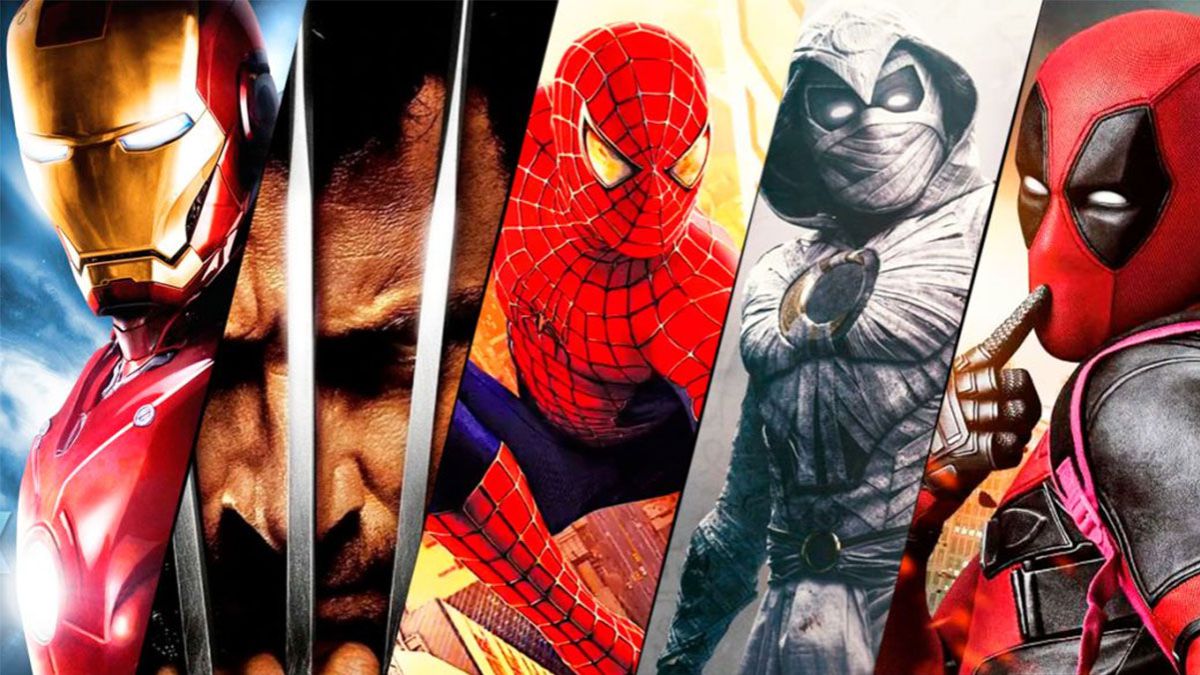 We take a look at all of Marvel's current offerings in both movies and live-action and animated series and on which platforms they can be enjoyed.
The Marvel universe in audiovisual format is as broad as it is complex due to the multitude of adaptations, sagas, story arcs, formats and more, all based on the countless original comics with decades and decades of stories behind them. And if you want to enjoy on the small screen the best of the House of Ideas in live-action or animation, you may not even know where to start. Therefore, we want to gather all the series and movies with Marvel characters and the platforms where to enjoy all of them, with the UCM as the main axis of the current Marvel offer in audiovisual format.
Where to watch all Marvel movies and series?
Currently, the Disney+ platform is home to the largest offering of Marvel content, from movies to series to numerous animated adaptations:
MCU: Films and series in chronological order
Captain America: The First Avenger (2011)
Captain Marvel (2019)
Iron Man (2008)
Iron Man 2 (2010)
Thor (2011)
The Avengers (2012)
Iron Man 3 (2013)
Thor: The Dark World (2013)
Captain America: The Winter Soldier (2014)
Guardians of the Galaxy (2014)
Guardians of the Galaxy 2 (2017)
The Avengers: Age of Ultron (2015)
Ant-Man (2015)
Captain America: Civil War (2016)
Black Widow (2021)
Black Panther (2018)
Doctor Strange (2016)
Spider-Man: Homecoming (2017)
Ant-Man and the Wasp (2018)
Thor: Ragnarok (2017)
Avengers: Infinity War (2018)
Avengers: Endgame (2019)
Wandavision (2021)
Falcon and The Winter Soldier (2021)
Loki (2021)
Eternals (2021)
Shang-Chi and the Legends of the Ten Rings (2021)
Hawkeye (2021)
Moonknight (2022)
Fox films
X-Men
X-Men 2
X-Men: The Last Stand
X-Men Orígenes: Wolverine
X-Men: First Class
X-Men: Days of Future Past
X-Men: Apocalypse
The Wolverine
X-Men: Dark Phoenix
Logan
The New Mutants
Deadpool
Deadpool 2
The Fantastic Four
The Fantastic Four and Silver Surfer
Fantastic Four
Marvel Series
Daredevil
Jessica Jones
Luke Cage
Iron Fist
The Defenders
The Punisher
Agent Carter
Agents of S.H.I.E.L.D.
Runaways
Inhumans
Cloak and Dagger
Legion
Helstrom
Animated series
The Incredible Hulk
Hulk and the Agents of S.M.A.S.H.
Fantastic Four
Avengers Assemble
Marvel Future Avengers
The Super Hero Squad Show
The Avengers: Earth's Mightiest Heroes
Marvel Rising: Initiation
Iron Man (1994)
Guardians of the Galaxy
Silver Surfer
X-Men
Marvel's Spider-man
Spider-Man and His Amazing Friends
Ultimate Spider-Man
Spider-Man Unlimited
Spider-Woman
Spider-Man (1981)
Spider-Man (1994)
Some Marvel movies are not available on Disney+ due to rights issues, from the most recent Spider-Man movies from the UCM with Sony Pictures to other Fox adaptations, as well as other Marvel movies that predate the UCM.
MCU
The Incredible Hulk
Spider-Man: Homecoming
Spider-Man: Far From Home
Spider-Man: No Way Home
Sony Pictures' Spider-Man
Spider-Man
Spider-Man 2
Spider-Man 3
The Amazing Spider-Man
The Amazing Spider-Man 2: Rise of Electro
Spider-Man: Into the Spider-Verse
Sony Pictures' Spiderverse
Venom
Venom: There will be Carnage
Morbius
Other Marvel Movies
Blade
Blade II
Blade: Trinity
Hulk
Daredevil
Elektra
The Punisher
Punisher: War Zone
Ghost Rider
Ghost Rider: Spirit of Vengeance