How many MLB players have over 3,000 hits? Cabrera joins 3,000 club
One of the most exclusive clubs in baseball has its newest member as Miguel Cabrera gets his 3000th hit in front of an exuberant Detroit home crowd.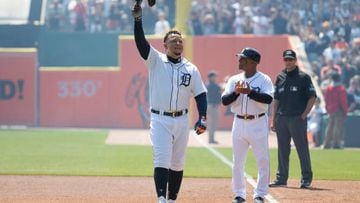 Only three Tigers are in the 3000 hit club. Ty Cobb, Al Kaline, and now Miguel Cabrera. Across the entire Major Leagues, he is just the 33rd player to make it to this milestone, and only the seventh to accomplish it with 500 home runs.
After the gut-wrenching intentional walk against the Yankees on Thursday, the Detroit crowd was bubbling with excitement and anticipation. They didn't have to wait long, as Miggy singled to right field off Antonio Senzatela in the first inning of their doubleheader against the Colorado Rockies on Saturday.
Rockies shortstop Jose Iglesias brought Cabrera the ball at first and the two had a joyous hug.
Cabrera and Albert Pujols are the only active players in the 3000 hit club and they are likely to be the last entrants for quite some time. Only three other active players have more than 2000 hits, Robinson Cano, Yadier Molina, and Joey Vatto.
With heavy legs, Cabrera has had to actually hit the ball to get into this club. Only 150 of his 3000 hits have been on the infield and he has exactly one bunt to his name.
More interesting clubs are to follow shortly for the 39-year-old Venezuelan. He is currently sitting on 599 doubles. His next double will see him enter a group of three players who have 3000 hits, 500 home runs, and 600 doubles. It will be Miggy, Albert Pujols, and Hank Aaron.
Back in 2012 and 2013, Cabrera hit over .330 and 44 home runs in both seasons, earning MVP honors back to back. In doing so, he joined a group of four: Babe Ruth, Jimmie Foxx and Barry Bonds being the other three.
He is the seventh Latino to enter the 3000 hit club, and the only Venezuelan. He is a once-a-century hitter and the way that he made it to this point is as vital to his legacy as the records themselves. Nobody has a bad word to say about Cabrera. He is a genuinely nice guy. Even the pitchers that he hit off seem to love being around him.
This landmark will only solidify his Hall of Fame credentials, as if that were necessary. The two-time American League MVP, Triple Crown winner and 11-time All-Star with four batting titles is a shoe-in if ever there was one. And we all, Tiger fans and not, are Miguel Cabrera fans. He has earned it.