Japan vs Italy, summary: score, stats & highlights | 2023 World Baseball Classic
Japan 9-3 Italy: as it happened
Report:
Japan: the only team to reach the semi-finals in all 5 tournaments.
They did exceptionally well, there, despite the wobble around the fifth innings where Italy looked like they might get back into it. Italy's WBC 2023 journey is over but there is so much for them to build on and be proud of.
But Japan were simply ruthless, and showed their class throughout, keeping a cool head and putting Italy to the sword when it mattered. We all had a laugh when Stampo put Shohei out after 3 balls (and there was the woman with the camcorder from 2004) but apart from that it was a serious game from the tournament favourites and they fully deserve their place in the final four.
The semi-final with Japan, whether it be against Puerto Rico or Mexico, on March 20, is going to be fascinating.
Japan 9-3 Italy: signing off
OK, that's all from me today, I really hope you enjoyed the coverage of what was an incredibly exciting quarter-final.
Make sure you tune in to AS USA for more WBC action, as well as football, NFL, NBA and more!
Thanks again,
Joe
This guy can do it all...
Is there anything he can't do? I bet he also cooks really well and can play musical instruments to a semi-professional level. I'm not jealous, I'm just.. of course I'm jealous. And it's not because he's really tall either.
Here is all the information you can possibly need on where the WBC semi-finals are being held, what time they're on at and any other teeny tiny question you can possibly come up with.
Trust me, Paul's got it all covered, this is one to bookmark.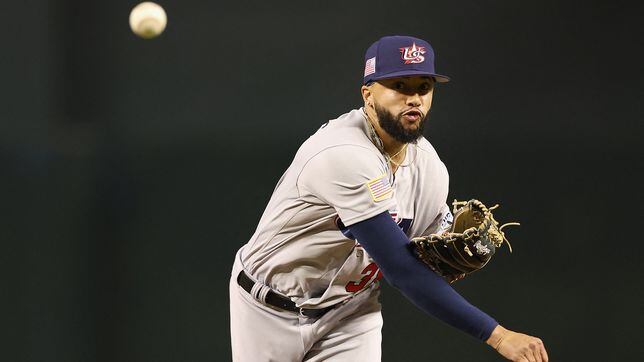 Want to watch more baseball?
Here's how you can see USA vs Venezuela in the WBC quarter finals.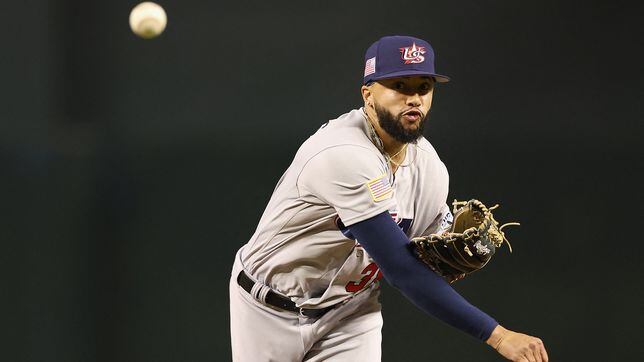 With the pool stage over and Japan with both feet in one semi-final, here's the roundup for the rest of the quarter-finals.
Check it out to make sure you don't miss a second of the action of what's left in the tournament!
Here's a great video of Japan's Nootbaar giving a hugely motivating pre-game speech!
UNDEFEATED
Can they go all the way? Let's see how the semi-final goes as they are set to take on one of Mexico or Puerto Rico in Miami!
Time to get on that flight!
STRIKE THREE!
And it's done!
JAPAN REACH THE SEMI FINALS
A strike away from the end for Italy... 1-2
Sal Frelick is up now.
Italy have the second and third bases covered with Mastrobuoni and Mineo.
Fletcher hits the next pitch but that's two Italy two down as the shot is too close to first base for the batter to complete the distance.
Taisei Ota gets a huge cheer as he gets the first strike against Fletcher.
David Fletcher is up now to bat.
DeLuzio gets on the first pitch and the catcher, well, catches the shot and that's him out.
He strikes a clean shot to centre field and Italy now have men on first and second base at the start of the ninth inning.
And Mastrobuoni makes contact on the fifth pitch and gets to first base after a nice shot towards second.
It goes 2-2 after a very close pitch from Ota that is given as just wide.
Mastrobuoni has the batting honours.
Top 9th
We're into the final innings, and it's 9-3 as things stand.
Ota to pitch for Japan.
MITCHELL STUMPO GETS THREE STRIKE OUTS!!!
Yamada swings three times and the expressions on the faces of the players is a picture. If they didn't know who Stumpo was before, they do now!
Oh, goodness! Shohei is out!
He swung at a throw that was incredibly well placed for him but the speed caught him off guard. What a face the batter has just pulled in absolute astonishment at the sitiuation.
He looks confused as he gets a second strike. That face will be a meme. A great throw from Stumpo.
Shohei is up next to bat and he immediately is put under pressure by a strike (and the millions of mobile phones recording him).
And Kondo is struck out by Stumpo after 5 pitches.
Mitchell Stumpo is pitching for Kondo.
Bottom 8th
Chants ring around the stadium which is bouncing with excitement...
Pasquantino is here to bat.
He hits a shot hard on the ground to second base and a double play puts an end to the innings for Italy!
Brett Sullivan keeps the line moving by hitting himself to first base.
A quick look by the cameras to check everything is OK and the point is given.
Dom Fletcher hits towards left centre field and that's a home run!!!!
Nicky Lopez fires to right field and Kondoh gets underneath the ball to catch and get the first out of the 8th inning.
There is a huge smile on Kondoh's face as he turns to the crowd.
Top 8th
Makihara moves to left field for Yoshida; Yamada moves to 2nd base for Maki.
Italy are down to their last 6 outs and they are up against Darvish who is pitching for Lopez.
Dom Fletcher catches as a shallow shot is hit by Nootbaar and that will do for the 7th inning. Japan with a 7-point lead as things stand.
Kai is struck out; Festa did well to pitch some tricky throws towards the batter.
Kai is up; Japan have 1st and 2nd bases covered.
Genda fires a fantastic hit to central field and Japan get Muramaki over the line!
Genda is at the plate and jumps out of the way of a ball that would have hit him in the...
Maki batting for Japan: he's 0 for 3 so far today.
He hits a ball down the line on the right which means he's just fouled out, but Murakami moves to third.
Pitching change for Italy:
Marciano out; Festa enters...
Okamoto here to bat and he intentionally walks.
Murakami is up after Yoshida and fires a ball centrally, making it all the way to second base!
What a start to the bottom 7th!
The crowd has gone absolutely wild!!!!
AND YOSHIDA HITS A HOME RUN!!!
Yoshida up to bat; Marciano is pitcher.
Bottom 7th
The winner of today's game goes to Florida to play either Mexico or Puerto Rico.
Frelick connects and makes a run for first, to which Japan react in lightning pace and put him out before he arrives. That's that!
Three balls and one strike for Frelick at the moment.
David Fletcher is put out after a long throw from third to first. His ground ball was well placed but quite weakly hit.
And he's out! Darvish gets off to a good start with 3 strong pitches that leave DeLuzio annoyed as he passes the bat.
I've just seen a fan in the crowd with a camcorder. What year is it?
Top 7th
Darvish takes to the mound for Japan (to a huge ovation from the crowd); DeLuzio has the bat.
Ah, it's only Ohtani who is up next for Japan... and he's caught out!
Back to back for Marciano and Kondoh is struck out on the fifth pitch.
Kondoh is the second batter for the Japanese and I've just realised how impressive Marciano's beard is.
Nootbaar steps up to bat and is immediately struck out by Joey Marciano's impressive pitching.
Bottom 6th
Marciano is now pitching for Italy.
Friscia up against Imanaga... and is struck out!
The pitcher got 2 balls given that were very close which made it 2-2 but on the fifth pitch the Japanese go the better of the Italian!
Mastrobuoni struck out and retires for the third time tonight. He can't believe it but the umpire says he went for the ball.
And he is out on the first pitch after hitting a soft shot that's easily dealt with.
Top 6th
Imanaga due up to pitch with Pasquantino batting first for Italy.
And Kai strikes out swinging!
Kai is 3-2 at the moment; Okamoto is still on third base.
Nicky Lopez gets the 2nd out after catching a ball in left field.
Maki caught out by Dom Fletcher as he hits a fly ball with a lot of backspin. Okamoto makes it to third.
And, just like that, 3 runs for Japan as two consecutive hits go perfectly well.
WOW! TWO MORE!
Murakami makes it over the line as Okamoto hits a huge shot to the edge of play and Italy and crumbling!
Pitch change for Italy
Vinny Nottoli has the ball for Italy.
There are 2 on base and nobody out on the bottom of the 5th as Murakami hits a huge shot straight down the middle and Japan score!
Ouch! He gets a whack from a 94mph ball by Pallante that is well skewed to the left.
The Japanese are on 1st and 2nd bases now.
Yoshida now, the left-hander, up to bat.
Michael Borzello, the former catcher, comes over to have word with the Italy side as we have a slight break in play.
Ohtani ducks out of the way of the fourth ball and walks to first.
Bottom 5th
Pallante bowling as Ohtani steps up.
Sullivan strikes high into the air and is caught out as the ball lands over second base. That's it done.
Japan are having to work hard here....
Ball three for Itoh.
2-2 as Sullivan whacks it high and into the seats. Plenty of children going home with souvenirs today.
Sullivan hits a foul on the third throw. 2-1...
Brett Sullivan is batting for Italy.
Pitching change for Japan
Hiromi Itoh (25y/o) is up for Japan to pitch.
The score is halved!
4-2
The first runs allowed by Ohtani in the tournament so far.
Fletcher gets the ball down right field, DeLuzio scores and so does the other Fletcher!
Dom Fletcher up to bat. 2 outs, bases full for Italy.
And Ohtani hits Lopez on the leg with a curve ball (82mph) to load the bases for Italy. That's exactly what he didn't want to do.
Wooooow! A sigh of relief for the fans! The ball is hit hard right field by Lopez and it drops just out.... 2-2
A 100mph throw from Ohtani is his 65th pitch. Strike two for Lopez.
Nicky Lopez is next up and whacks a foul out to the left on the first throw.
And he's caught out by Nootbaar... DeLuzio is almost caught out after he breaks to make a run but gets back just in time.
Frelick now steps up. A big chance here to get something on the scoreboard.
Fletcher is here to bat and he hits it down low to the right: the Italians are growing into things... DeLuzio makes it to third and Fletcher is on first!
Ohtani hits DeLuzio on the erm, backside, with an 83mph ball; he moves to first.
On his next shot he hits it well down centre field but Maki is where he needs to be to put him out.
Friscia hits a shot into the air and makes a run to first before getting called back: foul shot. One lucky fan is taking home a WBC baseball.
Top 5th
Ohtani is pitching and we've got Friscia up first to bat.
Kondoh, after a huge wait, hits a ground ball centre field and is put out. That's that!
Pallente, the cheeky boy, tries again to catch Kai out.
Kondoh is batting.
And Pallante's fastball is called as a strike! Nootbaar is out.
Nootbaar now here for Japan.
Pallante tries to surprise Kai by putting him out but the player on first was playing things carefully.
And Kai walks to first after Pallante throws a high ball for number 4.
2-2 for Kai right now. The crowd are still pushing him on as Pallante tries to focus.
Kai slices a hit high and away to the right.
Kai is back up to bat. The crowd are on their feet in support. There's even someone with a trombone.
Genda caught as he hits a ground ball to left field. Italy were smooth in working the ball to first before the batter could make it.
Pitching change
Pallante is up for Italy at the mound.
Bottom 4th
Japan batting now with Genda, he's down 0-2
Fly ball to left field... CAUGHT BY YOSHIDA RIGHT ON THE EDGE OF PLAY!
Mastrobuoni can't believe it.
Mastrobuoni is here to bat. Ohtani is staring at Lopez on second base. It was quite intense.
Ball four from Ohtani and that's Italians on first and second base.
Vinnie 'Italian Breakfast' Pasquantino (yes, that's really is his nickname) is up.
Back to back strike outs for Ohtani; Sullivan is out.
The Ohtani-Sullivan eye contact is intense...
A 100mph ball from Ohtani...
Sullivan connects with the next one but it's out of play and a young fan fails to catch the ball. A shame.
1-2. Lopez still on 1st.
Aaaand he strikes out. Number 4 for Ohtani. A huge scream from the Japanese.
It's the lovely moustache of Dominic Fletcher now up to the plate.
Nicky Lopez hits a fly ball to left field and makes it to first base.
Ohtani pitching again; Nicky Lopez batting.
Top 4th
Okamoto has excited the crowd with that home run, which was a fabulous hit. 365ft.
Maki slices a hit towards third base and is put out at first, bringing the third inning to an end.
OKAMOTO HITS IT BEAUTIFULLY PAST THIRD AND THE CROWD EXPLODES!!!
Okamoto is 2-2 at the moment.
He hits a foul on his next shot; La Sorsa is keeping a very watchful eye on Ohtani.
Ball four and Murakami walks to first.
3 balls & 1 strike so far for Murakami...
Shohei is still on second. Murakami is batting for Japan.
His ground ball up the middle means he's out but Kondoh gets the run!
1-0
Yoshida is here. Let's see what he can do.
Wow! He hits a great show into the sky and makes it to first; Kondoh is now at third base!
Kondoh makes it to first and now it's Ohtani up...
Kondoh, the number 8, is here to bat.
Bottom 3rd: pitching change
La Sorsa now pitching as Nootbar put out before reaching first. He hit a weak ground ball straight down the line.
Boom! A one, two, three as Japan put the third batter out instantly! Japan have come out for the third inning in ruthless fashion.
David Fletcher here now. Wow, Shohei has just thrown a 101mph ball.
Fletcher puts the third ball on the ground past third but Japan react well and put him out before he reaches first. Perfect execution.
Top 3rd
Shohei takes to the mound and Japan get DeLuzio out as he makes a run towards first after the second throw.
Strike! He's out! Castellani escapes and that's that.
Kai tries to get out of the way of ball five but can't and is on a second strike.
Kai still there as Castellani makes another strange throw, way off to the batter's right.
2-1 after 3 throws. Genda still hopping around, waiting for a chance to get to third.
Genda has made it to second in the meantime. Sneaky...
Here's Takuya Kai, ready to bat.
A wild first throw from Castellani nearly ends up in Italy...
Ball 4 from Castellani means Genda walks to first.
Okamoto makes a break for second and he's out! Brett Sullivan the catcher, the man who was quickest to think.
Genda is here, with his broken finger.
Castellani tries to pick off Okamoto, but fails.
Maki goes 0-2 and hits a foul on the third throw.
The fourth throw gets the Italian what he wants and Maki is out.
Shugo Maki is up to the plate.
The atmosphere here today really is great. Lots of singing and polite applause.
And he walks to first after 4 balls from Castellani.
Bottom 2nd
Okamoto batting now for Japan.
He's currently on 3-0.
Vito Friscia up now as third batter. He has a lovely moustache.
And he's out! 1-3 and Shohei looks delighted.
Mastrobuoni grounds the first ball and is put out before reaching first. Made to look easy...
Top 2nd
Ohtani back pitching, this time against Pasquantino, the Italian Nightmare.
He strikes out swinging (1-3).
Strike three!Castellani throws and it's called!
3 balls, 2 strikes for Murakami.
Manager Mike Piazzi has a very serious face on today as he watches on.
Reigning MVP Murakami is up now against Castellani, and he takes 2 strikes on the first and second balls.
Masataka Yoshida is next to bat.
David Fletcher catches behind third base for the second out.
Shohei slapped it down the middle and was caught out by Lopez.
Huge "woooooo" from the crowd as he goes 0-1 down instantly.
Here comes Shohei! He looks so confident, what a huge smile he is wearing.
Kondo to bat....
3-0 after three throws from Castellani. The Japanese fans break out into song.
4 balls and Kondo walks to first base.
Wow! A fantastic hit from Nootbaar which flies past third and he makes it to first base.
Bottom 1st
Castellani, the right-hander, up now and gets a strike on his first throw; by 3 throws he's 1-2.
It's a great atmosphere at the Tokyo Dome, by the way. Everyone seems delighted to be watching Ohtani on home turf.
Brett Sullivan now up to bat.
Ground ball hit and that's the third out. Fletcher made it to second but Sullivan was put out before getting to first.
And on the fourth throw he makes it to first base.
Dominic Fletcher now... Ohtani hits a 100mph fast ball on the first throw.
3-1 after 4 balls.
Lopez up next, hits a strike on his first ball and gets put out before getting to first base after hitting a ground ball.
First pitch
Ohtani, who is throwing the first pitch...
Three strikes in 4 balls for Pasquantino...
Out straight away. A strong start for Ohtani.
We're ready to go!
Let's see who makes it to the semi-finals!!
Italy lineup:
Frelick LF
Lopez, SS
Fletcher, RF
Sullivan, C
Pasquantino, 1B
Mastrobuoni, 2B
Friscia, DH
DeLuzio, CF
Fletcher, 3B
Castellani, RHP
It's nearly Shohei time!
Just 10 more minutes until we are ready to go!
I for one am incredibly excited - will we see the favourite go through or do you think there'll be an upset on the cards?
Let us know your predictions on Twitter, @English_AS or @j4brennan
How things look from inside the Tokyo Dome...
Can you tell which side of the stadium this table is on?
Ohtani's pre-game routine being carried out
The Japanese player has a routine of throwing a weighted ball towards the fence - let's see if it helps today!
Japan starting lineup:
1. CF Nootbaar
2. RF Kondoh
3. DH Ohtani
4. LF Yoshida
5. 3B Murakami
6. 1B Okamoto
7. 2B Maki
8. SS Genda (who is apparently playing with a broken finger)
9. C Kai
Now, I know you're sticking with me here, but if you really want to, here's how you can watch Japan vs Italy on the TV or online. To be honest, even if you don't want to watch it and would rather stick with the live commentary, there's a great game preview in the piece as well for you to check out.
As well as the preview, Jeff has put together all the latest standings and scores in a really handy way that's easy to follow, so you don't have to fumble your way through brackets and complicated designs put together by an intern. Check it out!
Do you remember?
Japan and Italy have played against each other before, way back in 2004. Yes, I feel old.
Italian fans, you may want to look away right about now:
The score was Italy 0-12 Japan.
Will we see such a result today?
Ohtani asked for Ondrej Satoria's jersey
After striking out the Angels star, Ondrej Satoria - who works as an electrician - was paid a surprise visit by his opponent in which the Japanese player asked for his jersey!
Where is the game played?
The Tokyo Dome is the venue for the day. It opened in 1988 was a host venue for the World Baseball Classic in 2006, 2009, 2013 and 2017.
It holds a capacity of 55,000 spectators.
The pitchers:
It's Castellani vs Ohtani today.
The 26-year-old Italian will go up against a Japan side that is in fine form, and will be looking to sweep the Europeans aside for their place to face either Puerto Rico or Mexico in the semi-finals.
Castellani has worked two innings for his side and allowed two runs; Ohtani has four innings with five strikeouts and no runs allowed against China. Woof.
Who to watch:
Shoheo Ohtani is definitely the man to watch in this round and probably for the rest of the tournament. The two way player showed brilliance in the batter's box and on the mound in the previous round and it's no surprise that he is already making his claim to be the player on everyone's lips come the March 20 semi-finals.
Sorry, Italy, but it's very difficult to see past Japan today.
Here we go!
A ticket to Miami in the semi-finals is up for grabs here this morning (6AM ET).
Japan breezed through the first round, going undefeated against Korea, Australia, China and the Czech Republic.
Italy, on the other hand, had quite a more interesting time, going through on a five-way tie.
Given the manner in which both teams qualified for the quarter-finals, it does not take a genuis to see that Japan are the heavy favourites for the tie (and even perhaps for the tournament).
Welcome!
Hello, hello and welcome to the AS USA live coverage of the World Baseball Classic quarter final game between Japan and Italy!
It's Joe here and I'll be guiding you through all the action.