Mariners praying Julio Rodríguez has escaped broken hand
Mariners manager Scott Servais is praying All-Star rookie Julio Rodríguez did not break his hand on Saturday.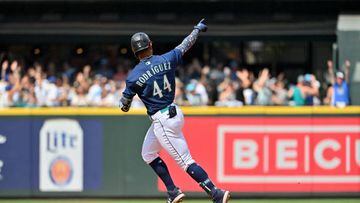 Julio Rodríguez left the Seattle Mariners' win over the Houston Astros in the ninth inning, prompting fears he may have suffered a broken hand. All-Star Rodríguez is the AL Rookie of the Year favourite after an outstanding first year in the major leagues. The 21-year-old outfielder has helped boost the Mariners into a wild card spot as they bid to end their 21-year playoff drought.
Seattle improved to 55-47 on Saturday with a 5-4 victory at the AL West-leading Astros, who had won the teams' previous five meetings. But Rodríguez was out of the game by that point, with Abraham Toro – in as a pinch-hitter as his replacement – delivering the decisive two-run single. Rodríguez had been hit on the back of the hand batting at the top of the eighth; he struck out and completed the inning in the field before being lifted.
"He did not feel comfortable with a bat in his hand," Mariners manager Scott Servais explained. "So, we'll pray that it is not broke."
This was the Mariners' ninth win this year after trailing in the ninth inning or later. In the modern era, no MLB team have more such victories before August, with the Mariners' nine tied with the 1921 St. Louis Browns, the 1970 Kansas City Royals, the 1991 Chicago White Sox and the 2003 Cincinnati Reds.
Toro takes center stage
Although Rodríguez's absence was a blow, it was perhaps no surprise Toro was the hero this time. The former Astro has 52 RBIs as a Mariner, with 20 of those coming against the team he left partway through last season. "He has been a thorn in our side since we traded him over there," said Astros manager Dusty Baker. "It was a big hit that he got tonight."