NBA Playoffs: Harden hopeless as 76ers' Conference Finals wait goes on
The Philadelphia 76ers' elimination by the Miami Heat means the franchise has exited the NBA Playoffs at the Conference Semi-Final stage four times in the last five years.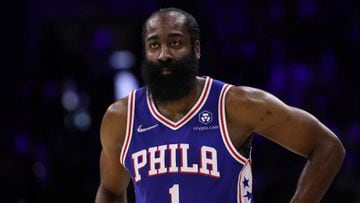 Goodbye to the Philadelphia 76ers. A project has failed, a star pairing has failed, and a coach has failed. A big-name trade has failed, a plan in place for several years has failed, and another, newer one - with Daryl Morey in the front office - hasn't worked, either. The Sixers' project, which became known as 'The Process', with its perennial slogan 'Trust the Process', has demonstrated that what used to be 'tanking' is now feeding on scraps. Not a single Conference Finals in all these years; an absence that goes back to 2001, when Allen Iverson led the 76ers to the NBA Finals, with Dikembe Mutombo watching his back and Larry Brown as coach and messiah. A 21-year wait that goes on, a 21-year embarrassment that has seen a historic franchise, one of the teams that the NBA has always lauded as one of its own, completely unravel. The 76ers no longer resemble in any way the franchise that won championship rings way back in 1955, 1967 and 1983, with Julius Erving, Moses Malone and his "fo, fo, fo". There are no heroes, leaders, or stars sparkling in the Philadelphia sky. The past is much better than the present, and it doesn't feel like the future can get much worse than the here and now. That's as undeniable as it is painful.
Eliminated in the Conference Semi-Finals yet again
The Sixers' season has come to an end in the Conference Semi-Finals, a stage they had already reached in 2018, 2019 and 2021. Neither against the Boston Celtics (4-1), the Toronto Raptors (4-3) nor the Atlanta Hawks (4-3) have Philadelphia managed to emerge victorious. There have been defeats that provided some hope, and others - chief among which is last year's - that offer up only a very negative reading. This year, the Miami Heat have eliminated the Sixers 4-2, ending Philadelphia's Playoff chances at Wells Fargo Center, an arena that once again booed its players, and has grown inevitably and understandably tired of everything about the team, their team. In a city like Philadelphia, a city that knows its basketball, a failure like this is magnified and there can be no room for excuses or narratives. Success hasn't arrived with either Ben Simmons or James Harden. With either Brett Brown or Doc Rivers. And at the epicentre of the project it's always been Joel Embiid, who has led with pride and determination, but has been a star accompanied by either bad luck or humiliation. Whether he's found himself in good or bad company, he's been at a level that wasn't a match for the Raptors or Marc Gasol in 2019, and has been beset by injuries that have dogged a magical, talented player for whom things seem to go wrong, and who hasn't been able to rise to certain occasions in the recent past.
Harden-Simmons trade hasn't come off for 76ers
The trade that saw Harden arrive in place of Simmons hasn't worked out as hoped. Harden's opening displays for the 76ers seemed to bode well for the team's hopes of being a contender, but the optimism didn't last long. Rivers never wanted a player who doesn't fit an offensive system based on fast transitions and quick ball into Embiid. Harden slows the offence down too much. He bounces the ball for too long, doesn't run, doesn't defend, constantly asks Embiid for screens, and plays with a passiveness that was plain to see in a Game 6 to forget: he mustered 11 points, four rebounds and nine assists, just two shot attempts in a second half in which he didn't score, and not a single free throw attempt in 43 minutes of court time. A pathetic performance, just when his team needed him the most - a display that banishes the memories of his brief resurrection in Game 4 (31+7+9, with crucial involvement at the end), and further buries a reputation that is increasingly on the slide. Morey's eagerness to sign Harden is what took him to Philadelphia - the third project left in tatters under the the 32-year-old's watch, after he departed both the Houston Rockets and the Brooklyn Nets by the back door. Back in 2012, Harden also got the blame for the Oklahoma City Thunder's NBA Finals loss. From bad to worse.
Embiid did all he could
This time it is hard to criticise Embiid, who did everything he could. After coming second to Nikola Jokic in the MVP voting for the second straight season, the center played with a mask protecting a facial fracture, with a beat-up thumb - and with real heart. His presence alone enabled the Sixers to level the series, but in Game 5 the Heat made hay around what was left of the star after a hit in the face from Dewayne Dedmon, and halted him with double and triple defences in Game 6, which he ended up with 20 points (but 7/24 shooting), 12 rebounds and on the floor remarkably frequently. Embiid was in too much of a rush; he sank just two out of eight three-point attempts, went all out from mid-range from the off but lacked accuracy, and spent 44 exhausting minutes on the court. But he gave it a go and has run himself into the ground, to the point where he was asking for a towel every time the play stopped to wipe the sweat off a mask that was an annoyance to him, affecting his vision and his breathing, and preventing him from being the same player that during the regular season averaged 30.6 points (an NBA-high total), 11.7 rebounds and 4.2 assists, and managed 46 double-doubles. Again, he has fallen short, even if it wasn't his fault this time.
Heat doing exactly what they did in regular season
As for the Heat, they advance to the Conference Finals for the first time since 2020, in the Orlando bubble, and for the second occasion since the era of LeBron James and co. At half time, Miami were only one point ahead (49-48), but they soon took charge of the game without having to play excellently, just doing what they needed to do and waiting for their opponents to bury themselves. Indeed, the third quarter scoreline was 25-15, and from there the game was over, as much as the odd optimist believed otherwise. The Heat's advantage at one point reached 20 points, and the final, nine-point margin put a gloss on the result for the 76ers, as Miami gobbled up 13 offensive rebounds in the face of a nigh-on embarrassing passiveness, took full advantage of their second chances, and dispelled the doubts that had surfaced after Philadelphia managed to tie the series. The Heat were the same team they were during the regular season, showed exactly what they did during the regular season, and won in the same way they did during the regular season. With intensity, staunch defence, working together, making use of their roster depth, and with a player in Jimmy Butler who you can bet your house on: he registered 32 points, eight rebounds and four assists. Max Strus was excellent (20+10+5), PJ Tucker was imperious at both ends of the court (12+9) and Tyler Herro had his moments (10)… The Heat are a solid, assured, dependable team that know their strengths and their limitations. They'll give the Boston Celtics or the Milwaukee Bucks a run for their money. It's sure to be a terrific series.
The Sixers, meanwhile, have plenty of thinking to do. It's likely that Rivers, Embiid and Harden won't all be together next season, that at least one of them will be out the door. The coach's 2008 NBA title win with the Celtics now feels very far off. He is in a trickier and trickier position, and doesn't seem happy with the decisions made by Morey and how the team has been put together around Embiid. Rivers has been linked with the Los Angeles Lakers, who may have been waiting for his season to conclude before interviewing him. And there are rumours that Mike D'Antoni could take charge at the Sixers, an appointment that would allow Morey to fulfil his dream of taking everything he had in Houston to Philadelphia. Embiid aside, what he has is only partially up to it: Tyrese Maxey blows very hot and cold, Georges Niang is only on half-cylinders, Shake Milton can't sink a basket to save himself and Danny Green always makes himself useful, but was ruled out with a worrying-looking injury in the first quarter of Game 6. Harden, meanwhile, will earn $47 million next season and expects a big-money extension from Morey, despite his age and the fact he's very far from his best. And leaks about his poor relationship with team-mates have already started. In short: excellent from the Heat, terrible from the Sixers.