Will Ochai Agbaji get drafted by the NBA?
Kansas Jayhawks standout Ochai Agbaji has declared for the 2022 NBA draft after a historic senior year when he led the team to an NCAA championship.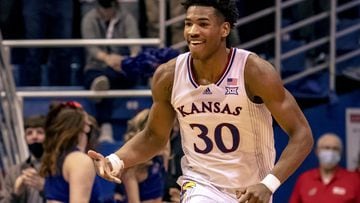 Kansas Jayhawks star Ochai Agbaji has said his goodbyes to his university and declared for the 2022 NBA draft.
Agbaji led the No. 1 seed Jayhawks to the NCAA championship earlier this month in a comeback 72-69 victory over North Carolina, where they stormed back from a 16-point deficit. It was the first trophy for the team since 2008, and the fourth in Kansas history.
Ochai Agbaji: Unforgettable senior season
"From start to finish, this entire season felt like it had been scripted. A season I'll remember forever. One I'll never take for granted," he said of his last year with the Jayhawks in a statement he posted on Twitter.
He also expressed gratitude to those who played a role in his basketball journey.
"But before I put my collegiate career in the rearview mirror and look to the future, I want to thank some of the people who helped put me on the road to success. My family. My teammates. My coaches. And of course- Jayhawk Nation. No matter where basketball takes me- I'll always be a Jayhawk."
Ochai Agbaji's many accolades
The shooting guard averaged a team-leading 18.8 points per game the past year for Kansas, shooting 47.5% from the field.
Agbaji won several awards in his senior year in college, including consensus first-team All-American and Player of the Year in the Big 12 Conference. He was also a finalist for the Wooden Award.
The 22-year-old, who was also declared the 2022 NCAA Final Four Most Outstanding Player, is projected to be the next NBA first-round selection from Kansas. A mock draft by ESPN places him as No. 16 pick overall.