Madden NFL 23 ratings: who are the best players in each position?
Training camps are within reach, the new season can already be seen on the horizon, and the most famous video game of all is almost ready for launch.
The new season of the National Football League is almost upon us. Training camps start in a few days, pre-season match-ups get going on 5 August (Jaguars vs Raiders, if you're interested), and then the 103rd edition of the NFL kicks off with the defending Super Bowl Champion Los Angeles Rams welcoming the Buffalo Bills to the SoFi Stadium on 8 September.
But, as you're more than aware, for many, there is a perfect complementing video game to get our annual gridiron juices flowing, and this year it's a special one.
Madden NFL 23: rating the stars
The most famous of all NFL video games has the face of its inspirational man on the cover for the August 2022 launch. John Madden, the Hall of Fame coach, passed away at the end of last year, and EA Sports have dedicated this edition to him.
As always though, the players will take centre stage as handsets are picked up across the globe, so we check out the top men that the manufacturer has rated to aid your performance.
It's worth noting that EA Sports are revealing the ratings on a day-by-day basis (see full list with filter option) so we'll update this article as and when the information becomes available.
Wide Receivers
99 - Davante Adams, Raiders
98 - Cooper Kupp, Rams
97 - Tyreek Hill, Dolphins
96 - DeAndre Hopkins, Cardinals
95 - Stefon Diggs, Bills
93 - Justin Jefferson, Vikings
92 - Mike Evans, Buccaneer
91 - Terry McLaurin, Commanders / Keenan Allen, Chargers
90 - Amari Cooper, Browns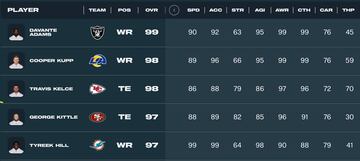 Tight Ends
98 - Travis Kelce, Chiefs
97 - George Kittle, 49ers
93 - Mark Andrews, Ravens
91 - Darren Waller, Raiders
89 - T.J. Hockenson, Lions
87 - Kyle Pitts, Falcons
86 - Mike Gesicki, Dolphins
85 - Dallas Goedert, Eagles
84 - Zach Ertz, Cardinals / Hunter Henry, Patriots
Edge Rushers/Linebackers
99 -Myles Garrett, Browns
96 - T.J. Watt, Steelers
94 - Fred Warner, 49ers
94 - Nick Bosa, 49ers
93 - Demario Davis, Saints
92 - Khalil Mack, Chargers
92 - Lavonte David, Buccaneers
92 - Von Miller, Bills
91 - Bobby Wagner, Rams
91 - Cameron Jordan, Saints
Running Backs
97 - Derrick Henry, Titans
96 - Nick Chubb, Browns / Christian McCaffrey, Panthers
95 - Jonathan Taylor, Colts
94 - Dalvin Cook, Vikings
93 - Joe Mixon, Bengals
90 - Alvin Kamara, Saints
89 - Aaron Jones, Packers
88 - Austin Ekeler, Chargers / Ezekiel Elliott, Cowboys
Safeties
94 - Tyrann Mathieu, Saints
93 - Derwin James Jr., Chargers
92 - Budda Baker, Cardinals / Kevin Byard, Titans
91 - Micah Hyde, Bills / Justin Simmons, Broncos
90 - Jessie Bates III, Bengals / Jordan Poyer, Bills / Harrison Smith, Vikings / Jamal Adams, Seahawks
Cornerbacks
98 - Jalen Ramsey, Rams
94 - Jaire Alexander, Packers
93 - Tre'Davious White, Bills
92 - Darius Slay, Eagles / Denzel Ward, Browns
91 - Marshon Lattimore, Saints / Stephon Gilmore, Panthers
90 - J.C. Jackson, Chargers / Marlon Humphrey, Ravens
89 - A.J. Terrell, Falcons
Interior defensive linemen
99 - Aaron Donald, Rams
93 - Cameron Heyward, Steelers / Vita Vea, Buccaneers
92 - Jonathan Allen, Commanders
91 - Chris Jones, Chiefs
90 - DeForest Buckner, Colts
89 - Kenny Clark, Packers
88 - Jeffery Simmons, Titans / Michael Pierce, Ravens / Fletcher Cox, Eagles
Offensive line
99 - Trent Williams, OT, 49ers
98 - Zack Martin, G, Cowboys
95 - Tyron Smith, OT, Cowboys
95 - Quenton Nelson, G, Colts
94 - David Bakhtiari, OT, Packers
93 - Terron Armstead, OT, Dolphins
92 - Lane Johnson, OT, Eagles
91 - Tristan Wirfs, OT, Buccaneers / Corey Linsley, C, Chargers
90 - Ronnie Stanley, OT, Ravens
Quarterbacks
97 - Tom Brady, Buccaneers
96 - Aaron Rodgers, Packers
95 - Patrick Mahomes, Chiefs
92 - Josh Allen, Bills
90 - Joe Burrow, Bengals
89 - Dak Prescott, Cowboys
88 - Justin Herbert, Charges
87 - Lamar Jackson, Ravens / Russell Wilson, Broncos
85 - Matthew Stafford, Rams