Colorado Avalanche extend Valeri Nichushkin: how much money will he make?
The Colorado Avalanche have secured the services of forward Valeri Nichuskin with an eight-year, $49 million contract ahead of unrestricted free agency.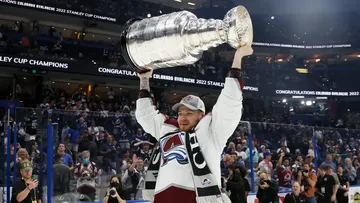 The Colorado Avalanche are making sure that their championship-winning team remains largely intact. They re-signed forward Valeri Nichuskin to an eight-year, $49 million contract extension, shortly before he was to enter unrestricted free agency. This comes out to around $6.1 per year.
The Avalanche signed the new deal with Nichuskin right after a standout season during which he helped the team win their first Stanley Cup championship in 21 years. He recorded 25 goals and 52 points in the regular season, then topped off this performance with nine goals and 15 points in the postseason.
Valeri Nichuskin: A turnaround performance
The 27-year-old has thrived with the team that signed him up in 2019 to a one-year, $850,000 agreement. It seemed a gamble at the time, with Nichuskin coming from a lackluster year with the Dallas Stars, where he scored zero goals and produced only 10 assists in more than 50 games.
His unremarkable numbers in the 2018-19 season resulted in the Stars buying out the rest of his contract. This marked the end of Nichuskin's relationship with the organization that selected him tenth overall in the 2013 NHL Draft.
Colorado turned out to be the perfect fit for the Russian, where he was able to develop his confidence and skills over the past three years. He eventually became one of the best defensive and two-way wingers in the NHL, as well as a force to contend with offensively.
His contribution to the Avalanche's successful Stanley Cup run is undeniable, as he ranks third among the team with nine goals in the playoffs. There are concerns among the hockey world about how the contract will age over time, as Nichuskin will be 35 years old by the time it runs out.