Ancelotti eyes a new role for Hazard
Real Madrid staff are eyeing a new role for the attacking player with high hopes deposited in the Belgian ahead of the 2022-23 campaign.
Eden Hazard starts from scratch at Real Madrid, this time the Belgian is pain-free is without the titanium plate in his ankle and with a great desire to put behind him his first three seasons full of disappointments at the Bernabeu. Carlo Ancelotti is aware that he will have use Karim Benzema sparingly as the French striker turns 35 in December and was one of the club's most used players last season (3.919′ last year) and will be a key player for the French national side in the 2022 Qatar World Cup which kicks off in November. This is where the club hope that Hazard can step-up and fulfil a new role at the club.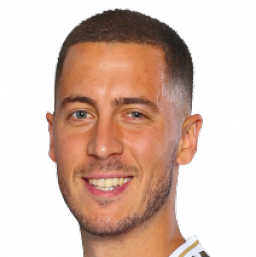 AS has learned that Real Madrid see Hazard as a foil for Karim and even a replacement for the Lyon man whose game-will need to be carefully managed with a unique season coming up with the hiatus for many top players in the winter caused by the World Cup dates. Hazard has been liberated of the osteosynthesis plate that had been inserted in his right fibula, which tormented him so much and was finally removed towards the end of last season. During the Champions League celebrations at Cibeles, the Belgian was in optimistic mood stating: "There have been three years with injuries, many things... But next time I'm going to give everything for you".
One door closes and another opens
The left flank, Hazard's natural habitat is totally under Vinicius' control with the Brazilian having a solid 21/22 season with 22 goals and 16 assists. The right flank is set to be manned by Rodrygo and this is why Ancelotti has decided to re-employ Hazard is a more central, false 9 role with the out-and-out substitute striker set to be Borja Mayoral.
The club have been inspired by the player's statistics when at Chelsea when he made a number of cameos in a more central attacking role and in 26 appearances when he was used in a forward role between 2017 and 2019, the Belgian managed 8 goals and 6 final assists in 1,749 minutes of Premier League action. Basically the 31-year-old was involved in a goal every 124.9 minutes and this data is being used as an inspiration for the club ahead of the new season.