Atletico Madrid - Manchester City summary: score, goals, highlights, Champions League quarterfinal second leg
Atlético Madrid 0-0 Manchester City
Atlético Madrid vs Manchester City: headlines
- City hold on as Atleti push in the second half
- Real Madrid will face Man City with the games scheduled for 27 April and 4 May
- Kevin De Bruyne's 70th min. goal in Manchester enough for Guardiola's side to progress
Felipe foul on Foden leads to clash between Atletico Madrid and Manchester City players
Felipe was sent off for the foul on Foden, but only after the majority of the players and squads had become involved in a mass scuffle.
Things continued after the game, with Savic reportedly in a confrontation with Grealish in the tunnel, with police intervening. Savic had pulled Grealish's hair during the previous incident. A violent Šime Vrsaljko also had to be held back by other Atleti players as he tried to get to the City players. He threw objects at the visiting squad and appeared to spit at them.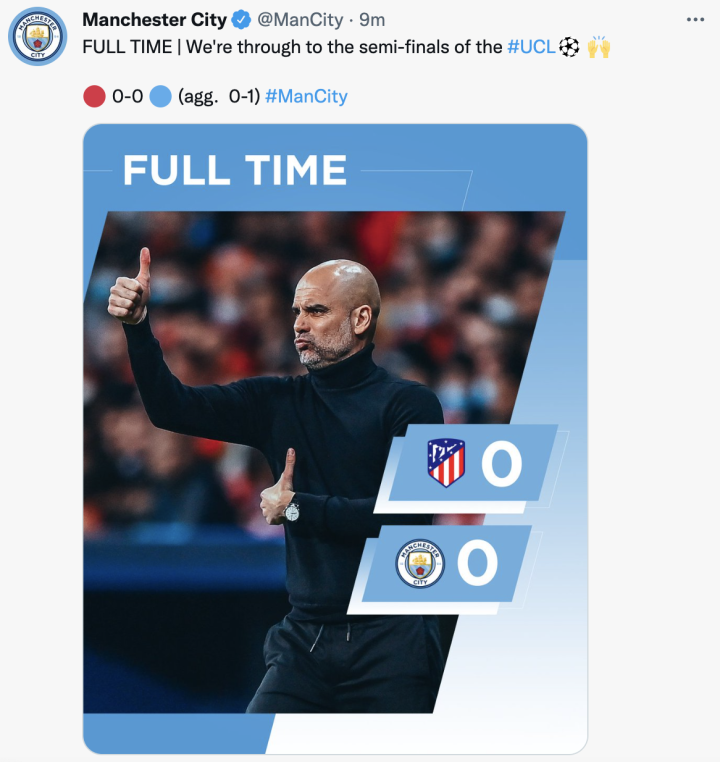 FT at the Wanda as City advance
City set up a repeat of the 2020 Champions League Round of 16 as they face the Santiago Bernabeu outfit. The Premier League giants advanced in the pandemic affected tie with a 4-2 aggregate win.
So, a 70th minute goal from Belgian Kevin De Bruyne in Manchester last week is enough to see Pep Guardiola's men advance to the semi-final. Atleti changed their game plan with 20 minutes to go but lacked the nous and savvy to break down a resolute Man City rearguard.
So, we now know the semi-finalists in the 2021-22 UEFA Champions League:
Man City-Real Madrid
Liverpool-Villarreal
These games will be played on 26-27 April with the return legs on 4 May
City progress and will face Real Madrid in the semi-final. A tense end to the contest with Atleti simply unable to break a solid City defensive line down in a second half where the English side sat deep and invited pressure.
Correa shoots and Ederson saves.. What a chance that was for Atleti, he ball breaks kindly for the visitors as the whistle sounds.
Simeone carded for his protests as he enters the field of play. Over 100 minutes of the game now played.
Players going down all over the pitch. Fernandinho seems to have cramped up as Simeone applauds the Atleti fans.
Carrasco to take the free. Ederson clears the danger from the Belgian's whipped shot on target and now goes to ground.
Cancelo carded for a foul right on the edge of the City box as he clips Carrasco.
Gundogan almost finds the net but Oblak saves the day. That really would have been curtains for Atleti. Just three minutes left at the Wanda. It's ended 3-3 at Anfield by the way !
Nine (9) minutes of time to be added.... We've already played 5....
Mahrez carded for wasting time
We're already deep inside added time as tempers are at boiling point here. City are on the brink of advancing and will now face the rest of the contest against ten men.
Oblak the peace-maker now as tempers fray here at the Wanda. The Brazilian followed through on Foden as he City player fell to the ground and a good call from the ref. and VAR team.
Savic gets a yellow in the end and the Montenegrin international is lucky to stay on the pitch as Felipe gets a second yellow and is off
Savic loses the plot as he tries to drag the injured Foden to his feet and a melee ensues as player and back-room staff get involved in a spate of pushing and shoving. Unpleasant scenes here !
A Man City-Real Madrid semi-final looming ever closer as we head towards the 90 minute mark. Atleti pressing as City hang on ...
Cunha shoots and almost finds the target as Stones makes a hugely important block. Savic almost taps in a breaking ball from the resulting corner kick. A big, big intervention from Stones !
Rodri clips Kondogbia and is the latest man in the book. Despite the tension, the game has been played in a positive manner with little in the way of rash tackles.
Suarez breaks but his first touch lets him down as Ake intervenes to clear.
Darwin Nuñez makes it 3-3 at Anfield. Liverpool 6-4 Benfica (on agg.)
Two changes for Atleti as Cunha and Suarez come on...Lemar and Joao Felix the pair making was as Simeone goes for it with less than ten left in Madrid.
Llorente carded for clipping Fernandinho and the Atleti man will miss the semi-final should his side advance ...
Correa shoots wide and appeals for a corner as the ball appeared to clip Ake. Luis Suarez getting ready to make an entrance.
Bernardo Silva makes way for Fernandinho as City shuffle their pack as we loom towards the 80th minute.
De Paul strikes on the volley and the Argentine just pulls the ball wide. Atleti piling on the pressure now as City seem rattled for the first time all evening.
Yaremchuk scores for Benfica and it's 3-2 at Anfield. 'As Aguias' going down with all guns blazing....
Ake does come on for the injured Walker with City playing the 'Atleti' role now lof sitting deep and soaking up the pressure. Guardiola's men have offered very little in terms of attack in the second half with Oblak a virtual spectator.
Walker does appear to be in trouble as Ake and Zinchenko warm up.....
Walker limps off as Simeone rings the changes. Less than 20 for Atleti to find that all important goal that would level the contest on aggregate. It's 'all in' for Atleti now as they see their UCL dreams hang by a thread.
Changes for Atleti.....Corrrea for Griezmann.... Carrasco for Koke, and De Paul for Lodi.
Atleti fans unhappy as they feel the City man is just winding down the clock.
Walker clipped and the defender writhes on the ground as Lodi catches the England player.
Liverpool cruising now as Klopp's men take a 3-1 lead at Anfield (6-2 agg) and are semi-final bound.
First change of the night sees De Bruyne being replaced Sterling for City.
City trying to anaesthetise the game with long passing movements as they just try and quell the fans that have upped the volume levels. Atleti looking to close City down quicker as they try and deprive the English side with time to move the ball around so casually.
An hour gone, Atleti now pressing and pushing aware that the clock is ticking down. The Spanish side need a goal to at least take the contest to extra time. Liverpool go 2-1 ahead at Anfield and cement their place in the semi-final where Villarreal await.
Atleti press again and this is much better from the Spanish side as they now seem to be aware that time is ticking down. Koke goes close and Griezmann even closer as his shot fizzes inches wide of Ederson's goal.
Joao Felix comes close but the former Benfica man opts to head instead of controlling the ball and shooting.
Once again, Atleti look for the long ball through to Joao Felix and Laporte is called upon to intervene. That outlet looks like Atleti's main source of danger but the Portuguese striker will need to be a little cleverer if he is to outfox the City reargiard.
As we saw at the start of the game, that initial flurry of activity from Simeone's men has fizzled out quickly as City start to gather hold of the ball now.
Lemar shoots but Rodri defends well as Ateti look far more positive already
No changes at the break but Simeone will have to look at the likes of Correa or Suarez as the game wears on. Griezmann does well to win a corner. First time we've really see the French striker cause problems tonight.
Off we go at the Wanda. Atleti start the second half.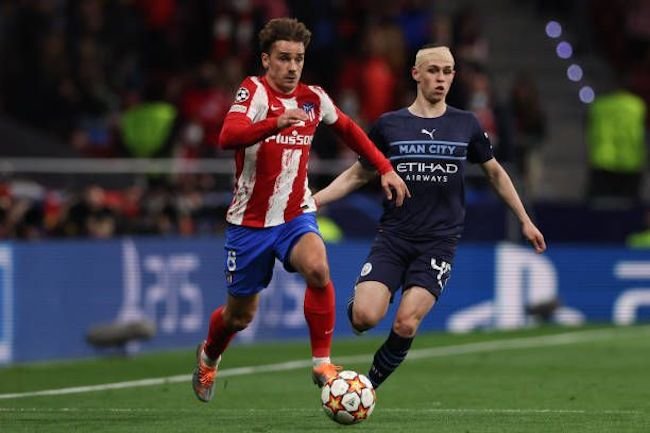 Griezmann is out there
In case you were wondering, Griezmann is out there. But he hasn't really done much. At all.
Aleti 0-0 City (0-1 agg)
Liverpool 1-1 Benfica (2-4 agg)
Champions League half time scores
We're minutes away from the start of the second 45 minutes and the final instalment of this game of chess between Guardiola and Simeone. The Catalan coach having the current edge over his Argentine counterpart.
First Half Stats: Atleti v Man City
Manchester City dominated possession, 69% to 31%, and produced a solid eight attempts on goal, to the hosts' one.
However! Only Atleti actually had a shot on goal, saved by Ederson, with City having three wayward attempts (Gundogan's hit the post and despite the old chestnut that 'He was denied by the post', it's actually just a miss) and five blocked shots - Atleti players throwing their bodies on the line for the cause.
Atleti failed to win a corner, while City had four.
And only an Atletico player ended up in the book - Felipe, for that foul on De Bruyne.
As things stand, we'll have semi-finals of: Liverpool-Villarreal and Man City-Real Madrid in the UCL 2021-22.
45 minutes ahead for the Eagles of Benfica to find two goals and in Madrid, it's Atleti who need to find the target to take the contest to extra time.
Atleti's expected goals (XG) in the first half.... 0.03 !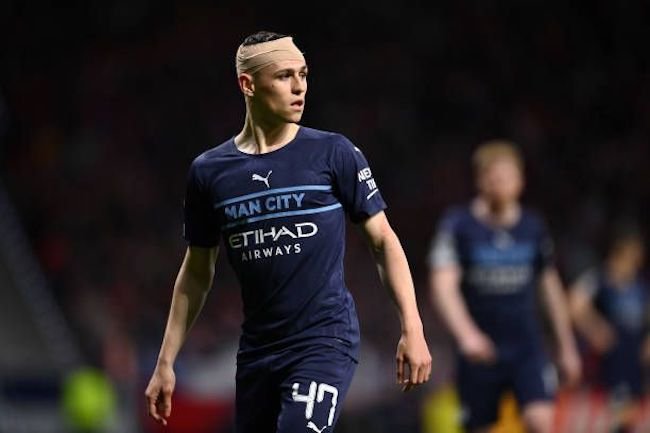 Foden's sore head
The Man City youngster took a tremendous blow to the head in an aerial duel with Felipe (who was lucky not to get a yellow, though he later picked up a card for sliding into De Bruyne).
For a while it looked like Foden would not be able to carry on, but after some medical attention and with an almighty bandage on his head, he stayed on the pitch. City must have been worrying that he would be off the pace after the collision, but he looked in fine fettle as he probed the Atleti back line.
The German referee calls time on proceedings and it's Pep Guardiola who will be he happier of managers after a controlled display from his City side. A Mahrez effort off the post is the closest we've come to a goal and Diego Simeone needs to implement a major game plan change as Atleti are very one dimensional in their approach to the game with Griezmann a major disappointment tonight.
Indeed, 3 minutes of time to be added
City still the side with the offensive initiative as they win yet another corner which Oblak fists away from danger ...clock ticks towards the 45' mark and I'd anticipate at least 3-4 minutes of added time with the Foden injury earlier in the half.
Mahrez does well to beat his man and instead of looking for a fellow man in blue, goes for goal but sees his effort averted by a wall of red and white shirts.
There will certainly come a point in the game when Simeone needs to tweak his game-plan as Cty still hold the upper hand with the 1-0 scoreline from the Etihad stadium last Tuesday. The Sky Blues looking comfortable so far ....
The long ball up to Joao Felix seems to be Atletico's main outlet at present but every ball is meat and veg. for the City rear-guard. Griezmann has been almost anonymous tonight with the French striker offering very, very little.
City ahead in terms of attempts: 5-1
Benfica equalise at Anfield .... 1-1 on the night and 4-2 on agg. Villarreal await the winner in the semi-final
Atleti forced to sit deep and defend in numbers now with the likes of Joao Felix and Griezmann forced to assist in defensive duties. Atleti seemingly content to strike on the counter and keep City at bay for the moment.
Lodi clears as Foden delivers a teasing ball into the Atleti six yard box....
Gundogan hits the post after excellent work from Mahrez. Almost a goal for the visitors as City ratch up the pressure.
Foden now playing on the left as Bernardo Silva moves to a more central position.
De Buyne shoots and Reinildo blocks....
After a solid start from both teams, the intensity levels have dipped somewhat after 25 minutes of the contest. City still seem to have the upper hand as City are doing a decent job in quelling the home fans.
Card for Felipe as the German referee loses his patience with the Brazilian defender.
Liverpool take the lead in Anfield wih Konate putting the Premier League side ahead and into a commanding 4-1 aggregate lead.
City dominant in possession after 20 minutes. Bright start from both teams but we've yet to see anything resembling a clear-cut chance with neither keeper being called upon.
Felix again looks to spring the City offside trap but just delays his run and cuts a frusrated figure.
Atleti looking sharp on the break with Joao Felix a constant threat. This time Ederson is alert and nods clear from well outside his box.
A brief lull in the tempo now as City begin to dominate possession. Foden now back on the pitch following that clash of heads with Felipe.
Daniel Siebert (tonight's ref) is going to have a busy night one senses....
Grealish getting ready and this doesn't look great for City. Foden still lying down on the pitch as the stretcher is called for. A large white bandage now being applied as it looks like the striker will be ok to continue.
Oblak almost creates a major problem with a poor back pass as Atleti counter and an exquisite ball from Lemar sees the home side advance. Foden clashes with Felipe and the Atletco defender is fortunate not to escape with a card as the City medical team rush on to attend to the England international.
Kondogbia is looking bright tonight and the former Valencia man at the heart of the few Atleti forays into the opposition half as City win the first corner of the night. De Bruyne takes and Stones nods over ...decent chance for the visitors with it looked that the City player's shirt was being pulled.
Great run from Mahrez but Llorente is alert and robs the ball from the Algerian international. Bright start and a very different tempo from the first leg, that, let's be honest was something of a drab affair !
Atletico already looking a little more positive than the side we say last week in Manchester where Simeone almost got away with a 0-0 defensive masterclass.
Lemar looks for Joao Felix but Walker is alert and nods back to Ederson in the City goal. Plenty of boos from the home fans aimed at Rodri every time the former Atleti man gets the ball.
Liverpool v Benfica just underway too at Anfield and we'll bring you the goal flashes from the other UCL semi-final too....
Off we go in Madrid.... the visitors set to start the game .... plenty of noise being made by the home fans...
Orgullo, Pasion y Sentimiento... Pride, Passion and Feeling is the banner that greets the players on the stand in the Wanda Metropolitano...Atleti in their traditional red and white, City in their away dark blue shirt.... All set ....
The Road to Saint Petersburg is now the Road to Paris with the UCL 2021-22 final now to be staged in the French capital. Will it be the Cityzens from Moss Side in Manchester or the 'Colchoneros' from the San Blas area of Madrid set to continue that journey come the end of tonight's action?
Kick-off is just over five minutes away and the atmosphere at the Wanda Metropolitano is electric. Atleti will need to amend their game plan tonight after a super defensive display last Tuesday in Manchester where the Spanish side barely mustered a shot on the City goal. Cty lead through the 70th minute Kevin De Bruyne strike at the Etihad.
The stage is set....
A full house expected at the Wanda Metropolitano tonight with just under 69,000 fans anticipated with over 2,000 City fans making the trip from Manchester. UEFA initially hit Atleti with a stadium reduction sanction of 5,000 fans set to sit the game out but an express appeal saw the Court of Arbitration for Sport side with the LaLiga side and Atleti will serve their punishment at a future UEFA game.
Recent UCL form for Atletico does not bode well
Atlético Madrid have been poor at home in recent Champions League outings and have not won any of their last 7 Champions League games.
However, every cloud....Atleti have won ten of their 13 two-legged knockout contests against English teams, last season's aggregate defeat by Chelsea ending a run of five successive victories; only Derby County (1974/75 UEFA Cup) and Bolton Wanderers (2007/08 UEFA Cup) had previously eliminated 'Los Colchoneros'.
Atleti looking for seventh UCL semi
Atleti are looking to reach their seventh Champions League/European Cup semi-final.
Beaten finalists in 1974, 2014 and 2016, the Madrid side advanced from the quarter finals in the following years against the following opponents:
𝟓𝟖/𝟓𝟗: Schalke 04
𝟕𝟎/𝟕𝟏: Legia Warsaw
𝟕𝟑/𝟕𝟒: Red Star Belgrade
𝟏𝟑/𝟏𝟒: Barcelona
𝟏𝟓/𝟏𝟔: Barcelona
𝟏𝟔/𝟏𝟕: Leicester City
City hit UCL centenary
This is Manchester City's 100th game in the UEFA Champions League (group stage to final). The Sky Blues are the 25th club to reach that milestone and the fifth from England and this is fifth successive season that the Premier League giants have reached the last eight of the competition.
One goal win for Atleti would lead to extra time
Remember, there are no away goals now in the Champions League, so a whole host of results could see us into extra-time and possibly penalties.
The winner of this match will head into the semi-finals where they'll meet Real Madrid, who came through a nerve-wracking match last against Chelsea, finally winning in extra-time through a Benzema header, after managing to throw away a two-goal advantage from the first leg and needing a late Rodrygo goal to take the game into the extra half hour.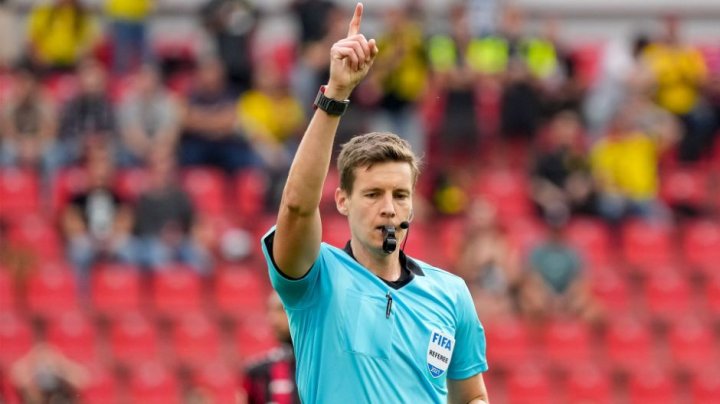 Daniel Siebert to officiate ATM-MCFC
37-year-old Daniel Siebert has been selected by UEFA to referee tonight's Champions League quarter final (second leg) clash at the Wanda Metropolitano. The Berlin native has been a FIFA ranked match official since 2015 and oversaw three games at last year's delayed Euro 2020 championships.
Despite a recent revival in LaLiga, Cholo Simeone's Atleti suffered a 1-0 defeat at the weekend in Palma to struggling Mallorca and as things stand 'Los Colchoneros' hold just a one point lead over Real Betis in LaLiga with the battle for a Champions League place season an imperative for the Madrid based club from an economic perspective.
City come into the game in a rich vein of form with their one point lead at the top of the Premier League intact after their pulasting 2-2 draw at the Etihad last Sunday. Despite their slender 1-0 win over Atleti in the first leg last week, City are still the bookmakers favourites to lift the trophy in Paris at the end of May .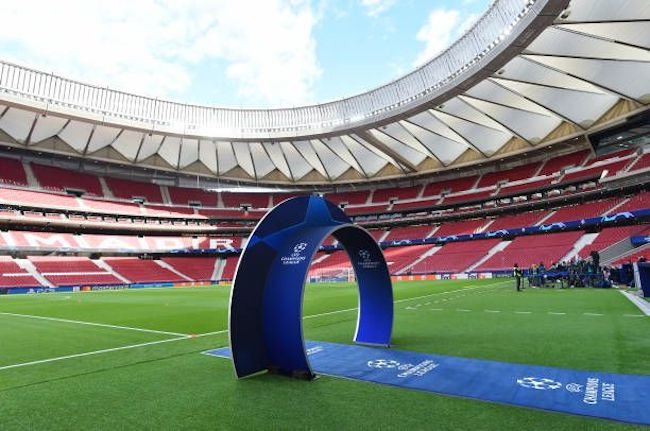 Weather in Madrid for Atleti vs Man City
It's a beautiful night for soccer here in Madrid with a temperature currently of 63 ºF (17ºC), with broken cloud and a light breeze. It'll be a couple of degrees colder by kick-off and there is a small chance of scattered showers over the Wanda, but probably not high enough to even bother bringing a brolly. Sunset in Madrid is nine minutes before kick-off, which is 9pm local time, that's 3pm ET, 12 noon PT.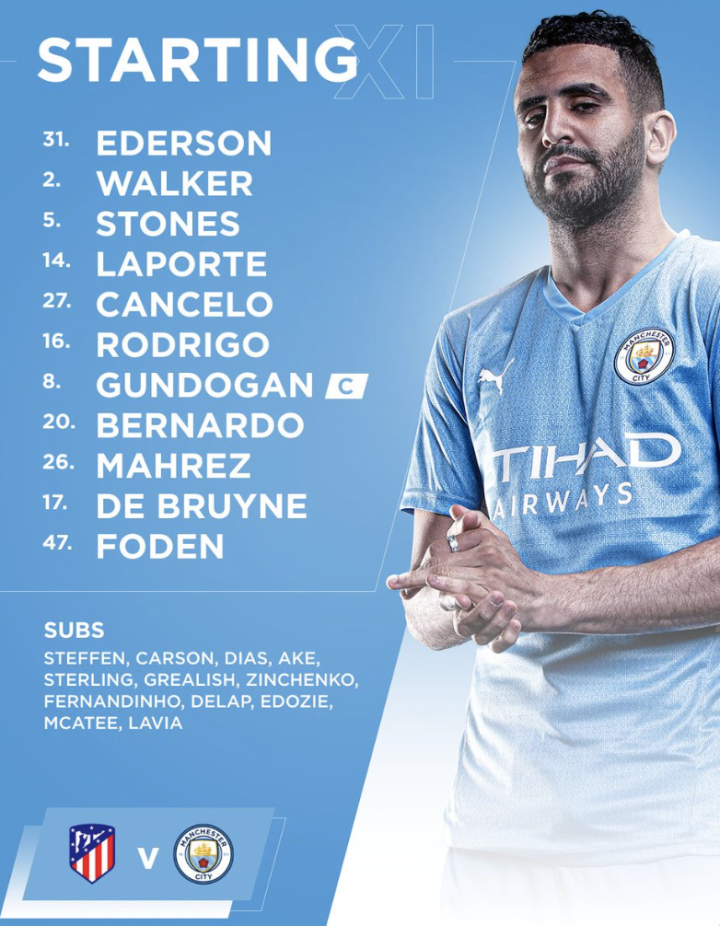 Guardiola announces City XI
Ilkay Gundogan captain's the City side tonight in the Spanish capital with Cole Palmer the only pre-game injury concern for Pep Guardiola.
Madrid weather
It's a beautiful night for soccer here in Madrid with a temperature currently of 63 ºF (17ºC), with broken cloud and a light breeze. It'll be a couple of degrees colder by kick-off and there is a small chance of scattered showers over the Wanda, but probably not high enough to even bother bringing a brolly. Sunset in Madrid is nine minutes before kick-off, which is 9pm local time, that's 3pm ET, 12 noon PT.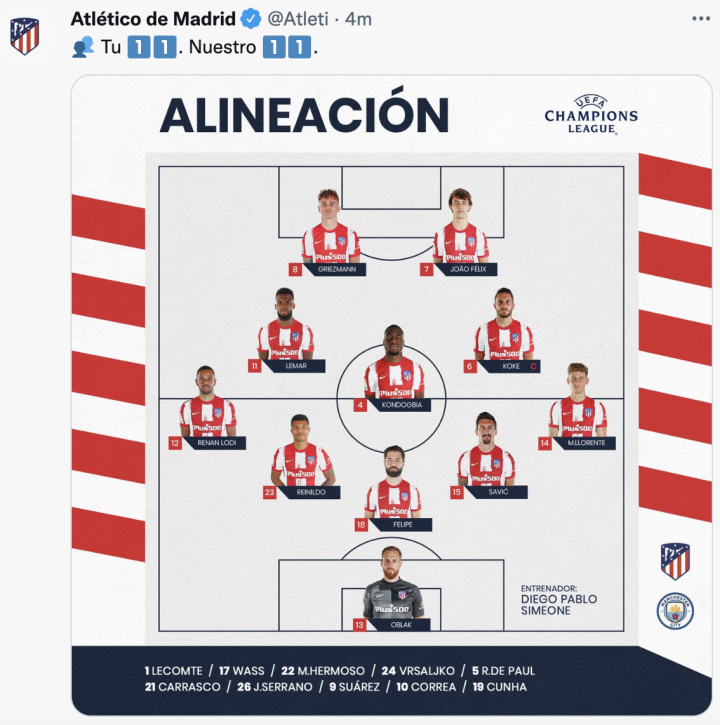 Simeone names Atleti XI
Antoine Griezmann and Joao Felix selected by Simeone to lead the line for Atleti tonight.
Prediction: Atlético Madrid vs Manchester City
Such a tough one to call this. Pep, as we know, has to play attractive football, meaning there is no chance of City looking to defend their lead, so Atleti will have spaces to run into as they seek to overturn that one goal deficit.
The head says City will just be too powerful in attack for Atleti to withstand and they'll end up shipping at least one goal that will likely end the tie, but the heart can't rule out Atleti grabbing a goal, holding on for the draw, plus all of extra-time and making it to penalties. And then who knows...
Atlético Madrid - players out and doubtful
Bad news for Simeone: Héctor Herrera and José María Giménez are both out injured.
Neither played at the Etihad, but would have been expected to play tonight if fit.
Atleti have a number of doubts over the starting XI: Lodi or Carrasco on the left; Lemar or De Paul in the middle.
Manchester City - players out and doubtful
Ruben Díaz is back for City, but won't start according to Guardiola, having only had one, light training session. Walker too is back and should start, after playing against Liverpool.
Gabriel Jesús is out suspended, meaning Foden should start.
Defensive, defensive Atleti
Pep Guardiola, whose teams play the most beautiful football ever imagined, was of course less than happy at Atleti deciding to defend at the Etihad. "In prehistory, today, and in 100,000 years time it'll be hard to attack a side playing 5-5..."
Simeone elegantly sidestepped the remarks: "I'd never criticise a fellow professional."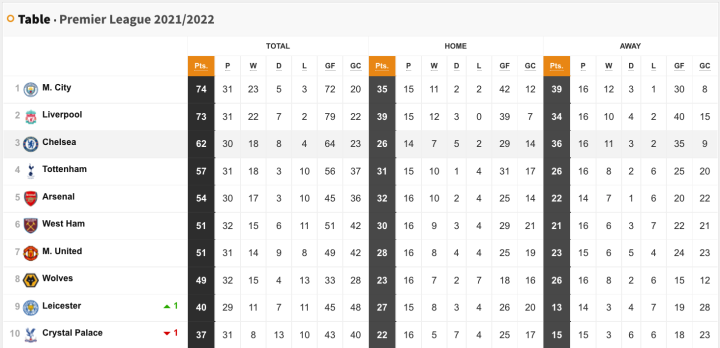 Manchester City still at the top of the Premier League
Man City still hold a one point advantage over Liverpool at the summit of the Premier League table, after a highly entertaining draw on Sunday. They've both played the same number of games (31), although Liverpool have the advantage on goal difference (57 to 52). There are seven games left.
Atleti meanwhile are in fourth place in LaLiga and will not defend their 2020/21 title, being 15 points behind leaders Real Madrid with only seven games left.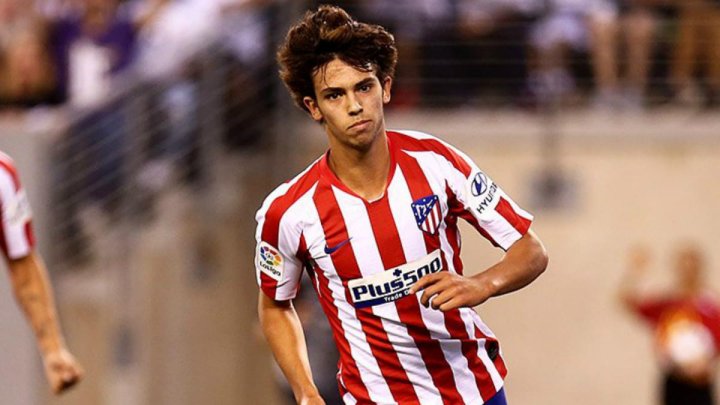 Suspension risk
If any of the following players get booked tonight and their team makes it through they'll be suspended for the first leg against Real Madrid.
Atlético Madrid: Reinildo, Llorente, Kondogbia, De Paul, Correa, Suárez and João Félix.
Manchester City: De Bruyne and Cancelo.