Borussia Dortmund vs Manchester City summary: City win Group G, score, highlights, 2022/23 Champions League
Borussia Dortmund 0-0 Man City: as it happened
Peeep peeep peeeep! City tap it about on the halfway line for the last minute, Daniele Massa blows his whistle, and it's full time at Signal Iduna Park. Dortmund get the point they needed to go through, and City get the point they needed to win the group.
Dortmund had all the chances in the first half, before City had the best chance of the lot in the second. Riyad Mahrez couldn't beat Gregor Kobel with his penalty, though, and goalless it ends.
The result in Dortmund also means Sevilla will definitely finish third and drop into the Europa League. The Spaniards' win over Copenhagen earlier today condemned the Danes to bottom spot, so Group G's final matchday next week will be a round of dead rubbers.
City complete the group stage by hosting Sevilla, while Dortmund go to Copenhagen.
Brandt swings a free-kick into the City area. Can Dortmund grab a late winner?
No, they cannot. Modeste gets his head to the ball, but can't direct it goalwards, and the flag was up anyway. Offside.
Stones pings a high ball to Palmer's run to the right-hand byline. The youngster tries to cut it back across goal, but can't get enough on his pass, and Kobel gathers.
There will be three minutes of time added on in Dortmund.
Now City make another substitution, bringing Cole Palmer on for Mahrez.
Hummels was booked a minute or so ago for a foul on Álvarez, by the way.
Dortmund replace Reyna with Antonios Papadopolous.
Brandt tries, unsuccessfully, to barrel into the City box, and the visitors clear. Grealish slips a neat angled pass into the Dortmund box to Silva, who turns and fires the ball across the face of goal. Mahrez collects at the back stick, where he lays it back to Ajanki to shoot - the defender sidefoots wide.
Just as it looks like City are going to spend another three minutes plopping the ball about just inside the Dortmund half, Dias lifts a high ball to Mahrez on the corner of the Dortmund box. He lays it off to Gündogan to shoot, but he curls a yard or two over. Mahrez may well have been offside anyway.
Grealish comes on for City, with Foden making way.
Dortmund make a double change, Anthony Modeste and Marius Wolf replacing Hazard and Moukoko.
Once more, Dortmund sit back as City stroke the ball about to not all that much attacking effect. A draw suits both sides, of course; it's starting to look like they're settling for that point.
City keep the ball for a good two, three minutes. They do remarkably little with it, though. Foden finally injects a bit of pace into the attack, darting forward before slipping the ball towards Álvarez at the top of the box, but the Argentine is beaten to the ball by Hummels, and Dortmund clear.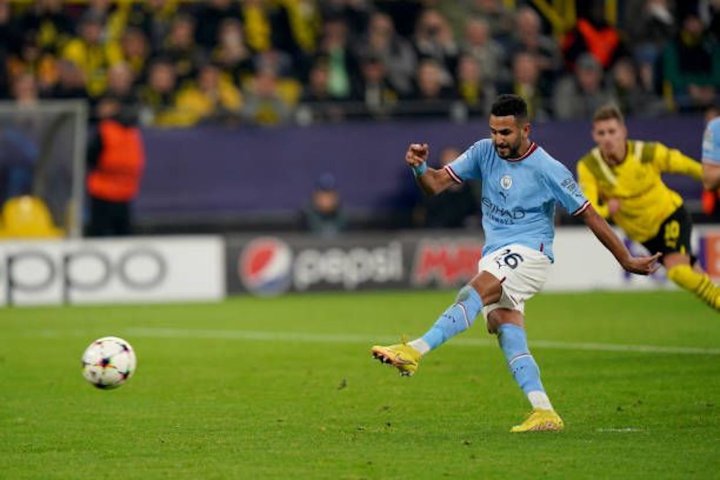 Mahrez misses from the spot for City.
(Photo: Tim Goode/PA Images via Getty Images)
It's Hazard who finally takes the free-kick, and the Belgian slaps it straight into the wall.
Jack Grealish is preparing to come on for City.
Before the free-kick is taken, Dortmund replace Adeyemi with Donyell Malen.
Back come City, but when Silva dallies a little on the left-hand edge of the Dortmund area, Moukoko does very well to track back and regain possession for the home team.
The striker leads the counter, working it inside to Adeyemi to shoot from just outside the box. Akanji gets in the way of the strike, but uses his hand in the process, and Dortmund have a dangerous free-kick in shooting range. Akanji is booked.
There's definitely a touch more penetrative threat about City's attacking, now. First, Rodri slips the ball into Gündogan's run into the box, where the German fires at goal from an acute angle. Kobel blocks, but a moment later City create another shooting chance.
From just outside the box, Mahrez touches a bouncing ball towards Álvarez inside the area. He turns and fires towards Kobel's right-hand post, but the keeper does very well to get down and parry!
It's not only City who will be ticked off at that Mahrez penalty miss; had the Algerian scored, it would have brought Sevilla back into contention for last-16 qualification.
City are pinning Dortmund back now. The German's forward momentum has been somewhat cut off in recent minutes.
Right away, Gündogan is the latest City player to go into the referee's notebook, after bringing down Moukoko when Dortmund launched a counter-attack in the wake of Mahrez's penalty miss.
Mahrez's penalty is saved!
The Algerian gets plenty of power behind his shot, but it's not far enough into the corner and is struck at a nice height for Kobel, who parries!
Penalty to City!
They've created next to naff all so far this evening, but Pep Guardiola's men now have the chance to take the lead in Dortmund.
Foden cuts the ball back from the left-hand byline, where Gündogan is waiting on the penalty spot. It's a great shooting chance for the captain, but he completely misses his kick.
The loose ball falls to Mahrez, though, and when he drops a shoulder and shapes to shoot, he's brought down by Can!
Foden shoots over for City. It really is far from a vintage performance from the visitors; more changes are surely in the offing.
Álvarez volleys a high ball down to Silva, but the Portuguese can't collect, and back come Dortmund.
First, Reyna lifts a ball from the left to Adeyemi at the opposite post. For a moment, Adeyemi looks like he's going to take one touch past Aké and strike at goal, but he can't quite bring it under control. He recycles it back to Hazard, who fires the ball low into the City box, where Bellingham is lurking. He turns and shoots, but can't get enough on his strike.
Hazard gobbles up a loose City clearance, controlling a bouncing ball with chest before lifting a pass through to Brandt to chase into the box. It's just too long for the German, though, and Ortega Moreno is off his line to gather.
Akanji has slotted into the middle alongside Dias, with Aké taking up Cancelo's berth at left-back.
City start the half on the front foot, but when Foden misplaces his pass to Álvarez on the edge of the Dortmund box, the hosts can clear.
Peeeep! We're back underway.
City are making two half-time substitutions: Manuel Akanji and Bernardo Silva are on for Cancelo and... Haaland! The Norwegian hadn't done a whole lot in the first 45, to be fair, but still. Shame.
HT scores across the UCL
Here's how it stands in all tonight's 9pm CEST kickoffs in the Champions League: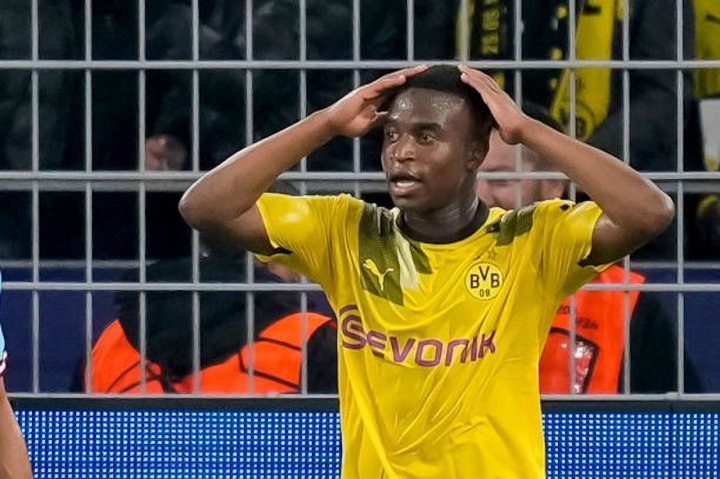 Dortmund's Youssoufa Moukoko reacts after missing a great chance for the hosts.
Peeep peeep peeeep! That's half time.
City have dominated the ball - they've had just under 75% possession, according to Opta's latest count - but Dortmund have had all the chances. The clearest went to Moukoko, who really should have done better when found in the box by the permanently dangerous Adeyemi.
As things stand, City are topping the group, and Dortmund are going through with them.
One minute of time added on at Signal Iduna Park.
City win a free-kick on the left wing when Cancelo is fouled, and Foden will deliver. He swings the ball over to the far post, where Dias meets it with a powerful header, but directs it over the bar. That should be that for the first 45.
City pop it about just past the halfway line, again to deafening whistles. There are cheers, though, when Dortmund win it back. Adeyemi once more looks to get it forward to Moukoko, but this time his pass is wayward.
Again Moukoko shoots from Adeyemi's pass, but Ortega Moreno gets down to save!
Rodri carries the ball forward for City, but loses it. Dortmund play it quickly forward to Adeyemi, who has been the hosts' clear danger man. He feeds a neat ball forward to Moukoko, who strikes from the top of the box - but he can't get enough on it.
What a chance for Moukoko! Easily the clearest opportunity so far tonight.
Once again, it's Adeyemi who leads the attack down the right. He's released into space to charge towards the byline, before cutting it back across the face of goal. The cross is right into the path of Moukoko, who is arriving at pace and in space to shoot from the penalty spot - but he skews his low finish wide of the far post! Dortmund's first gilt-edged chance, and they have spurned it.
When Bellingham is tackled on the edge of the City area, the loose ball falls to Moukoko. The striker slips it into the box to Adeyemi, but he's crowded out of it and City clear.
Yet again Adeyemi leads a Dortmund attack down the right. He reaches the City box, before checking back and playing the ball across the top of the box to Bellingham. He slips as he controls the ball, however, and the visitors bring it away.
Foden carries it over the halfway line, but Can does very, very well to chase back and dispossess the Englishman. He earns huge roars of approval from the Signal Iduna Park crowd.
Álvarez catches Hazard with a late challenge inside the Dortmund half, and becomes the second City player to go into the book.
Gündogan whips the ball into the area, but there are loud cheers from the home fans when Hummels heads away.
City have had most of the ball so far, but Dortmund have carried most of the attacking threat.
Can absolutely clatters Haaland some 15 yards or so outside the Dortmund box, and is very lucky not to be booked for the challenge. It was pretty wild, to be honest.
Either way, City have the opportunity to deliver a dead ball into the hosts' area...
Once more, Dortmund get Adeyemi scampering forward, running at a back-pedalling City defence. He drives towards the byline before fizzing a pass across the box to Reyna. The American feints to play it left to Hazard, before cutting inside and shooting low. His strike is too close to Ortega Moreno, though, and the City keeper grabs hold without too much difficulty.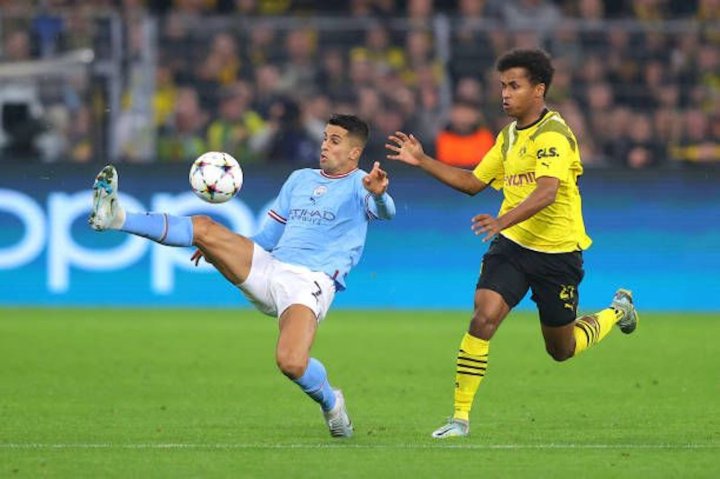 City's Joao Cancelo clears under pressure from Karim Adeyemi of Borussia Dortmund.
Loud whistles as City again keep possession for a prolonged spell. Aké then lifts a high ball into the path of Cancelo's run into the Dortmund area, but the Portuguese is offside.
Gündogan, who's also playing against his former club tonight, almost releases Haaland in behind Hummels. When Hummels intercepts, his clearance falls to Mahrez, who pings in a cross that the defender also deals with, turning the ball behind.
Mahrez's corner is delivered high to the back post, where Aké nods it back across goal. Haaland is waiting at the back post, but he can't connect - and Dortmund bring it away.
There's the best chance so far tonight, and it goes to Dortmund. Adeyemi has already got forward once to good effect, and now he does so again. He's released into the City box with space to shoot, but his low effort is well blocked by Ortega Moreno.
Reyna touches it inside to Can just outside the City box, but the German's first touch lets him down, and the visitors can break. They work it to Rodri, who lets fly from a long way out - and sends a trundler well wide of goal.
Rodri lifts a ball onto the head of Cancelo at the back of the Dortmund box. He nods it down for Foden to shoot, but the Englishman's effort is blocked.
A minute later, City again work it to Cancelo on the left. This time, he cuts inside and curls an inswinging cross into the Dortmund area, but overhits it. It flies out for a goal-kick.
Brandt takes the free-kick, just to the right of the City goal. He tries to find Ortega Moreno's near top corner, but sends his shot a good couple of yards off target.
City keep it very nicely for a good couple of minutes, but without ever really threatening to penetrate the Dortmund defence. When the hosts finally win it back, they do look more like opening their opponents up. Adeyemi thunders forward towards the City box, before being brought down by Cancelo, and the hosts have a very inviting free-kick chance. Cancelo is booked.
Again Dortmund get the decibels rising early doors with a quick break forward. Reyna slips the ball inside to Brandt, who surges into the City box, but the German finds his path towards goal blocked by a wall of sky blue shirts, and the chance is lost.
Right away, Reyna and Moukoko combine nicely for the latter to shoot, but he fired over - ah, and the flag is up. Reyna created the shooting space with a neat backheel, there, but it wouldn't have counted.
Peeeeep! Underway in Dortmund.
A reminder: Dortmund need a draw to qualify for the last 16; City need a draw to win the group.
Teams out in Dortmund!
Dortmund and City are out on the Signal Iduna Park pitch, where the anthem has blared and the handshakes have just been completed. Almost time to get going.
The match referee tonight will be Italy's Daniele Massa.
As Terzic discussed in his pre-match comments, the last three meetings between Dortmund and City have ended in a 2-1 win for the Premier League champions.
In 2020/21, a pair of wins by that scoreline took City past Dortmund in the Champions League quarter-finals. Then, in September, the Sky Blues came from behind to beat the Germans in the teams' first Group G clash this term, Erling Haaland scoring an acrobatic winner against his former club.
Haaland now returns to Signal Iduna Park for the first time since leaving for City, having banged in 86 goals in 89 appearances in his two and a half seasons at Dortmund.
It's becoming positively old-hat to wax lyrical about the Norwegian's even more ridiculous goal figures for City, but it would nonetheless be remiss of me not to note that he has 22 in 15 so far for the Sky Blues, including five in three in the Champions League.
My colleague Jennifer Bubel has taken a look at Haaland's latest scoring exploits.
All over in Seville
FT in Spain, and confirmation that Dortmund's task tonight is to get a draw. Sevilla have beaten Copenhagen 3-0, with goals by Youssef En-Nesyri, Isco and Gonzalo Montiel.
Isco, Montiel seal points for Sevilla
At the Estadio Ramón Sánchez-Pizjuán, Isco and Gonzalo Montiel have scored Sevilla's second and third late on to secure victory in Andalusia, where we're already in stoppage time.
Sevilla will move on to five points, two behind Dortmund - but won't be able to catch they Germans if Edin Terzic's men draw with City. That's because Dortmund have the head-to-head advantage over the Spaniards.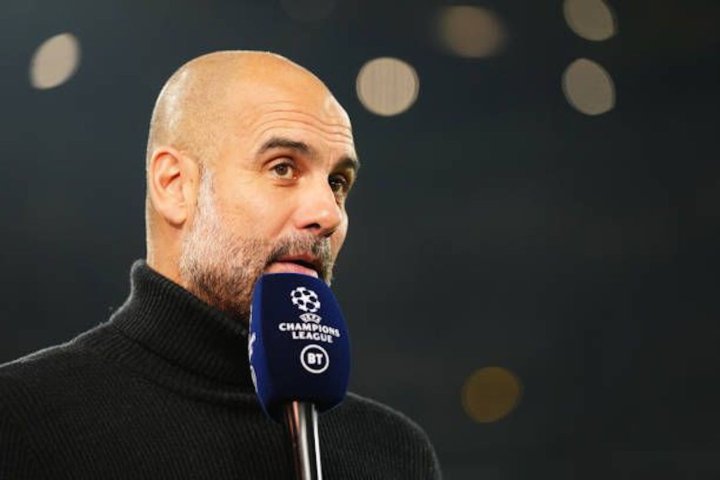 What the coaches said: Pep Guardiola, Man City
Signal Iduna Park:
"It is a fantastic stadium - everyone knows it - the atmosphere and the attractive football they play. When I was here in Germany, I played against Jürgen Klopp and Thomas Tuchel [when they were in charge at Dortmund] and it was top. Fantastic atmosphere and stadium - happy to come back here."
Facing Dortmund in Dortmund:
"We know how difficult it will be. Medium block, ability to counter, or more aggressive. It will be a tough, tough game, we know it.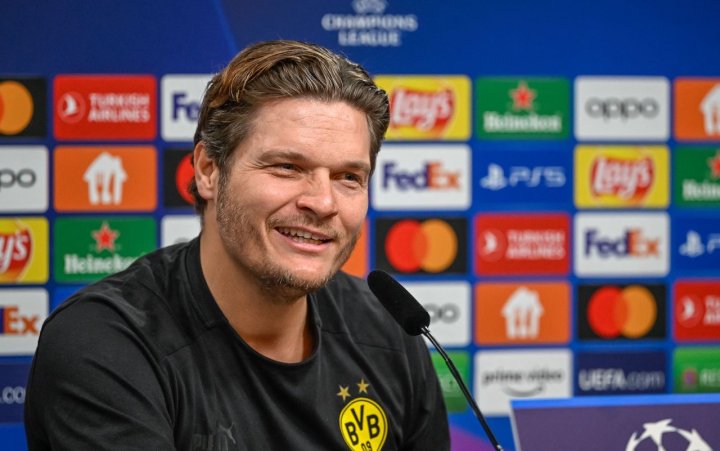 What the coaches said: Edin Terzic, Dortmund
Thumping weekend win over Stuttgart:
"It's good to see what we can play football like that. But we have a different challenge awaiting us tomorrow, which is why we will focus more on the match in Manchester in order to raise the lads' awareness. It'll be a different challenge tomorrow, but we'll need the same conviction that we showed in Manchester and against VfB Stuttgart on Saturday."
2-1 defeats in last three meetings with City:
"In all three matches, we produced a good performance up to a certain point. It was not sufficient in the last match because we only defended the goal properly up until the 80th minute. We need to be ready to produce this performance once again, to top it and then to see it through. We need to finish off our chances more consistently, even when our legs get tired at some point. That's our intention."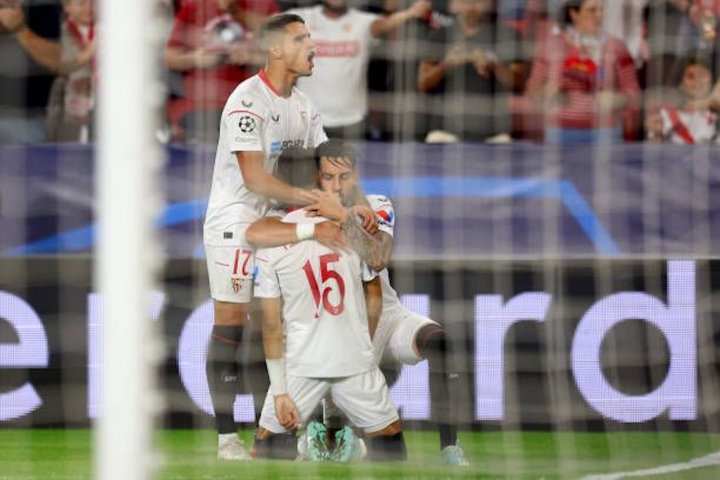 Sevilla ahead against Copenhagen
Over in Spain, by the way, Sevilla have taken the lead against Copenhagen, Youssef En-Nesyri scoring for Jorge Sampaoli's men. It's a goal that changes things for Borussia Dortmund tonight: if Sevilla hold on to beat the Danes, Dortmund will need a point against City to book their place in the knockout stages.
Can, Hazard in for Dortmund; six changes for City
Dortmund make two changes to the team that began the 5-0 win over VfB Stuttgart in the Bundesliga on Saturday. Emre Can and Thorgan Hazard are in for the hosts, with Raphael Guerreiro and Salih Özcan making way.
Guerreiro picked up a knock at the weekend, while Özcan is suspended tonight.
Meanwhile, City make six changes to the side that beat Brighton at the weekend. Stefan Ortega Moreno, John Stones, Nathan Aké, Ilkay Gündogan, Phil Foden and Julián Álvarez are all brought into the side.
It's a City debut for summer signing Ortega Moreno, while Stones is in the team for the first time since he injured his hamstring on England duty in late September. Kyle Walker is injured and Joao Cancelo is playing at left-back, so Stones will be City's right-back today, it appears.
Manchester City team news
Manchester City's team has also been announced. It is: Ortega Moreno, Stones, Dias, Aké, Cancelo, Rodri, Gündogan, Mahrez, Foden, Álvarez, Haaland.
Borussia Dortmund team news
Here is Dortmund's starting line-up: Kobel, Süle, Hummels, Schlotterbeck, Adeyemi, Can, Bellingham, Reyna, Brandt, Hazard, Moukoko.
Group G: table as it stands
Here is the Group G table as it stands, with Sevilla vs Copenhagen now into the second half. City lead the way with 10 points, while Dortmund are in second with seven.
The early kickoff at the Estadio Ramón Sánchez-Pizjuán remains goalless; if it stays that way, Sevilla and Copenhagen will end the night on three points each, and Dortmund will have an unassailable lead over the pair.
What do Man City need to win the group?
As for Manchester City, who confirmed last-16 qualification when they drew with Copenhagen on matchday four, their task today is very simple to sum up: Pep Guardiola's men will win Group G if they avoid defeat in Dortmund.
What do Dortmund need to go through?
Dortmund, who trail leaders Manchester City by three points, could qualify for the last 16 before a ball is kicked at Signal Iduna Park: if Sevilla and Copenhagen draw in Group G's other game, which is one of today's early kickoffs, the Germans will be guaranteed at least a second-placed finish.
If it doesn't end all square in Seville, Dortmund will also qualify if they beat City, or if they draw and Copenhagen lose.
As things stand, it's 0-0 between Sevilla and Copenhagen, who have reached half time.
Borussia Dortmund vs Manchester City: welcome
Hello there! Welcome to our live coverage of Borussia Dortmund vs Manchester City vs at Signal Iduna Park, where kickoff is at 9pm local time (3pm ET/12 noon PT).
City head into the Champions League Group G clash already through to the last 16, but can confirm top spot in today. Second-placed Dortmund, meanwhile, head into matchday five with the opportunity to join City in the knockout stages.