PREMIER LEAGUE
Casemiro working his way to the top of Manchester United rankings
The Brazilian signed from Real Madrid in the summer and has quickly become a fan favourite.
Casemiro is showing Manchester United that he has more magic tricks up his sleeve than just a cloak of invisibility. Not only does he possess the ability to stay hidden, but his magic broom now allows him to sweep up danger and fly down the pitch, where he has even had a hand in scoring goals from inside the box.
Not yet openly regarded as a member of the Magic Circle, the Brazilian arrived from Real Madrid in the summer of 2022, a late purchase from Manchester United as the English club looked to fill the huge gap in midfield whose origins date back to before the Big Bang.
A big fee for a big player
Sky Sports claimed that the fee was around £60 million and £10 million add-ons, and it was seen as quite a heavy cheque for a player who had already passed the dreaded 30-year-old barrier, turning a bad performance from simply a poor one to one where he was obviously over the hill and not fit anymore.
But this has not been the case for Casemiro: he has excelled in the Premier League, with some pundits in England even saying that they had not seen performances like this from him, despite having won 5 Champions League titles with Real Madrid, as well as 3 league titles, a Copa del Rey, 3 UEFA Super Cups, 3 FIFA Club World Cups and 3 Supercopas de España.
Casemiro's Manchester United stats
Casemiro scored in Manchester United's 3-0 FA Cup win over Reading on 28 January with a deft chip over the goalkeeper, taking his goal tally to 4 this season. Putting that next to his 5 assists and Casemiro is on for a goal involvement every 3 games: for a nominally defensive midfielder, that is an excellent return rate. It shows the change in role that Casemiro has had since his move to England. Not being played at the base of a three like at Madrid, where he was the anchor to Toni Kroos and Luka Modric, Casemiro's attacking ability can be exploited on a more frequent basis, leading to stats like these.
As for his other on-ball activity, he is creating lots of chances for his side. With 7 so far this season and over a third of his passes going forward, Casemiro is a driving force behind the progression of the ball in a team that also includes Bruno Fernandes and Christian Eriksen.
No change in defensive stats
In defence, as ever, Casemiro stands out like a lonely star in the sky. he is making 3 tackles per game and being involved in over 6 duels every match, showing that an increase in attacking output does not necessarily mean a lowering of the defensive product we have gotten so used to seeing from the Brazilian over the years.
At Real Madrid, Casemiro was famous for avoiding punishment after some tackles that may have gone the other way in a parallel universe. But his cloak of invisibility kept him quiet, as well as a cheeky smile; this season he has added to his arsenal of magic tricks and has shown that he can be a wizard in all areas of the Old Trafford pitch.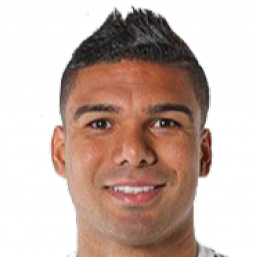 Premier League 2022/2023
*Data updated to date Jan 29th, 2023