Chelsea vs Arsenal: how to watch on TV, stream online in US/UK and around the world, Premier League
All you need to know about how to watch the Premier League match between Chelsea and Arsenal on Sunday 6 November 2022 at Stamford Bridge.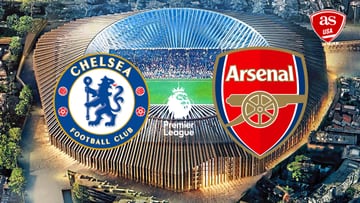 The Premier League match of the weekend takes place in London on Sunday when Chelsea host Arsenal at Stamford Bridge. Chelsea will be attempting to stop league leaders Mikel Arteta's side from maintaining their lead at the top of the table in the early kickoff.
Chelsea - Arsenal live online: score, stats and updates, Premier League 2022-23
The Premier League fixture between Chelsea and Arsenal kicks off at 12:00pm (UK time) on Sunday 6 November 2022 (8:00am ET, 5:00am PT). Take a look at what time the game kicks off wherever you are in the world.
Where can I watch Chelsea vs Arsenal in the US and UK?
The following channels and online streaming services will be showing Chelsea vs Arsenal:
Follow Chelsea vs Arsenal live wherever you are
You will be able to follow all the action from Chelsea vs Arsenal here on AS USA, where we'll have minute-by-minute coverage. We'll be building up to the game from an hour before kick-off, with team news and analysis.
Chilwell to miss World Cup
Chelsea left-back Ben Chilwell will miss the 2022 World Cup with England due to a "significant" hamstring injury. Chilwell suffered the injury in Chelsea's 2-1 Champions League win over Dinamo Zagreb on Wednesday in what is a major blow for Gareth Southgate.
The England international confirmed the news on his social media channels on Saturday: "Following my ACL injury I worked so hard to make sure I was ready for the World Cup. It has always been a dream of mine. Unfortunately, this won't be possible following my scan results. I'll do all I can to get back playing for Chelsea ASAP. Thanks for the messages of support."
Leaders
Player receives a yellow card for an infringement