LALIGA SANTANDER
Everything Fede Valverde had to say in the Club World Cup pre-match press conference
The Uruguayan midfielder defends his teammate: "He is an incredible person with many values."
Fede Valverde (26 years old) was the player who accompanied Carlo Ancelotti (63) at the press conference prior to the match between Real Madrid and Egyptian side Al Ahly. The Uruguayan was very open and even somewhat profound in his statements.
The Club World Cup is his first title won with Real Madrid. How does it feel to be back?
"The Club World Cup was my first trophy and it is very special. It meant a lot to me in my career, it's a nice trophy. The path to get here is also very beautiful, by winning the Champions League. Now it is the end of that path. I hope it ends well. I try to enjoy every day, every tournament at Real Madrid. I enjoy playing this competition and I am very excited to play. I am enthusiastic".
The calendar is very tough and there are lots of injuries at the club...
"It is part of modern football. Every time you travel more, you rest less. I try to look at the positive in everything, you have to keep improving physically, in your head so as not to get injured. You have to get used to it, playing more and more. I have to continue training and adapt to the fact that football is every two or three days. I enjoy being able to play 90 minutes every two or three days".
What is happening with Vinicius?
"He is an incredible person, with many values. On the field he tries to enjoy himself, it is his way of being. I always say that fouls are part of the game, we all have to play against it. Racism is another thing altogether and what happens on the pitch, so many arguments... he is a 22-year-old kid. Nobody thinks about the fact that he is the age of perhaps the sons of many people who are in the stands. You are supposed to support your team, but when there are so many problems with the same footballer it is because they still have problems at home and they take it out on a rival. I think Vinicius deserves respect."
Did exiting the World Cup affect you?
"Yes, because you go with the optimism that everything will turn out well. It is the dream of every child, of millions of people. There is the sadness that comes from the feeling of all the work you did before the World Cup is for nothing. It helps you improve to know that good things don't always happen in football. Before the World Cup my performance was good and after it has not been the same. There are blips, but the key is to front up to these things. I must continue with the attitude prior to the World Cup, talk to those people who help me, and follow the path to end up being captain, which is what I want. Little by little, my performance will be better again".
The support of the Moroccan fans upon Real Madrid's arrival
"I talk to my brother about football every day and we talk about exactly this, about the fans here. How they have received us is spectacular. It's a nice place to play this Club World Cup. They are fans similar to those of my country. And in Uruguay there are no stadiums like here, so I try to enjoy it and perform well".
Al Ahly will play at home…
"We have seen videos of the rival, I think the support they have is great and we know what they can do. I come from a country where football is experienced in a crazy way. Al Ahly deserve the greatest respect, but we have to focus on ourselves, on what we can do."
How are you? How are you?
"When you enter the field you want to escape from what is outside of football, I try to enjoy myself and my family gives me the advice I need. If things don't work out for you, for whatever reason, it makes you angry. Against Atleti I left the pitch feeling sad, because I like to win and play the full game. And against Mallorca the same. I am very competitive, I love winning, if the result is not what I want it makes me angry. These are things that I have to improve. The bench is not to blame for us not having a good game that day. We have to keep improving. You're not always going to win, hopefully that's the case, but there are obstacles and you have to be prepared. If you get through it, you come out stronger."
Which position do you like to play the most: in the middle, on the wing...?
"I have to say wherever, because the coach is there and he can take me away if I say another position (laughs). I started inside, but as a winger is where I have given the team the most goals and assists. I try to learn and if you are of various positions, you become an option for the coach and you play more, I am open to everything. What I want is to help the team and play".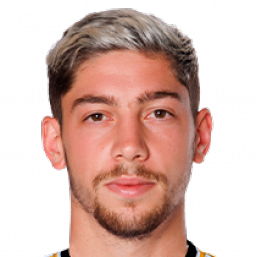 LaLiga Santander 2022/2023
*Data updated to date February 7th, 2023