Everything Karim Benzema had to say in Real Madrid's Super Cup pre-match press conference
The striker opened up about Ronaldo, his Real Madrid contract, Saudi Arabia and more.
For the first time since his controversial departure from the France World Cup squad, Real Madrid striker Karim Benzema sat down in front of the press to take questions ahead of the Super Cup final clash against Barcelona.
The press conference promised much, as the striker had remained silent ever since his exit from Qatar, but he was in no mood to talk about France, or the events that occurred in the squad, preferring to take the more mature path and step away from any potential controversy.
"It was a complicated issue", he said, "but it's in the past. I'm sorry that I can't speak about France or the World Cup. If you ask me about tomorrow's match I'll respond, but to the rest I won't."
'At Real Madrid, we always have to win'
And so came the questions about tomorrow's game. Real Madrid beat Valencia on penalties in the semi-final to set up a tie with eternal rivals, FC Barcelona. They will be looking to equal the Catalan side's Super Cup record.
"It's a very important match for us. Barcelona are a great team, but we have to look at what we can do. We have one more training session before it and we need to make sure we're ready. This final means we have the chance to win another trophy. At Real Madrid, we always have to win. We know it'll be difficult, but we have to have the mentality that we can win this match."
France forward not keen to get into contract details
It is a game for Benzema and Madrid where they can finally banish the ghosts that have swirled around the Bernabéu in recent weeks, with it appearing that a potential crisis is on the horizon. Bad news breeds bad news and Benzema himself had even been questioned about his commitment to Madrid, given the controversy with which he left the France squad. But the forward was in no mood to see these rumours grow, fully affirming his relationship with the club.
"I know what I did and what Real Madrid means to me", he said, "I wanted to play every match, but I was injured. I needed the time to recover."
He was, however, a bit more coy when it came to his contract, which is due to run out in the summer: "I'm here, at Madrid, I enjoy every training session, I enjoy every year. I don't know how long I'll be here, but I enjoy every day. I'm at Madrid, talking about that [the contract] is a different topic."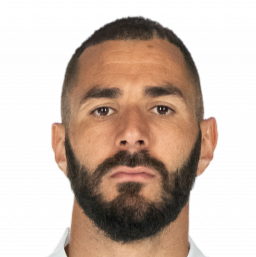 Benzema on his physical and mental state
"I am back from my injury and I worked hard to get back to my best level. I want to get on the ball, score and assist and I feel like I'm back. I hope I can keep helping my teammates. I'm feeling good both mentally and physically. Last year was a very important year for me, but then I had various injuries and it took time to return, but now I'm on the right path. I feel good."
Cristiano Ronaldo made an appearance at Real Madrid's training session in the build up to the game, taking advantage of the cameras and snapping a photo with a lot of the current players. However, one was missing: Karim Benzema did not show up in the photo reel. But Benzema was as cool as ever, saying that their friendship is more than a simple photo opportunity.
Benzema 'didn't have time' to see Ronaldo
"We didn't need a photo to show we're friends", Benzema said, " I think Cristiano Ronaldo is doing well here. We didn't need that for Instagram and Twitter and that kind of thing. He was there, but I didn't have time to say hello to him as I was training and then just after he left to train. Hopefully I can see him tomorrow at the stadium and speak to him. I hope he can keep scoring goals."
And finally, the forward was questioned regarding Saudi Arabia, where the Super Cup is being held. Bezema didn't get into the moral questions that surround the RFEF's deal with the country, simply saying that "Saudi Arabia is a very nice country and all the fans are happy to see Real Madrid. I hope we can win the trophy tomorrow. I don't watch this country's football much, but I think they're doing well."