FIFA President Gianni Infantino calls for teams, media, fans and players "to focus on the football"
Ahead of the controversial tournament, FIFA has pleaded to the 32 teams not to fixate on issues surrounding LGBTQ and migrant worker rights.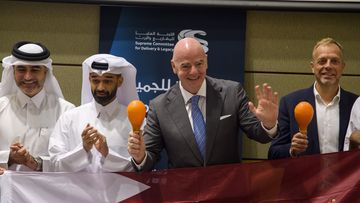 FIFA boss Gianni Infantino has sent a letter to all teams participating in this year's World Cup in Qatar to "focus on the football" and not allow the sport "to be dragged into every ideological or political battle that exists".
The letter was sent by Infantino and Secretary-General Fatma Samoura in a bid to calm concerns over the LGBTQ and workers' rights scandals that have surrounded the tournament since its announcement in 2010.
Being gay is illegal in Qatar in 2022. Same-sex marriage is not permitted. Even "raising the rainbow flag, engaging in chants or even liking pro-LGBTQ+ content on social media may leave a trail of evidence that could be used to persecute individuals," says Rasha Younes of HRW's LGBT rights program. The biggest tournament in football starts in 13 days' time in the Gulf state.
Amnesty ask FIFA for compensation
"If Gianni Infantino wants the world to 'focus on the football' there is a simple solution: FIFA could finally start tackling the serious human rights issues rather than brushing them under the carpet," Steve Cockburn, Amnesty International's Head of Economic and Social Justice, said in a statement.
Amnesty and other rights groups have led calls for FIFA to compensate migrant workers in Qatar for human rights abuses by setting aside $440 million, matching the World Cup prize money.
The sport that the people who watch and love is it important because we give it importance. It means something because those who consume it want it to mean something. Football is a way for many of expressing friendship, identity, pride, passion, love, hope and sadness. It is the feeling of community you get from the simple act of kicking a ball with friends: be that in the street, a park, or a 100,000-seater stadium. It is for everyone. Football is not the money we put into it that those at the top of the tree want you to think it is. It is not the replica shirts or the extortionate tickets or television prices or sovereign states sports-washing their way into your minds.
"Focus on the football," FIFA has told the teams that will represent 32 different countries during the biggest sporting event of the most popular sport on the Earth. Let's watch the football and enjoy it, but let's not forget what values and feelings of solidarity football give us and represents for so many different people all across the world because that is what we want football to give us.