REAL MADRID
Karim Benzema's injury worries for Real Madrid
Benzema has more injuries this season (8), than in the previous three combined (7). With his absence against Espanyol, he has missed 34% of all matches.
Something is wrong with Benzema; never in his entire career had he spent so much time in the injury room. In fact, he has had more injuries this season (8) than in the previous three combined (7). A footballer with a fairly reasonable medical history who has a huge black mark against this season.
These have been months of disappointments and enormous mystery regarding Karim: fatigue, "mild annoyance", a lot of "rest". But between one thing and another, the feeling is that Karim plays at his own pace, and not regularly: his body does not allow him to do anything else. More when he can than when he wants.
Benzema has missed over a third of Madrid's games
The latest ailment has ruled out him out: he will not play against Espanyol due to "ankle discomfort". This is the 14th game he will not play this season, having missed 34% due to various injuries. Madrid have not had Benzema, not even on the bench, in one out of every three games.
In total, he has suffered eight injuries; a fateful carousel that had its birth in Glasgow on September 6: he missed three games. He returned against Osasuna and was injured immediately after. Ancelotti pointed out that he would not be in Getafe due to needing "rest"; the quotation marks hid behind them a muscular overload. That was where the nightmare seemed to end.
But it wasn't even half of the story. The next issue was "muscular fatigue", which allowed him to play only 26 minutes (at half speed against Celtic) between Sevilla to the World Cup in Qatar. Despite the rush, he made it to the World Cup and travelled with his team, but in one of his first training sessions he injured his quadriceps in his left leg and returned to Spain.
That was the fifth of the campaign. Since then, three more have come his way, one of them a secret (a surprising lack of medical information) that deprived him of the trip to Son Moix and the semi-final of the Club World Cup; some "mild discomfort" meant he missed the trip to Pamplona and now, the "ankle discomfort". Are you keeping up? He has suffered eight injuries, more in the same season than ever before.
Benzema's medical history
| Season | Equipment | injuries |
| --- | --- | --- |
| 2008-09 | Lyon | 2 |
| 2009-10 | Lyon | 0 |
| 2010-11 | Real Madrid | 0 |
| 2011-12 | Real Madrid | 1 |
| 2012-13 | Real Madrid | 1 |
| 2013-14 | Real Madrid | 2 |
| 2014-15 | Real Madrid | 1 |
| 2015-16 | Real Madrid | 6 |
| 2016-17 | Real Madrid | 2 |
| 2017-18 | Real Madrid | 2 |
| 2018-19 | Real Madrid | 3 |
| 2019-20 | Real Madrid | 1 |
| 2020-21 | Real Madrid | 2 |
| 2021-22 | Real Madrid | 4 |
| 2022-23 | Real Madrid | 8 |
An uncertain future for the striker
Ancelotti has repeated both actively and passively that he will continue next season - but under what conditions? That is the question. "It is true that he is no longer young, but he will continue with us next season", was the confession of the coach, who treasures a special affection for the Frenchman, even saying: "I don't want a tall striker, I want Benzema."
But Karim is not for everyone. The doctor has him in the injury room and the debate about whether to look for a new number nine next summer is heating up more and more. From the club, "tranquility" is the message. It is what is being told, despite the fact that their striker and captain has just suffered his eighth injury this season and has been absent in 34% of the games.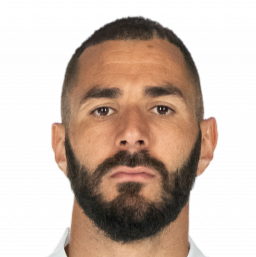 LaLiga Santander 2022/2023
*Data updated to date Mar 10th, 2023