Levante - Barcelona summary: score, goals, and highlights, LaLiga 2021/22
Levante vs Barcelona: as it happened
Levante vs Barcelona: headlines
- Luuk de Jong's last-ditch header wins thriller for Barcelona
- Barça return to second place in LaLiga with victory
- Morales fired Levante ahead from the penalty spot
- Roger missed second penalty for Levante moments after Morales opener
- Pedri put Barça ahead with fine strike after Aubameyang had levelled
- Melero equalised with Levante's third penalty of the match
Peep peeep peeeep! That was some second half. Barcelona have won their sixth straight league game and moved back up to second in LaLiga, but for so much of that thrilling contest, it seemed Levante would surely come away with something to show for their efforts.
The Granotas remain seven points from safety, then, but based on that performance and their recent results, Alessio Lisci's men should not be written off just yet.
As for Luuk de Jong: oh, how people scoffed when he joined Barça (myself included). But that's yet another goal from him that has directly translated into points.
Thanks for reading!
Blimey. Melero helps the ball on into the Barcelona box, and Gómez is not far away at all from connecting with it and, very possibly, turning home an equaliser. That will surely be that.
Luuk de Jong heads into the net! 3-2 to Barcelona! Alba curls a delightful cross towards De Jong's run to the near post, where he plants a perfect header in past Cárdenas at the near post.
Is there a further a twist to come? At this point, it wouldn't surprise me.
Five minutes of time added on.
Morales is replaced by Marc Pubill. Unsurprisingly, he gets a huge ovation.
There is simply no keeping up with this game. Suddenly, Gavi is racing clear with a chance to win it for Barcelona, but Cárdenas makes himself big and blocks! What a second half, seriously.
Levante have their tails up. Cantero headed a Morales corner over a few moments ago, and now Busquets has brought down Melero in a dangerous position on the right, just outside the box.
Bardhi delivers... but Barça clear.
Araújo was booked for giving the referee a little bit too much lip after that free-kick award.
Barcelona react with further substitutions. Luuk de Jong and Adama Traoréa are on, for Aubameyang and Dembélé.
This time it's Melero who takes - and his penalty is spot on! He sends Ter Stegen the wrong way, and Levante are level. Oh, Clement.
Well, would you believe it. Levante have a third penalty! Lenglet, who has been on the pitch for all of a minute, trips Gómez just inside the box, and the referee points to the spot once more!
Barcelona replace Dani Alves with Clément Lenglet. Lenglet slots in at centre-back, with Araújo shifting across to right-back.
Melero plays the ball out wide to Cantero, who gets it out of his feet and fizzes it into the box and across goal, but Dani Gómez can't get on the end of it. Levante certainly don't look sunk just yet.
Levante make another double substitution, introducing Bardhi and Cantero for Vezo and Radoja.
Son carries the ball forward down the right, with a little too much space to shoot than Xavi might have liked, before curling a shot towards Ter Stegen's far corner. The German gets down quickly to grab hold, though.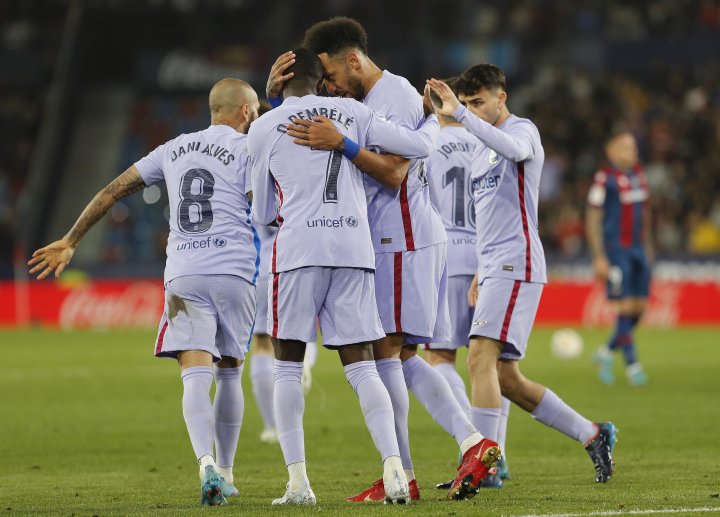 Aubameyang (right) celebrates with Dembélé after scoring Barcelona's equaliser.
(Photo: David González/Diario AS)
Levante made a double change after that second Barcelona goal, by the way. Roger and Campaña were replaced by Dani Gómez and Gonzalo Melero.
We've just been shown a view of Roger on the Levante bench. His face is, unsurprisingly, thunder.
Ferran strikes a free-kick from 30 yards out, but it's always flying over the crossbar.
Aubameyang now has 10 goals in 14 Barcelona appearances. Dembélé has 11 assists.
What a lovely goal. In the blink of an eye, Barcelona lead.
It's the two substitutes who combine for it. Gavi cuts in from the right wing, leaves two men trailing in his wake, before laying the ball off to Pedri in shooting space on the edge of the box. Pedri caresses it past Cárdenas and into the far corner, and the scoreboard has been turned on its head.
What a second half it's been.
Wow, Aubameyang almost has a second. This time the cross is from the other wing, Alba clipping the ball into the area for the striker to connect with a glancing header. It's just wide of Cárdenas' left-hand post, though.
Barcelona are level! Aubameyang heads home! What a 15 minutes we've had.
Pedri feeds the ball out wide to Dembélé, who curls a delicious left-footed inswinger right onto the forehead of Aubameyang, who makes no mistake. Firm, downwards and into the corner.
Barcelona bring Pedri and Gavi on for Nico and De Jong.
This time it's Roger who takes the penalty.. and Ter Stegen saves! What an opportunity spurned. Surely Morales should have taken it...? He's been brilliant.
Well, well, well. Levante have another penalty! Eric García handles a corner, and the hosts have the chance to double their lead with a second spot-kick. García doesn't even bother protesting.
"Yes, we can!" the home fans shout. If it stays this way, Levante will move to within four points from safety. They didn't win a league game until January, remember.
Penalty to Levante! Alves is penalised for blocking Son's run into the box with a flailing arm, and the referee points to the spot! Alves isn't happy at all with the decision, but it stands.
Well, that's better from Barcelona. Dembéle exchanges passes with De Jong on the right wing, before wrapping his foot around a cross that's right onto the head of Ferran Torres. He gets plenty of power on his effort, but Cárdenas beats it out!
De Jong lifts a ball out wide towards Alba's run forward, but overhits his pass. It flies out of play.
Peeep! We're back underway. Alves is still on, despite his ankle issues of the first half.
No changes for either side.
Peeep peeep peeep! Half time at the Ciutat de València, where it's been really pretty even. Barcelona haven't quite been at it, and may well be about to get a rocket from Xavi. Morales has been fantastic, and came so close to scoring an absolute worldie. Nil-nil it remains.
Fine play once more from Morales, who scampers forward and into the Barcelona box, before cutting the ball back from the right-hand byline. Barça deal with it, though.
Dembélé carries the ball forward before slipping it inside to De Jong to shoot from the edge of the box, but the Dutchman blazes well over.
One minute of time added on.
That's a lovely ball from Campaña, whose pass releases Radoja into shooting space on the left of the Barcelona box. Radoja looks for Ter Stegen's far corner with his shot, but skews it well wide.
Alves is limping again. One suspects he won't be back out for the second half.
Ferran cuts inside Miramón and unleashes a shot from the left-hand corner of the penalty box, but it's not powerful enough and is too close to Cárdenas.
Barcelona plop it about for a good minute or so in the Levante half, before Alves lifts a right-wing cross to the back post - but it's overhit, and Levante get it clear.
Barça then work it left to Alba. His cross is deflected over for a corner, which comes to nought. The visitors look a little short of ideas, and could do with injecting a little more zip into their passing. All a bit plodding.
Dembélé tries to cut inside Postigo and into space to pull the trigger from the edge of the box, but loses it and Levante clear.
Morales is down and in need of medical assistance after seemingly twanging a muscle somewhere as he sought to challenge Araújo for the ball. It initially looked like he had hurt himself in a collision with the Uruguayan, but replays show he hurt himself all on his own.
It seems like he will be able to play on, though.
Back come Levante, Miramón fizzing a low cross from the right towards Roger Martí's run towards the near post. Araújo is there just before the striker, though, and Barça survive once more. A really good few minutes for the hosts.
Crikey. Morales is so, so close to scoring an utter wonder goal. Think Kinkladze against Southampton. He collects the ball some 30 yards outside the Barcelona box, before sticking on the after burners, cutting inside Araújo and Alba, and bursting into the area.
With just Ter Stegen to beat, his shot is well directed towards the corner, but the German gets a hand to it, and García clears from underneath the posts before the ball can squirm over the line.
Ferran plays the ball out wide to the left to Alba, before charging into the Levante box to get his head to the full-back's cross. He can't quite reach the delivery, however.
That's a great chance for Ferran to open the scoring! Ter Stegen pings a low, long ball up the field that splits the Levante defence in two, and suddenly Ferran is barrelling through on goal. He carries the ball into the area, steadies himself and shoots, but fires too close to the goalkeeper.
Alves appears to be OK now, incidentally.
Araújo lifts a neat ball into Alves, who's just drifted into a pocket of space a couple of yards inside the Levante half. He brings it forward before trying to slip Aubameyang into the penalty box, but the striker is beaten to the ball, and was offside, anyway.
Alves turned his ankle horribly in the process of making that pass, by the way. He's up now and trying to run it off, but he's limping very heavily.
Eric García shanks a lofted pass out of play, and an angry Xavi can clearly be seen shouting "Vamos, hostia!" ("Come on, for fuck's sake!") over on the touchline. It's been an iffy start for Barcelona at the Ciutat de València.
Campaña is booked for a scything challenge on Busquets.
Campaña knocks a low ball into the Barcelona box, but it's easily dealt with. The visitors break, finally working it to Ferran Torres on the left-hand corner of the penalty area. He tries to slip the arriving Jordi Alba into crossing space on byline, but the left-back can't quite bring the ball under his spell and the chance is lost.
Blimey, again Barcelona give Levante a clear shooting opportunity. Morales plays a simple ball inside to Campaña, who is just inside the box. He has yards of space to turn and shoot, but Ter Stegen is quickly down to block his low effort. Far too easy for Levante.
At the other end, Frenkie de Jong gets the ball out of his feet and drifts a shot just over Cárdenas' crossbar. A lively start in Valencia.
And right away, Levante are gifted a very presentable chance to take the lead. Dani Alves plays a crossfield pass right to José Luis Morales, who has acres of space in which to advance and shoot from 20 yards. He curls his strike just past Ter Stegen's left-hand top corner, though, and Alves holds his hands up in apology.
Peeep! We're up and running at the Ciutat de València.
Barça's win rate cut in two without Pedri
Soccer stats specialists Opta note that Barcelona's record without Pedri, who is on the bench tonight, is significantly worse than with him in the team. The Catalans' win rate in LaLiga is 80% with the midfielder in their line-up, and 42.1% without him.
One win in last five visits for Barcelona
While Levante have lost all 20 visits to the Camp Nou in their history, in recent years they've made the Ciutat de Valencia a ground that Barcelona don't enjoy going to.
Indeed, Barça's last five away games against Levante in all competitions have yielded one win and three defeats for the Catalans:
- Levante 3-3 Barcelona: May 2021, LaLiga
- Levante 3-1 Barcelona: November 2019, LaLiga
- Levante 2-1 Barcelona: January 2019, Copa del Rey
- Levante 0-5 Barcelona: December 2018, LaLiga
- Levante 5-4 Barcelona: May 2018, LaLiga
Landmark Barcelona appearance for Alba
Jordi Alba plays his 421st game for Barcelona today, and draws level with Guillermo Amor in 10th place on the list of the club's highest ever appearance makers.
How things stand at the bottom of LaLiga
Levante sit in 19th, seven points from safety. And, to be honest, it's an achievement that they're not further adrift. The Granotas didn't win a game this term until matchday 20 - in January, for Christ's sake.
But they've now taken three wins and two draws from their last seven games - amassing as many points in that time as they managed in the first 23 games of the campaign. That has given them at least a chance of survival.
Pts
MP
W
D
L

16

GRA

29
31
6
11
14

17

MLL

29
31
7
8
16

18

CAD

28
31
5
13
13

19

LEV

22
30
4
10
16

20

ALA

22
31
5
7
19
How things stand at the top of LaLiga
Barcelona sit third, and would leapfrog Sevilla back into second place with a win over Levante, by virtue of their superior goal difference. (They also have the better head-to-head record, which is the primary tie-breaker used in LaLiga; but, if I've understood the rules correctly, that doesn't kick in until after the final game.)
They would also cut the gap between them and leaders Real Madrid back to a still not inconsiderable 12 points. The Blaugrana do have a game in hand on Madrid, though, and Los Blancos must go to Sevilla next weekend. So it's not inconceivable that 12 points could become six... but let's not start shouting hay Liga! from the rooftops just yet.
Vezo, Son and Campaña come in for Levante
As for Levante, head coach Alessio Lisci makes two changes to the side that beat Villarreal last weekend. Rúben Vezo, Son and José Compaña come in for Martín Cáceres, Enric Franquesa and Gonzalo Melero.
Four changes for Barcelona
Barcelona boss Xavi makes four changes to the team that began Thursday's Europa League draw with Eintracht Frankfurt, as Dani Alves, Frenkie de Jong, Nico González and Ousmane Dembélé all return to the team.
The quartet who make way are Gerard Piqué, who was forced off against Eintracht with a hamstring problem, Gavi, Pedri and Adama Traoré.
Barcelona team news
Starting line-up: Ter Stegen, Alves, Araújo, García, Alba, De Jong, Busquets, Nico, Dembélé, Aubameyang, Ferran
Levante team news
Starting line-up: Cárdenas, Miramón, Róber, Postigo, Vezo, Son, Campaña, Pepelu, Radoja, Morales, Roger
Levante vs Barcelona: welcome
Hello there. Barcelona can move another step closer to assuring themselves of a top-four finish at the Ciutat de València tonight, as they take on a Levante side battling to beat the drop.
Xavi Hernández's men can also keep their fairly slim title hopes going if they beat the Granotas, but they're at a ground where they don't have a particularly good recent record.
Kick-off is at 9pm local time (3pm ET), and the team news is in. Let's take a look.