Manchester United unbeaten with talismanic Casemiro
Manchester United have not suffered a single defeat since the Brazilian midfielder secure his place in the starting XI.
Occasionally, in football, there are rewards for being patient. And that's what Manchester United are now discovering with Casemiro. The Brazilian midfielder was unveiled at Old Trafford at the end of August, a few days before the summer transfer market closed and stepped out onto the pitch of his new stadium for the first time on the eve of United's clash with arch rivals Liverpool. A game which United won with ease - it was Erik ten Hag's first win ass coach after defeats to Brighton and Brentford. But we had to wait to see the former Real Madrid midfielder make his debut. He was handed his debut coming on as a sub for the last 10 minutes the following week at Southampton. During those first few in his first weeks in England, he was finding his feet, adapting, while helping his team to hang on whenever they took the lead in league games. Casemiro settled and United grew.
Ten Hag has shown consistency in his first few months in Manchester. If a footballer complies with what is asked to do, he plays. If not, it's a question of waiting on the bench. Scott McTominay put in strong performances and results followed - and that allowed him to keep his position for a few weeks. Meanwhile, Casemiro building up playing time - especially in Europe, where he started in the defeat to Real Sociedad and came on after the break to help defend a 0-2 lead against Sheriff in Moldova. But it was a the 2-6 suffered across town at City convinced the Dutch coach to bet on the Brazilian midfielder.
The coach and team were heavily criticised after the painful defeat in the Manchester derby. It was clear that United lacked muscle in midfield against City, with only Anthony Martial managing to slightly gloss over the result in the closing minutes; as Champions League winner, Casemiro watched from the bench. Maybe he wasn't ready, or maybe he was...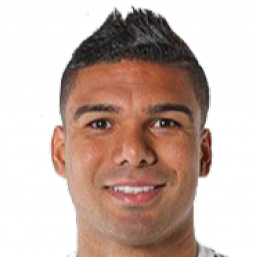 A week later he enjoyed his first start in the Premier League. Although his team looked as though they might pay dearly for his mistake - he lost the ball which resulted in Alex Iwobi putting Everton ahead. In spite of that, the former madridista showed personality and sacrifice. He did not let it affect him and ended up being one of the standout performers at Goodison. He won back possession to set up Cristiano Ronaldo for the winner, a 700th career goal at club level.

Since then, Manchester United have not known defeat. Wednesday's win against Tottenham added to the two wins against Omonia in the Europa League and the draw against Newcastle. Ten Hag's team still left doubts, but managed to take all three points on Wednesday night at Old Trafford. In the Spurs game, Casemiro made it clear that he is now fully settled into the team. As well as providing cover and support for Lisandro Martínez and Raphaël Varane, Casemiro's presence and work frees up both Bruno Fernandes and Fred, his usual midfield partners. Both scored in the win over Spurs. They constantly probed the rivals' area, knowing that behind them, their backs were covered by their new partner. A key piece in the new step forward that United have taken.
"He has a good connection with Fred, there is definitely a link there," Ten Hag explained after the match, which put his team closer to Champions League positions. "Casemiro has now settled in and you can see him developing. You can see why we signed him. He is growing from game to game. You can see how important a player he is for the squad. It was a magnificent performance from him and I think this club, this team needed a player like him. In the last few games, he has been showing what he can do for the team".