Mexico vs Sweden summary: Svanberg winner, score, goals, highlights - World Cup 2022 friendly
Mexico 1-2 Sweden: as it happened
Peeeep peeep peeeep! César Soto Grado blows his whistle, and Mexico have been beaten in their final World Cup warm-up. El Tri had the majority of the ball, but you can't really say they created much more than the Swedes.
With six days to go until their Qatar 2022 opener against Poland, Gerardo Martino's men now travel to the Middle East having lost three of their last five. It's form that hardly suggests they'll finally breach the last-16 barrier at the World Cup.
For Sweden, whose recent results have been dire, that's a first victory in six.
Thanks for reading!
One last attack for Mexico, who get the ball to Guardado to shoot from the edge of the box. He gets plenty of welly behind his strike, but it's blocked... and that will be that.
Vega drives towards the left-hand byline and pings a ball into the middle, where all Romo can do is try and make some kind of contact with it. The cross is hit with such pace that he can only divert the ball high and off target.
Two minutes of time added on.
Sweden are on course to make it four Mexico meetings without defeat, and three wins in a row against El Tri. The Mexicans last beat the Swedes in a friendly back in February 1994.
Barring a late turnaround, it's going to be three defeats and just two wins in the last six in all competitions for Martino's Mexico.
Goal! Mexico 1-2 Sweden - Svanberg scores!
​​​​​​​It's a lovely finish, and is that the winner for Sweden? A right-wing corner for Sweden runs through to Svanberg, who has peeled off into space at the back of the box. He takes one touch to steady himself, before rolling a precision shot past Ochoa and into the far corner!
Sweden make another two substitutions. Augustinsson and Rohdén are off, with Magnus Eriksson and Ken Sema replacing them.
With Sweden committed forward, Mexico have the chance to launch a quick break.
Guardado releases Sánchez into space to get forward down the right. He has Lozano running into the box ahead of him, but his low ball into the box can't find the Napoli winger.
Now it's Sweden's turn to pop the ball about for a period in the Mexico half. Quaison lays it off for Forsberg on the edge of the box, but the RB Leipzig man's first touch isn't the best, and the chance is lost.
The Swedes win it right back, though, and Ishak and Rohdén combine neatly just outside the Mexico area. However, the former can't quite work the ball back to the latter, who would have been through had he received the return pass.
Back come Mexico, who keep it in the Sweden half for a good couple of minutes. Finally, Guardado pings a high pass into Lozano's run into the Swedish box, but the ball is just overhit and runs through to Nordfeldt.
Sweden really haven't got out of their half all that much since scoring the opening goal.
Mexico work it towards Jiménez on the right-hand side of the Sweden box, but Lindelöf does well to get across and shepherd the ball out for a goal-kick.
Sweden make their first substitutions. Emil Forsberg, Robin Quaison and Mikael Ishak are on for the Scandinavians. Elanga, Dyökeres and Karlström make way.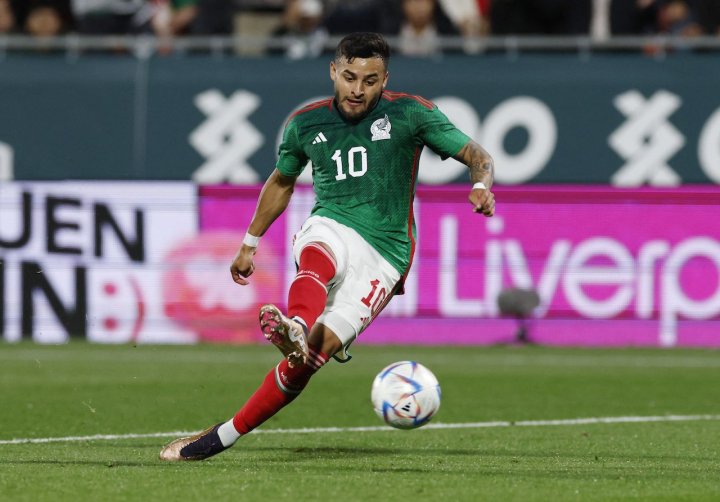 Alexis Vega scores Mexico's equaliser at Montilivi.
(Photo: REUTERS/Albert Gea)
Right away, Mexico are back on the attack and in search of a second goal. Lozano receives some 10 yards outside of the Sweden box, but fires his shot right at Nordfeldt.
Having got themselves back on terms, Mexico make three more changes. Héctor Moreno, César Montes and Héctor Herrera are off, with Néstor Araújo, Johan Vásquez and Luis Romo on.
Goal! Mexico 1-1 Sweden - Vega equalises!
Mexico were behind for just four minutes.
Herrera latches on to a bouncing ball on the halfway line, and spots Vega's run in behind the Sweden defence. His first-time, volleyed pass splits the backline in two, leaving Vega in on Nordfeldt - and the Chivas man makes no mistake with his finish! He fires low into the bottom corner.
​​​​​​​All square once more!
Goal! Mexico 0-1 Sweden - Rohdén taps in!
At one end, Sánchez's left-footed strike from the edge of the Sweden box takes a big old touch off Chávez's boot but, with Nordfeldt beaten, the ball bounces back off the upright.
​​​​​​​The Swedes race up the field, Svanberg leading the break. He bursts into the Mexico box and lays the ball across the face of goal towards the back stick, where Rohdén is first to the ball and touches into the net!
Mexico hit the woodwork again! So very close to the opener for El Tri.
And at the other end...
There's the first moment of real attacking danger of the second half. Vega is first to a low left-wing ball into the Sweden box, but can't connect. The loose ball falls to Chávez just outside the area - but he can't find the corner with his curling strike. Nordfeldt grabs hold with relative ease.
Guardado is on for his 178th Mexico appearance, incidentally. That makes him the most-capped men's player in his country's history.
Carlos Rodríguez, Uriel Antuna and Henry Martin made way for Jiménez, Guardado and Lozano.
No half-time changes for the Swedes.
Peeeep! We're back underway in Girona.
Jiménez is on for a key fitness test: he's been struggling with a hip injury and hasn't played any football since the end of August.
Mexico look to be making a triple half-time substitution. Andrés Guardado, Hirving Lozano and Raúl Jiménez are all coming on for the North Americans.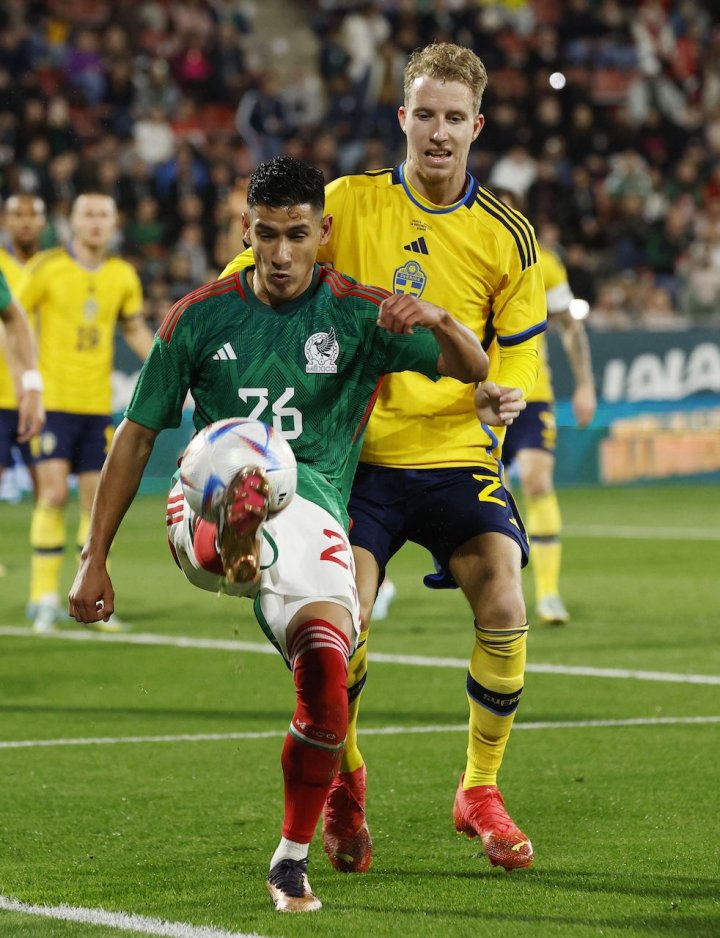 Mexico's Uriel Antuna controls the ball during the first half at Motilivi.
(Photo: REUTERS/Albert Gea)
Peeeep peeep peeeep! That's half time at Montilivi.
Mexico have had most of the ball, and the game has mostly been played in the Sweden half. Gerardo Martino's men haven't created huge amounts, though. That Antuna shot against the bar is the closest they have come.
The Swedes have generally been in defensive mode, but have had their moments. Their best chance was probably that Svanberg effort that flew just past the post midway through the half.
It's been 10 minutes or so since we've seen Sweden in attack, but that's a very presentable chance for Gyökeres. Holm scampers down the right and wraps his boot around a lovely ball into the box, where Gyökeres is waiting. He's well placed, but his header is off target!
Mexican have taken back control of the ball in the past few minutes - and when Antuna collects on the right wing, El Tri go so close to opening the lead!
Pulling the ball down just outside of the Sweden box, Antuna advances into the area, gets it out of his feet and lets fly towards Nordfeldt's far top corner. His shot looks for a moment like it's rising high into the net, but finally thuds off the bar and over!
There's a headed chance for Carlos Rodríguez, but he nods it too close to Nordfeldt! Chávez looks up and lifts in a fine cross from the left to the penalty spot, but Rodríguez can't direct his header far enough into the corner.
Sweden have been enjoying a much better spell in the last five, six minutes or so.
Elanga drops deep, receives the ball and darts towards the Mexico box, but can't set Gyökeres free into the 18-yard area.
Back come the Swedes, though, keeping it for another sustained period in the Mexico half. They finally lose it, but are playing much more on the front foot right now.
Sweden win a free-kick just on the corner of the Mexico box. Augustinsson delivers low, but right to Sánchez. He clears with relative ease.
The last time these sides met, by the way, was at the World Cup four years ago. Sweden won 3-0 in the final round of group games in Russia, and it was a costly defeat for the Mexicans. It meant El Tri finished second in Group F and faced Brazil in the last 16 - a tie they lost 2-0.
Sweden, on the other hand, finished top and got a much more straightforward clash against Switzerland. The Scandinavians beat the Swiss, before being knocked out by England in the quarter-finals.
Having almost conceded on one of Sweden's few forays forward, Mexico pin the Scandinavians back once more. They plop it about patiently in front of a wall of yellow shirts, but a pass of real penetration sadly proves hard to come by.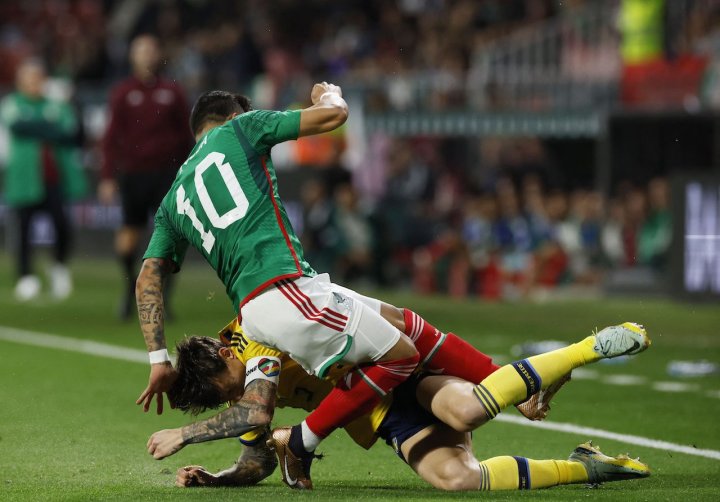 Mexico's Alexis Vega goes into a full-blooded challenge with Sweden's Victor Lindelöf.
(Photo: REUTERS/Albert Gea)
It's been mostly Mexico ball, but Sweden are inches away from taking the lead there!
It's fine play by Elanga, who collects on the right, before cutting in and making a beeline towards the danger area. He lays the ball off to Svanberg at the top of the box - but he curls just past Ochoa's left-hand post.
Nordfelt has to look alive to beat out a right-wing free-kick whipped by Chávez into the six-yard box with plenty of venom.
The loose ball falls to Herrera, who lifts the ball back into the Sweden area - but his delivery is too long.
Mexico dominating possession at the mo - 72% for El Tri.
This time Augustinsson doesn't defend quite so well. He makes a bit of a hash of dealing with a long, crossfield ball towards Antuna, and suddenly the Mexican is left in acres of space to scamper into the Sweden box. His ball into the middle isn't great at all, though; it's right to Karlström, who clears.
Mexico work it out to the right to Antuna, who heads towards the byline with Augustinsson in close attendance. Antuna twists and turns, twists and turns a bit more, before trying to clip a ball into the box. Augustinsson stands up well, though, and it's deflected behind for a corner.
When the corner comes in, Chávez gets his head to the delivery - but he can't get enough power, or the right direction, on his effort.
Sweden win a corner on the right, which is sent in towards Gyökeres at the near post. Surrounded by Mexican shirts, however, he can't get his head on the ball. It ends up bouncing off his back and out.
My apologies, we've been having a few technical difficulties - but we're back now.
Luis Chávez has just controlled outside of the Sweden box, before fizzing a low shot straight at Nordfelt.
Peeeeep! Underway in Girona!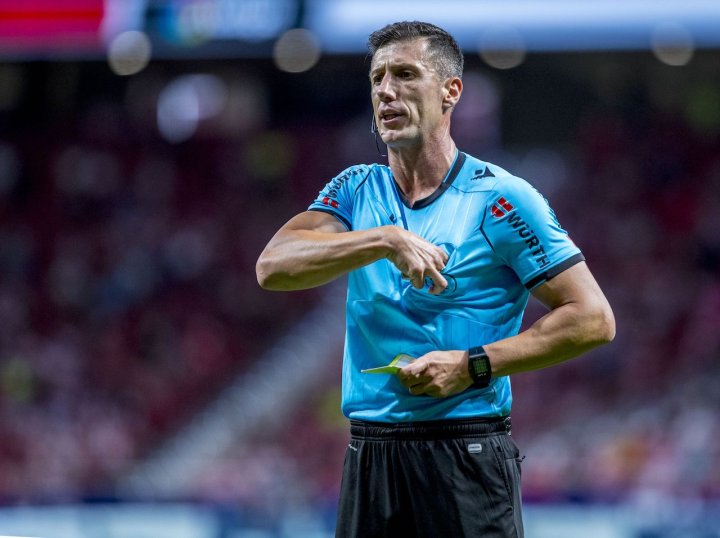 Soto Grado takes charge in Girona
Tonight's match referee, by the way, is Spain's César Soto Grado.
(Photo: Chema Díaz/Diario AS)
Three changes for Martino's Mexico
As expected, Mexico make three changes to the team that began last week's win over Iraq. Guillermo Ochoa returns in goal, while Jorge Sánchez takes his place in defence and Uriel Antuna is brought into the attack.
Alfredo Talavera, Néstor Araújo and Roberto Alvarado make way for the trio.
Wolves striker Raúl Jiménez is on the bench and, at some point this evening, is expected to get his first game time since the end of August.
We have a Mexico XI! Finally!
With just under half an hour to go until kick-off, Mexico have finally deigned to let us know what their starting XI is.
Señor Martino has opted for: Ochoa, Sánchez, Montes, Moreno, Gallardo, Herrera, Rodríguez, Chávez, Antuna, Vega and Martín.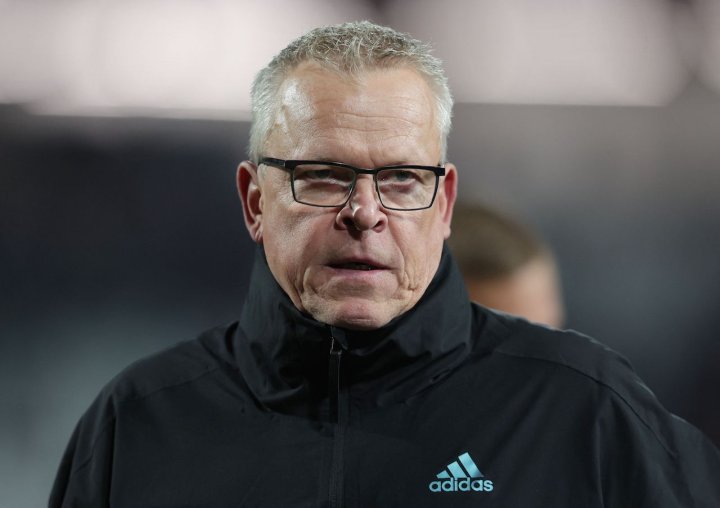 What the coaches said: Janne Andersson, Sweden
FIFA rules mean clubs don't have to release Sweden players for friendlies:
"It's very strange from FIFA. We have five players who are not allowed to leave their clubs for our friendlies. FIFA have decided that only countries that qualify for the World Cup have to release players. Is it not punishment enough that we missed the World Cup? I cannot understand how they have thought this through because there is no logic in it at all. We are completely in the hands of the clubs."
(Photo: REUTERS/Marko Djurica)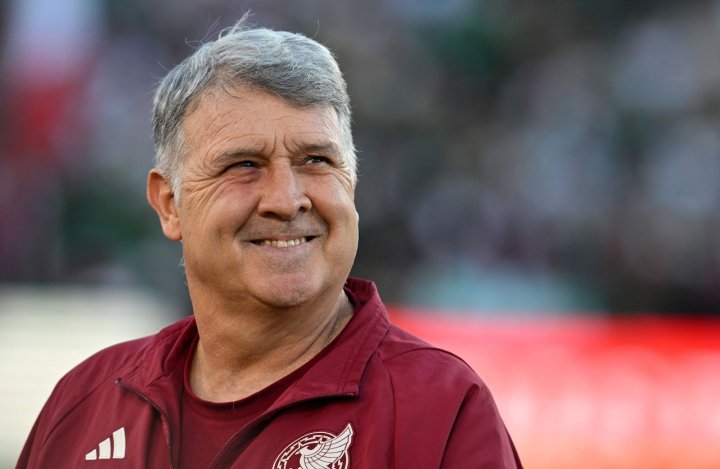 What the coaches said: 'Tata' Martino, Mexico
Raúl Jiménez, who hasn't played since August due to hip injury:
"We made the decision [to include him in the World Cup squad] based on the progress he has made, talking to him and the medical staff. He still hasn't played football against another team; he has played in training and he responded very well. On Wednesday he's likely to get minutes."
Quartet omitted from World Cup squad on Monday:
"I'm really grateful to the four of them for their contribution - to Jesús [Angulo] and Erick [Aguirre] for joining in almost right from the start of all this and fighting for their spots despite the fact they knew they only had an outside chance. And the fact that Santi [Giménez] and Diego [Lainez] came here knowing they weren't on the list is something I'm grateful for."
(Photo: Robyn BECK / AFP)
Mexico team still to drop...
With 40 minutes to go until kick-off, Mexico still don't seem to have confirmed their line-up at Montilivi.
Head coach 'Tata' Martino confirmed his 26-man squad for the World Cup earlier this week, incidentally.
Having named an initial 31-man group for El Tri's tournament preparations in Girona, Martino cut Diego Lainez, Santi Giménez, Erick Aguirre and Jesús Angulo on Monday.
The eagle-eyed among you will note that snipping those four names only reduces the squad to 27; that's because Jesús 'Tecatito' Corona had already dropped out a few days earlier because of injury.
Sweden not at 2022 World Cup
The reason Sweden have had problems getting players released is because they are not going to the World Cup. FIFA rules say clubs don't have to let their players go right now if it's only for friendlies.
Janne Andersson's men missed out on a place at Qatar 2022 when they came second to Spain in UEFA qualifying Group B, then lost out to Poland in a playoff.
The Swedes have now missed three of the last four World Cups - and really were kicking themselves after this qualifying failure.
They​​​​​​​ led their group with two games to go, but defeats to Georgia and Spain on the final two matchdays condemned them to second place, and an ultimately unsuccessful crack at the playoffs.
Seven changes to last Sweden starting XI
There are a number changes to the Sweden team that last played nearly two months ago, in a 1-1 UEFA Nations League draw with Slovenia.
Kristoffer Nordfelt, Emil Holm, Marcus Rohdén, Samuel Gustafson, Mattias Svanberg, Anthony Elanga, Viktor Gyökeres are all in for the Scandinavians, who are missing several players.
Carl Starfelt, Dejan Kulusevski, Albin Ekdal, Mattias Johansson and Jens Cajuste are all absent as their clubs refused to release them, while Newcastle United striker Alexander Isak is among those who are out injured.
Sweden team news
We're still waiting for word of the Mexico team in Girona, but Sweden have announced theirs.
Blagult head coach Janne Andersson has gone with: Nordfelt, Holm, Hien, Lindelöf, Augustinsson, Rohden, Gustafson, Karlström, Svanberg, Elanga, Gyökeres.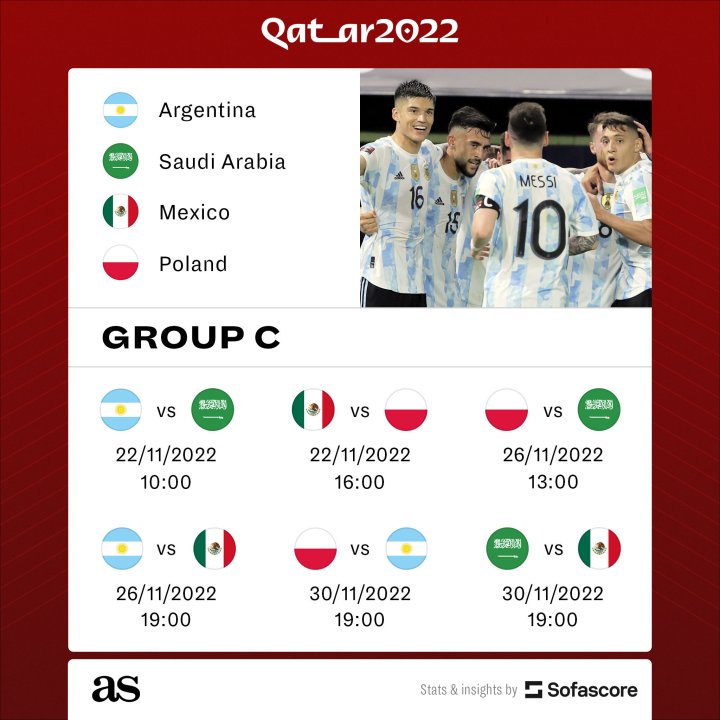 Mexico's World Cup schedule
Courtesy of our colleagues at SofaScore, here's an at-a-glance look at Mexico's schedule in World Cup Group C.
After opening up against Poland at Stadium 974, El Tri face their stiffest test of the first round when they go up against Argentina, who are many people's favourites to win the tournament, at Lusail Stadium.
On matchday three on 30 November, Mexico then have what, on paper, is their easiest game of the group stage, against Saudi Arabia. That's also at Lusail.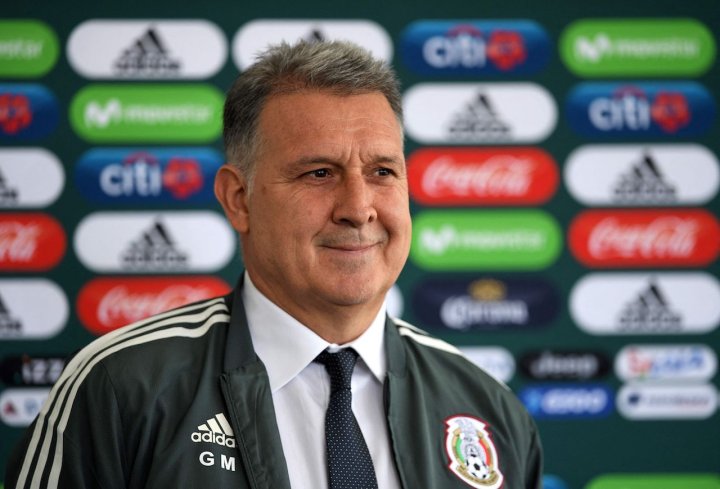 Mexico aiming to break last-16 barrier at World Cup
Mexico are getting ready for their eighth straight World Cup appearance.
El Tri haven't missed the tournament since Italia '90 - and in each and every finals since then, they have made it through to the knockout stages... only to be eliminated in the last 16.
The Mexicans have only ever reached the quarter-finals of a World Cup when they have hosted the competition, in 1986 and 1970.
This year, as Mexico bid to return to the last eight, they will first be tasked with emerging from a group also containing Argentina, Poland and Saudi Arabia. They kick off their campaign against the Poles on Tuesday 22nd.
(Photo: Pedro PARDO / AFP)
Mexico vs Sweden: preamble
Hello! Mexico finish off their pre-World Cup stay in the Spanish city of Girona with their final warm-up match today, before heading off to Qatar tomorrow.
Having thumped Iraq 4-0 at the Estadio Montilivi a week ago, Gerardo 'Tata' Martino's men now take on Sweden at the same venue, in what is likely to be a wholly tougher test for the Mexicans.
Kick-off in Catalonia is at 8:30pm local time/2:30pm ET. I'll be sure to fill you in on the team news as soon as it drops.